Statistically Speaking: FireKeepers Casino 400 at Michigan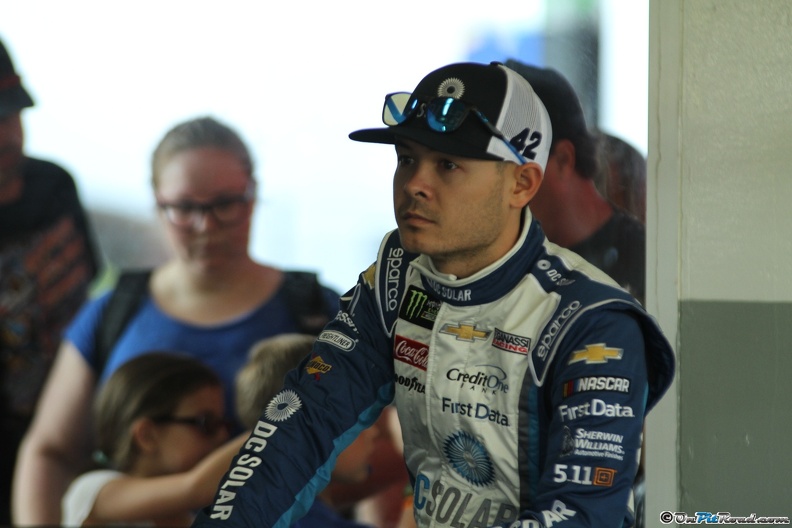 This week, the Monster Energy NASCAR Cup Series heads to the scenic Irish Hills of Michigan for the FireKeepers Casino 400. The track is 2.0 miles in length and has 18 degree banked turns and is banked 12 degrees at the start/finish line. Michigan International Speedway first opened in October of 1968 and has played host to two NASCAR Cup events every year from 1969 on, except 1973.
Looking at some stats:
Of the drivers competing on Sunday, Kurt Busch, Kyle Larson and Matt Kenseth all have three wins each. Larson, for instance, has made Michigan his own personal playground of late, winning the last three times the series has raced at the track.
Denny Hamlin, Joey Logano and Ryan Newman all have two wins each. Kyle Busch, Kevin Harvick, Jimmie Johnson and Kasey Kahne all have one victory at Michigan.
Chase Elliott, albeit in only four starts, has the best average finish among all active drivers with an average of 3.5. Erik Jones with two starts has an average finish of 8.0. Matt Kenseth in 37 starts has a stellar average finish of 10.8. Kyle Larson in eight starts has an average of 10.9, and Kevin Harvick in 34 starts has an average of 12.7.
There are seven active drivers with at least 30 starts at MIS: Matt Kenseth (37), Kevin Harvick (34), Kurt Busch (34), Derrike Cope (33), Ryan Newman (33), Jimmie Johnson (32), and Jamie McMurray (30).
Jimmie Johnson has led the most laps at MIS with 687, while Kurt Busch sits second in that category with 448. Matt Kenseth is third at 443, Joey Logano fourth at 356 and Kevin Harvick is fifth with 323 laps led.
Kasey Kahne and Joey Logano both have three career poles at MIS, Kurt Busch has two and several drivers have won a single pole including Kevin Harvick, Matt Kenseth, Brad Keselowski, Kyle Larson and Ryan Newman.
If we look at more recent history, over the past two seasons, you would likely want to put your money on Kyle Larson who has three victories in four races. Chase Elliott has three top-fives in those four races, all of which had him ending the race as the runner-up. Jamie McMurray also has four top-10s in those four events and has been very consistent at Michigan.
A few drivers that haven't fared as well at MIS over the past four events include Clint Bowyer, Aric Almirola, Paul Menard, and A.J. Allmendinger, all of who have zero top-10s over those races. Menard, however, has run well in past attempts at Michigan in the NASCAR XFINITY Series with a win back in 2014.
Betting Odds:
Kevin Harvick – 5/2
Kyle Busch – 9/2
Martin Truex Jr – 5/1
Kyle Larson – 5/1
Ryan Blaney – 12/1
My Picks:
1. Kyle Larson
2. Kevin Harvick
3. Brad Keselowski
4. Chase Elliott
5. Ryan Blaney
Sleeper picks:
Ryan Newman
Jamie McMurray
Erik Jones
**The opinions expressed on this site are not necessarily those of the publisher, management or staff. All comments other than website related problems need to be directed to the author. (c)OnPitRoad.com. **