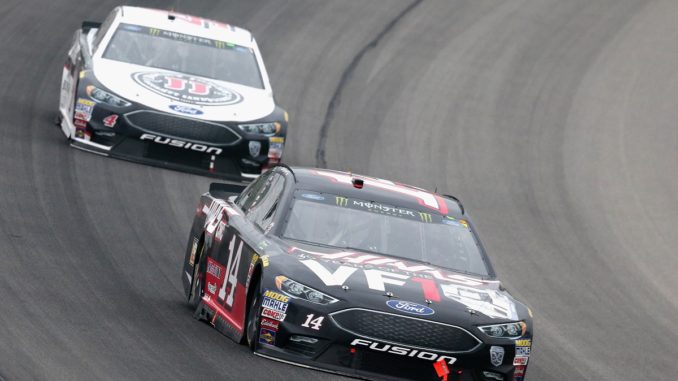 After watching a pretty bizarre race from Michigan International Speedway that ended early due to rain the main question I was asking myself afterward was what is wrong with these NASCAR crew chiefs? I know strategy plays a big part in motorsports and calls have to be made on the fly but was it that hard to make a strategy call when rain was a cat's whisker away from the track and the race was official?
Kudos to Mike Bugarewicz for making what would appear on paper the easiest call the entire day. With rain quickly approaching, his two tire strategy for Clint Bowyer helped propel the team to a victory. I have noticed many times over the past couple of years very odd strategy calls from teams at times. This Michigan race is a perfect example. Let's be honest, it was going to be a monumental task to beat one of the SHR cars had there not been weather in the area. What does a crew chief that has a driver running literally anywhere from about sixth on back have to lose in rolling the dice and hoping for the rain? Had a few drivers stayed out and several more taken two tires instead of four who knows what would have happened. I always thought going against the grain in situations like these was what set top level crew chiefs apart from the crowd. But now it seems like most everyone wants to follow the status quo.
What's the worst thing that could have happened for guys like Ty Dillon, Kasey Kahne, Chris Buescher, Michael McDowell, Ross Chastain, or Corey LaJoie? They all finished outside of the top 20 anyway. Had they restarted up front and just held on for a couple of corners and a crash happened behind them it could have been a huge upset victory for a car that otherwise may not have a shot at a win. You can say I have the benefit of hindsight but I believe rolling the dice for some of those guys should have been a no brainer with rain looming large just a couple of miles from the race track when the race was restarted.
Last year in the Camping World 500 from Phoenix, Ryan Newman was having a solid run just inside the top 10 with under 10 laps to go when a caution came out. Newman and two others stayed out on track and he was able to hold off those with tires for a pretty big upset. Not only did it give Newman a victory but it put him into the 2017 playoffs as well.
Remember Regan Smith at Darlington in 2011? Caution waved with 10 laps to go. All the leaders had 25 laps on their tires at the time and there were 18 cars on the lead lap. Smith, Brad Keselowski, and Tony Stewart all stayed out. Carl Edwards had a fast car and two fresh tires and shot into second quickly. A crash caused a caution, necessitating a Green/White/Checker attempt. Smith was able to hold off Edwards to get his only Cup victory. It was a pretty big risk to stay out on tires at Darlington of all places but it worked out in his favor.
When a win almost guarantees you a berth in the NASCAR Playoffs and all of the benefits that go with it, you would think more crew chiefs would be willing to take gambles. But for one reason or another it seems like there are more and more conservative strategy calls happening. When you are chasing the big dogs the scenery is always the same so why not try something outside of the box? Mike Bugarewicz did and look where that got the No. 14 car. Hopefully these guys will put that in their memory bank and be a little more aggressive the next time they have a chance to potentially crash the party so to speak.
**The opinions expressed on this site are not necessarily those of the publisher, management or staff. All comments other than website related problems need to be directed to the author. (c)OnPitRoad.com. **