Newgarden controls the day to win KOHLER Grand Prix at Road America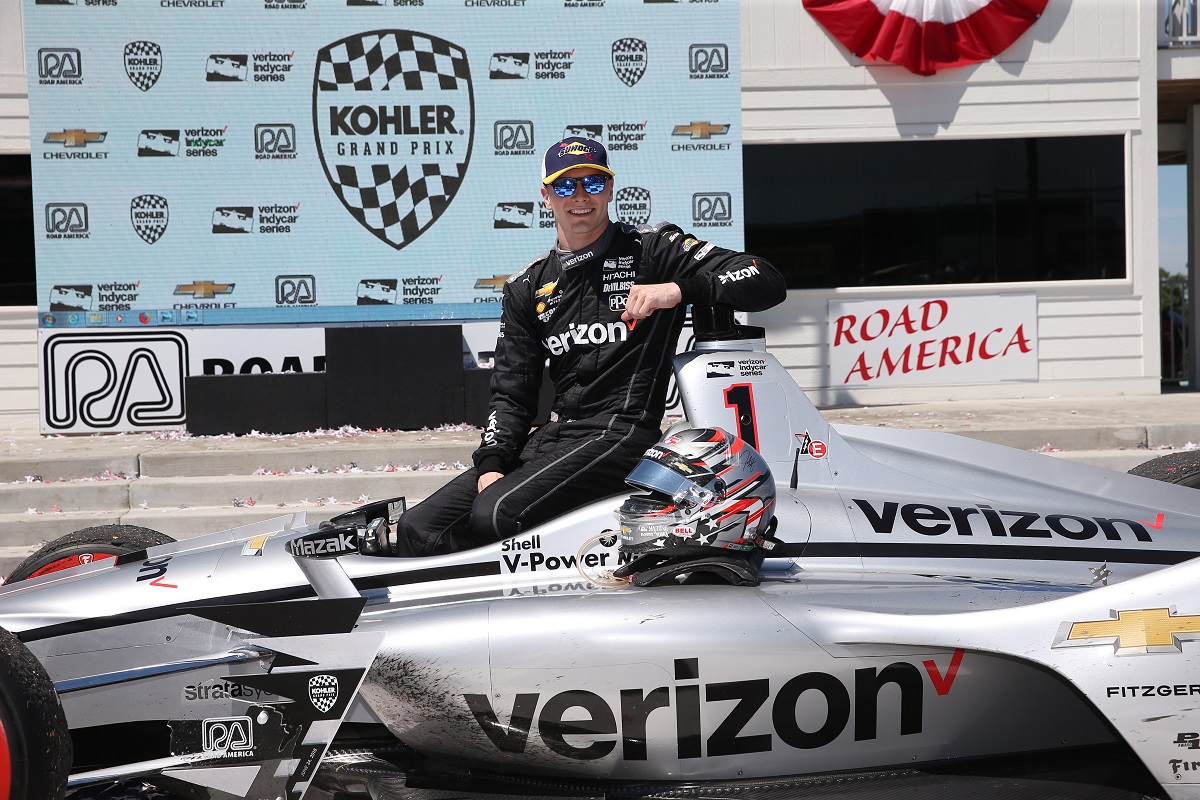 ELKHART LAKE, Wisconsin (Sunday, June 24, 2018) – He made it look easy, but Josef Newgarden said winning the KOHLER Grand Prix was anything but that on Sunday.
The reigning Verizon IndyCar Series champion led all but two laps to claim victory at the iconic Road America circuit. Driving the No. 1 Verizon Team Penske Chevrolet, Newgarden won by 3.3759 seconds over Ryan Hunter-Reay to pick up his third victory of the 2018 season and 10th of his seven-year career.
"It was a hard-fought day; it was not as easy as it looked," Newgarden said. "I was looking at my mirrors half the day at Ryan closing in on me. I think that Team Chevy engine made the difference. I had the fuel mileage that I needed, good power, good reliability – everything that you'd expect from Team Chevy. At the end of the day, to me, that's what made the difference."
KOHLER GRAND PRIX: Official results
Starting from the pole position after winning the Verizon P1 Award in qualifying on Saturday, Newgarden led the first 13 laps on the 14-turn, 4.014-mile permanent road course until making his first pit stop. Scott Dixon, the points leader driving the No. 9 PNC Bank Chip Ganassi Racing Honda, led two laps before also stopping, with Newgarden reassuming first place and never relinquishing it the rest of the way.
Newgarden wound up leading 53 of the 55 laps to give Team Penske its fifth win at Road America and victory No. 202 for the team in 51 years of Indy car competition. The race ran caution-free for the ninth time at Road America and first since 2000, with Newgarden's speed average of 132.101 mph establishing a race record.
"It was a day of executing. Team Penske did a great job," Newgarden said. "You're trying to juggle fuel economy and driving fast and the tires are wearing out, so you're nearly wrecking towards the end of the stints in all the high-speed corners. It's really difficult to manage the whole thing but our car was phenomenal. Our car was great on Firestone reds (alternates tires). I was loving the reds today so that's why I kept choosing them."
Hunter-Reay, in the No. 28 DHL Honda, secured his best Road America finish in five tries with the runner-up finish. It moved the Andretti Autosport driver into second place in the championship after 10 of 17 races, trailing Dixon by 45 points.
"I thought we had the pace for (Newgarden) early on," said Hunter-Reay, the 2012 series champion. "But after we took that second-to-last set of reds and then at the end with him on the new reds, I could keep up with him for a bit but then in the dirty air I just couldn't do anything with him. That's about all we had today.
"Good, fun day. One position short."
Dixon, the four-time Verizon IndyCar Series champion and 2017 winner at Road America, recovered from his worst starting position in five starts at the track (eighth) to finish third.
"Had we started a little further up, we could have had a good shot at trying to fight for the win today," Dixon said. "Speed-wise, we were right there. Had a bit of a crack at Hunter-Reay on his out lap on the last stint there, but cooked it too much going into (Turn) 14, got a bit loose, lost momentum. That would have been really the only chance of passing him.
"All in all, great points day for us, lead in the championship, which is important."
Two championship front-runners suffered issues that saddled them with disappointing finishes. Will Power, winner of the 102nd Indianapolis 500 last month, had a mechanical issue at the start, completing just two laps in the No. 12 Verizon Team Penske Chevrolet and finishing last in the 23-car field.
"Literally from as soon as I started warming it up, there was something amiss," Power said. "I have no clue. They replaced the exhaust and it still didn't take, so the Chevy guys will take deep look at it."
Alexander Rossi was running fourth when he was forced to pit with a front suspension issue on the No. 27 NAPA AUTO PARTS Honda with 17 laps remaining. The Andretti Autosport driver finished 16th.
"I think we had a car definitely to fight to be on the podium," Rossi said. "It wasn't enough to win today, but halfway through the third stint we had some camber shims fall out of the left front tire which made it pretty undriveable. It's disappointing when something unlucky like that happens."
The standings after 10 of 17 races have Dixon in the lead with 393 points, followed by Hunter-Reay (348), Rossi (348), Newgarden (343), Power (328), Graham Rahal (278), Robert Wickens (274), Simon Pagenaud (255), Sebastien Bourdais (235) and Marco Andretti (232).
The Verizon IndyCar Series returns to action Sunday, July 8 with the Iowa Corn 300 at Iowa Speedway. The race from the 0.894-mile oval airs live at 2 p.m. ET on NBCSN and the Advance Auto Parts INDYCAR Radio Network.
INDYCAR, Road America announce three-year race extension
INDYCAR and Road America have agreed to a three-year extension for the Verizon IndyCar Series to continue racing at the historic permanent road course in east central Wisconsin.
George Bruggenthies, Road America president and general manager, made the announcement prior to Sunday's KOHLER Grand Prix, which was the 28th Indy car race on the circuit dating to the first event in 1982.
INDYCAR, which returned to Road America in 2016 following a nine-year hiatus, will continue to stage its event through at least 2021. The 2019 race weekend is scheduled for June 21-23.
"Ask any driver, from nearly every discipline, especially open-wheel, and they love this place," Bruggenthies said. "The track is designed to make full use of the natural terrain, with elevation changes and undulating turns that allow for intense speeds that test driver skill to the maximum. Combine that with our park-like atmosphere, open seating and great spectator locations and it all equates to IndyCar Series racing at its best.
"We are very pleased to continue this relationship with INDYCAR and we look forward to many more incredible events at America's National Park of Speed."
The agreement continues the heritage of Indy cars competing at the track listed by most INDYCAR drivers as among their favorites on the schedule. The list of past winners at Road America contains many of the all-time champions in the sport. Mario Andretti, Emerson Fittipaldi and Michael Andretti collected three race wins each. Other Indy car champions with Road America victories include Danny Sullivan, Paul Tracy, Jacques Villeneuve, Alex Zanardi, Dario Franchitti, Cristiano da Matta, Sebastien Bourdais, Will Power and Scott Dixon – with Josef Newgarden adding his name to the list on Sunday.
"Road America represents everything good about INDYCAR racing, from the on-track action to the viewing opportunities to the fans and staff here," said Mark Miles, president and CEO of Hulman & Company, the parent of INDYCAR and Indianapolis Motor Speedway. "We welcome the chance to race here for years to come."
The complete 2019 Verizon IndyCar Series schedule will be announced at a later date.
Franzoni, Kirkwood win Mazda Road to Indy races
Victor Franzoni drove to a resounding victory in the second Indy Lights presented by Cooper Tires race of the Road America weekend on an emotional weekend for his Juncos Racing team.
A week after his Pro Mazda teammate from 2017, Jeff Green, died in a vintage racing crash in Canada, Franzoni led 18 of 20 laps and won by nearly nine seconds to secure his first Indy Lights victory and become the latest in a select group to win races in all three levels of the Mazda Road to Indy.
"This has been a difficult weekend for us," said Franzoni, the 22-year-old Brazilian who won the Pro Mazda title last season when paired with Green at Juncos. "We came here with two kinds of pressure: to get back into the points fight and to make a good showing for Jeff.
"I got the pole (Saturday) but had one of the worst races of my career, and today I had the best race of my career – and I'm glad that I could give that to Jeff. He's the one who got me into Indy Lights and to give him this victory means so much."
Colton Herta of Andretti-Steinbrenner Racing saw his four-race win streak end but finished second. Herta leads Andretti Autosport teammate Patricio O'Ward by 17 points after eight of 16 Indy Lights race.
In the Cooper Tires USF2000 Championship powered by Mazda Kyle Kirkwood of Cape Motorsports passed Lucas Kohl of Pabst Racing on a last-lap restart and went on to win by 0.4663 of a second to sweep the Road America doubleheader weekend. Kirkwood has won four straight USF2000 races and five overall this season.
Kirkwood holds a commanding 94-point lead over Alex Baron halfway through the 14-race USF2000 season.