Best Drivers Turned Announcers in NASCAR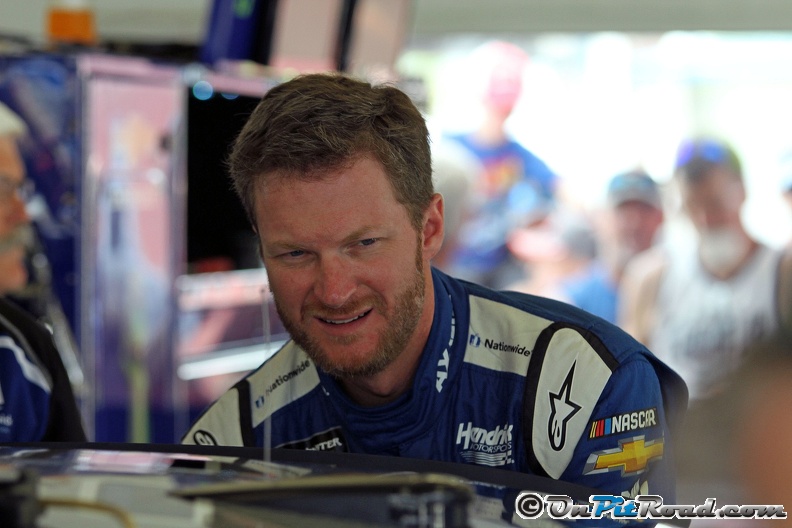 With all of the hoopla surrounding Dale Earnhardt, Jr's. upcoming announcing debut for NBC I thought it would be a good time to take a look at the best driver turned announcers throughout the years in NASCAR.
Honorable mentions:
Kyle Petty and Wally Dallenbach, Jr. I absolutely loved Kyle and Wally in the booth for their brief run. They were refreshing in a way that others just don't seem to be in that they would criticize those they felt deserved it. You never had to worry about Kyle or Wally tapdancing around an issue and they would tackle them head-on. I think part of the reason neither of them are on broadcasts anymore is that they weren't "corporate" enough for some of the higher powers. I tip my hat to both of those guys and wish they had been in the booth for longer runs.
Now, my top five drivers turned commentators in the history of NASCAR:
5) Darrell Waltrip – many people will argue that Waltrip doesn't belong on a list of "best" drivers turned announcers but I disagree. Yes, Waltrip has become more of a caricature of himself over the years but he was a darn good announcer for many years. In fact, if you listen to some of his Busch Grand National broadcasts that he did in the early to mid 90s he was excellent. Waltrip was a lot like Ned Jarrett in a way that he had an intelligence about what was happening on the track and could convey it well to television audiences. Before boogity, boogity, boogity Waltrip was one of the best NASCAR commentators of all time.
Famous quotes:
"If the lion didn't bite the tamer every once in a while, it wouldn't be exciting." 
"If you don't cheat, you look like an idiot; if you cheat and don't get caught, you look like a hero; if you cheat and get caught, you look like a dope."
4) Ned Jarrett – "Gentleman Ned Jarrett" is a two-time NASCAR Cup champion, and one of the greatest broadcasters the sport has ever seen. Jarrett's work for CBS and ESPN brought his soft spoken voice to generations of NASCAR fans. Jarrett had that demeanor about him where you knew that he knew what he was talking about and he was respected by everyone in the garage area. He was insightful and always done his homework when going to the track. Jarrett was one of the first to really dig into the strategy playing out over a race and educating fans on what was going on. Jarrett was like a great professor of the sport and was able to convey it in a way to not insult long-time fans while educating a new audience. That takes a special talent.
Famous quote – how could it not be calling his son Dale home in the 1993 Daytona 500? Ned Jarrett, the total class act, for a moment became a father and called his boy home on the last lap of the race as he battled with Dale Earnhardt. "He's gonna make. Dale Jarrett's gonna win the DAYTONA 500!" 
3) Neil Bonnett – Bonnett would only be a full-time color commentator for a few years but he was brilliant in his analysis of NASCAR races. Bonnett was a guy you just liked. He could be playful, serious, or excited depending on the situation. Nothing ever felt forced when listening to Neil Bonnett call a race and you could tell he very much enjoyed what he did. But, Neil enjoyed racing even more and wanted to get back on the track. He had a six race deal with Country Time to drive a Cup car and he was killed in a practice crash for the 1994 Daytona 500. Bonnett died doing what he loved the most which was driving a stock car. As talented as he was behind the wheel, Bonnett showed that he was capable of becoming the best driver turned broadcaster in the history of the sport. I feel that he would have become the pinnacle by which others were judged had he continued broadcasting.
Famous quote – he had so many great moments in the booth but I always liked this quote from him, "Racing is dangerous, but I've been in a lot worse situations as a pipe fitter." 
2) Benny Parsons – this was tough to put "BP" in the number two spot. It's all personal preference and when you are arguing who's the best among the best that's ever done it then you are basically splitting hairs. In my opinion, Benny Parsons was the prototype for all of the former drivers turned announcer that came along after him. Parsons was a great driver but he was even better in the booth. He had an understanding of the cars and strategy unlike many others that have come along since. Parsons also had the upmost respect from the racing fraternity and no one had a bad word to say about him. The trio of Bob Jenkins, Ned Jarrett, and Benny Parsons helped NASCAR catapult into that next level of popularity.
Famous quotes – I don't have very many specific quotes I can remember from Benny. I will say that anytime there was a violent or wicked crash the anguish you could hear in Parson's voice until he heard the driver was ok was something you could literally "feel" through the television set. When Darrell Waltrip tumbled down the backstretch at the 1991 Pepsi 400 you could hear Parson's, defeated, say, "C'mon DW." Benny was a caring person and truly one of the greatest of all time.
1) Buddy Baker – affectionately known by many as "The Gentle Giant" Buddy Baker was also a top notch commentator for NASCAR events. Yes, good ol' Buddy did have an accent and he could get downright excited during a race but his broadcasting was a pleasure. When someone genuinely loves what they do it shows and you could tell Baker was often having a blast in the booth. Baker was a master storyteller and could weave great stories into race broadcasts. He honestly, in my opinion, had the perfect balance of being insightful and entertaining while never missing a beat. Buddy may not even make some lists but to me he struck that perfect blend of what you want in a former driver announcing the sport of NASCAR. He didn't pull punches, he didn't hold back, and he was always on top of his game.
Famous quotes – Buddy had a ton of great quotes through the years. Here's a few favorites:
"Passin' Earnhardt is like trying to take a bone out of a Pit Bull's mouth."
"I never lost my job while I was leading a race."
"He ran out of talent about halfway through the corner" 
"Ernie Irvan could go bear hunting with a switch. He ain't never afraid." 
"With 10 laps to go, I don't have a code of ethics."
No matter who your favorite driver turned announcer may be we can agree that all of them have brought something unique to the table. How will Dale Earnhardt, Jr. do in the booth? If he's half as good as the guys on the list above, he will be in rare air.
**The opinions expressed on this site are not necessarily those of the publisher, management or staff. All comments other than website related problems need to be directed to the author. (c)OnPitRoad.com. **