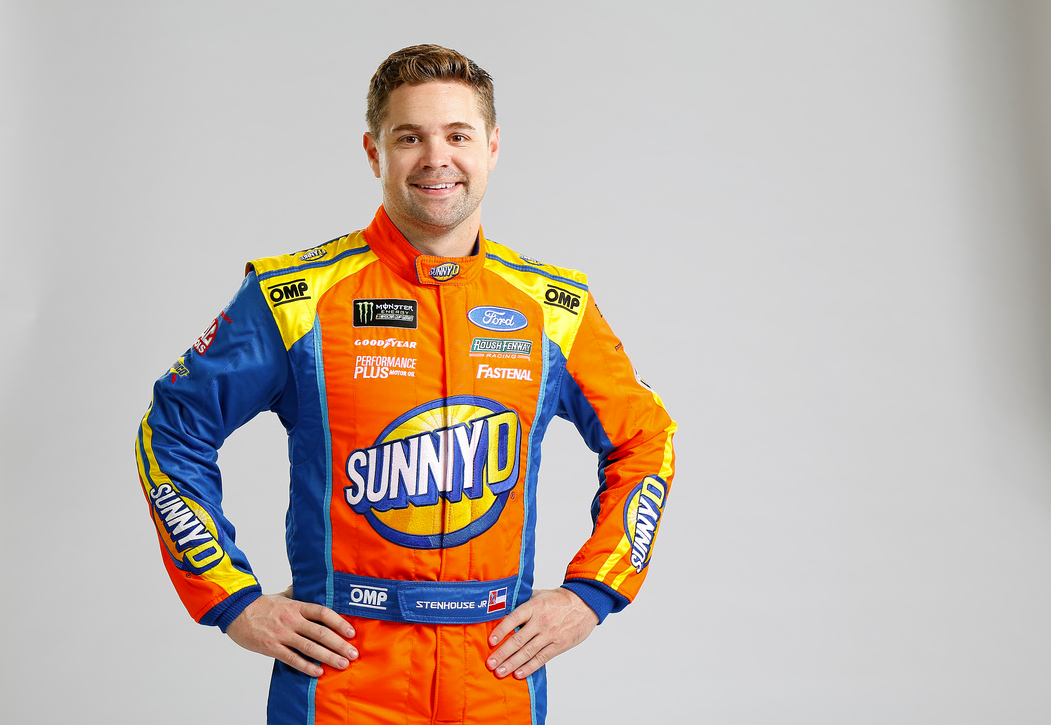 In September 2007, one of the early "viral videos" was released on MySpace by Chris Crocker when he cried and pleaded for viewers to leave Britney alone. He was referring to Britney Spears and the amount of negative attention that Britney had been receiving surrounding her comeback performance at the 2007 MTV Music Awards. Now, I'm not going to don a wig and cry on camera for fans to "Leave Ricky Alone" but I am going to defend him somewhat in this article.
As you know, Ricky Stenhouse, Jr. was right in the middle of two major accidents at Daytona during the running of the Coke Zero Sugar 400 this past weekend. The first accident saw Stenhouse pushing Brad Keselowski down the backstretch. Keselowski had a run on race leader William Byron who blocked the lower lane causing Keselowski to back off the gas. Stenhouse could not react quickly enough and sent Keselowski spinning into traffic causing "the big one" and taking out a lot of heavy hitters in the process. Shortly thereafter, Stenhouse washed up into Kyle Busch which turned Busch into leader William Byron. Both Busch and Byron made heavy contact with the wall and were eliminated from competition.
I've read countless people over these past few days throwing Stenhouse under the bus for the incidents at Daytona. I'm here to offer a slightly different take on the entire situation. This race was realistically the last "best" shot Stenhouse had at making the coveted NASCAR playoffs. Let's face the facts, the Roush-Fenway Racing cars have not been the most competitive cars on the circuit so far in 2018. Prior to this weekend's race, Stenhouse had two top five finishes total this season. He ran fourth at Bristol and fifth at Talladega. Stenhouse finished 10th at the Coca-Cola 600 in May but since that race he had finishes of 14th, 29th, 18th, and 16th heading into Daytona.
Making the playoffs means so much to organizations and their sponsors. Last year, Stenhouse took home victories in the spring Talladega race as well as the 2017 running of the Coke Zero 400. Those wins vaulted him into the playoffs. With the spring Talladega race in the mirror this was the teams best shot at getting into the playoffs. The amount of pressure knowing that you realistically need to win one race to punch your ticket into the playoffs is immense. A couple of weeks ago A.J. Allmendinger knew that he missed out on his best chance to make the playoffs when he missed a shift at Sonoma. You could hear the agony in his voice.
NASCAR doesn't release monetary figures anymore and we don't know what teams get for sponsorship for the most part. A 2012 study by sports research firm Joyce Julius & Associates said that the top three drivers in points for the previous season generated an average of about $30.8 million in exposure for their sponsors during the 10 playoff races. The average drivers in points between positions 13-15 generated approximately $5.8 million in revenue. Numbers like that are rewarded by NASCAR sponsors, who place heavy incentives with lucrative financial bonuses to make the playoffs. I'm sure Roush-Fenway Racing could use the financial boost by making the playoffs. They have sponsors like Sunny D, Fastenal, and 3M to satisfy. As hard as it is to land good sponsorship in NASCAR, team's can sorely afford to lose those sponsors.
Saying all of this, Stenhouse did make a couple of minor mistakes on Saturday. Who hasn't made mistakes on the race track in the past? Several of NASCAR's biggest stars ever have been involved or started big crashes. In the 2009 Daytona 500, Dale Earnhardt, Jr. got into the rear of Brian Vickers who was attempting to block him which triggered a huge pileup. Then later that year in the  Aaron's 499 at Talladega, just a handful of laps into the race, Matt Kenseth and Jeff Gordon make contact at the front of the field which wiped out 20 cars in one fell swoop. It wouldn't be hard to go year-by-year and just circle who caused the big wrecks. When they are running that close things like this will happen and nearly everybody in the garage has been guilty at one time or another. Unfortunately for Stenhouse, it happened twice on Saturday night.
I just want all of these people that are pointing their finger at Stenhouse in a scolding manner to remember that people who live in a glass house shouldn't be throwing stones. It's very likely that we go to Talladega, someone makes a mistake, and then all the fingers will be pointed at them. It's the nature of the beast and as long as we have pack racing this kind of thing will happen. I'd even argue that it may start happening more often due to the pressure cooker that some guys feel just trying to get that one win that will get them into the playoffs. Just realize that mistakes happen and for goodness' sake people, leave Ricky alone!
**The opinions expressed on this site are not necessarily those of the publisher, management or staff. All comments other than website related problems need to be directed to the author. (c)OnPitRoad.com. **