Richard Petty Motorsports Announces Contract Extension of Bubba Wallace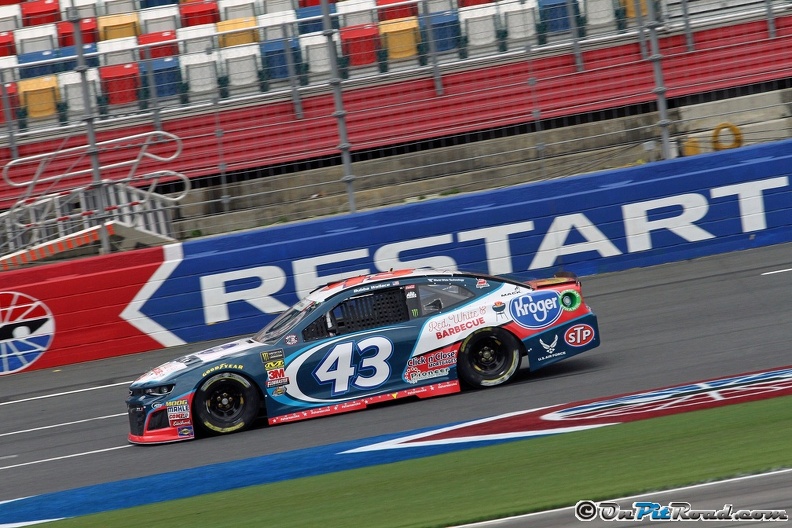 WELCOME, N.C. (July 28, 2018) – Richard Petty Motorsports (RPM) is pleased to officially announce that it has picked up the option to extend Darrell "Bubba" Wallace Jr. as the driver of the No. 43 Chevrolet Camaro ZL1 in a multi-year agreement. The confirmation was made today by NASCAR Hall of Famer and team co-owner, "The King" Richard Petty at the Pocono Raceway. Wallace, 24, is currently in his first full season in the Monster Energy NASCAR Cup Series and is contending for the Sunoco Rookie of The Year award.
Wallace Jr. burst onto the Cup scene during this year's Daytona 500, finishing second and making national headlines. He later scored a Top-10 finish at Texas Motor Speedway and then raced the iconic No. 43 STP Chevrolet Camaro ZL1 to the front at Bristol Motor Speedway. He has also earned numerous Sunoco Rookie of the Race awards throughout the season and has led laps at Bristol, Pocono Raceway and Talladega Superspeedway.
Off the track, Wallace Jr. has proven to be one of the fastest-rising stars not only in NASCAR, but in all of sports. Social media leader, Facebook, began the year following Wallace Jr. leading up to his first Daytona 500 start. The "Behind the Wall: Bubba Wallace" Facebook Watch digital docuseries propelled Wallace Jr. into the mainstream media with over five million views. Recently, Wallace Jr. was named as one of the top 50 Most Influential People in Sports Culture by Bleacher Report.
"Our highs have been well documented and so have our lows," said Wallace Jr. "It's all a part of growing together as a team with a new alliance, a new shop, a new manufacturer, a new car and being a rookie driver. It's a wild ride and I'm thankful to the Petty family for allowing me to be on it. Richard is competitive, and I think about winning in the '43' all the time. We both want the same thing and we're building that. Today, allows us to get this confirmed and continue to focus on the future."
Last season, Wallace Jr. made his Monster Energy NASCAR Cup Series debut in the No. 43 in June and competed in four total races. He was named the full-time driver at the end of the 2017 season. A graduate of both NASCAR's Drive for Diversity and NASCAR Next programs, Wallace Jr. has broken several barriers and records throughout his rise within the sport.
Wallace Jr. initially rose to prominence in 2013 with a NASCAR Camping World Truck Series victory at Martinsville (Va.) Speedway, becoming the first African-American driver in 50 years to win a NASCAR national touring series feature since NASCAR Hall of Fame driver Wendell Scott. The next season Wallace Jr. finished third overall in the truck series point standings with four wins for Kyle Busch Motorsports before moving up full-time to the NASCAR Xfinity Series with Roush Fenway Racing in 2015, where he earned 31 top-10 finishes over three seasons.
"We have faith in Bubba and in our team that we'll continue to get better, together," said Petty. "This confirmation allows our partners to start building for next season and beyond. It also allows the different companies that we're talking to now know that we're very serious about building our future with Bubba as our driver."
Wallace will compete Sunday in the Gander Outdoors 400 at the Pocono Raceway.
About Richard Petty Motorsports
A performance and marketing driven company, Richard Petty Motorsports (RPM), co-owned by NASCAR Hall of Famer Richard Petty and successful business entrepreneur Andrew Murstein, is one of the most recognized brands in all of motorsports. RPM is the winningest team in NASCAR Cup history with 273 wins and has business partnerships with national and global leaders. Today the race operation fields the famed No. 43 in the Monster Energy NASCAR Cup Series with driver Darrell "Bubba" Wallace Jr. The team is headquartered in Welcome, N.C. and is supported by primary partners Click n' Close, STP, United States Air Force and World Wide Technology.