Williams sweeps Kingsport Speedway NASCAR Late Model action; Dixon, Helton, Canter, Austin, Mullins also visit victory lane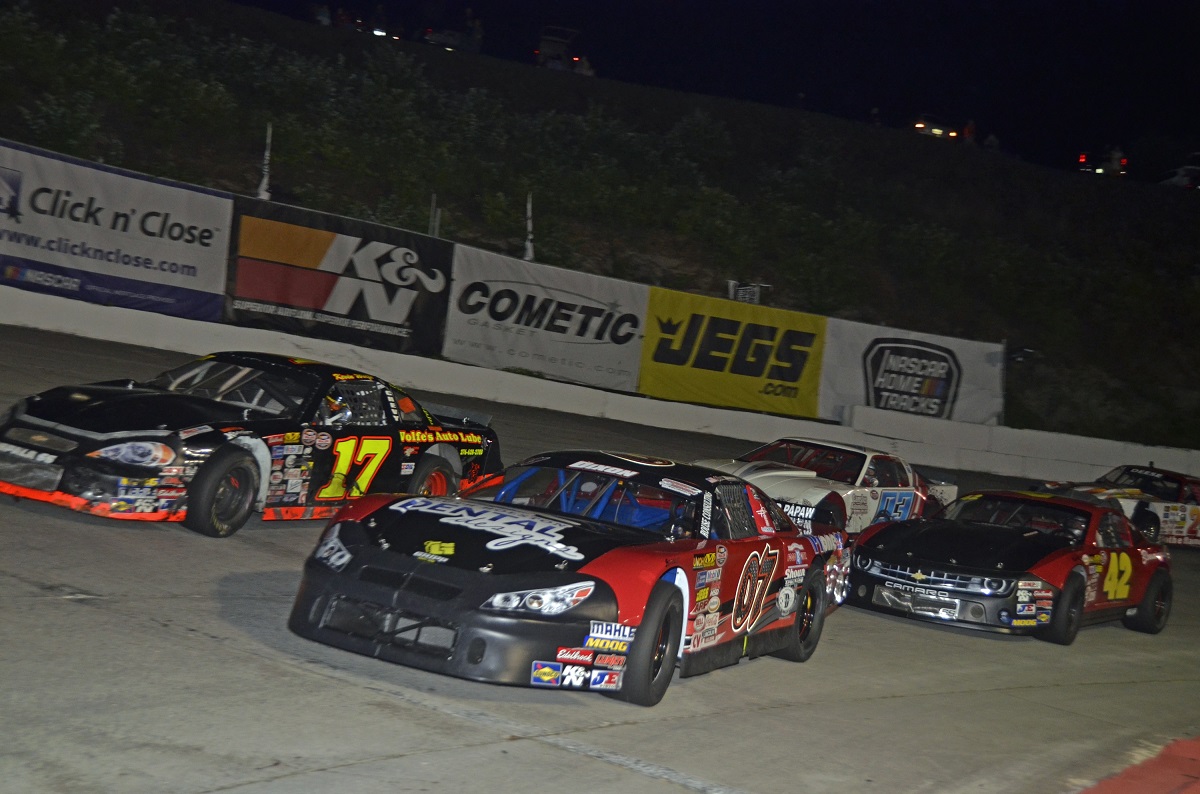 By Robert Walden
Kingsport Speedway – Media/Public Relations
KINGSPORT, Tenn. (July 27, 2018) — They say that winning your first race is the hardest victory you'll ever secure, and once you've made that ever-elusive initial visit to victory lane there will be several more wins to follow.
Nik Williams of Chuckey captured his first-ever NASCAR Whelen All-American Series victory last week, and backed that up by sweeping both Late Model Stock Car victories Friday on Mopar Street Car Night at Kingsport Speedway to make it three straight wins.
The 21-year-old Williams was fastest in qualifying at 15.109 seconds, with Trey Bayne second quickest at 15.169. With no invert for the first 35-lap feature, Williams and Bayne led the 18-car field to green from the first row, with Dillon Hodge and Zeke Shell in row two.
Williams jumped out to the lead over 14-year-old Bayne at the start, while behind them Hodge, Shell, Ronnie McCarty, Robbie Ferguson, Kres VanDyke, Joey Trent and Wayne Hale battled for position.
While Williams and Bayne were comfortably running in the first two positions, both Hodge and Shell slipped backward and lost spots to McCarty,Ferguson and VanDyke. With Williams setting a blistering pace out front, the race was his to win unless mechanical issues sidelined him.
Williams captured the victory over Bayne, McCarty, Ferguson and VanDyke. Completing the top 10 finishers were Shell, Hodge, Trent, Hale and Derek Lane.
With NASCAR Whelen All-American Series rules specifying the top eight finishers are inverted when track's host twin features, the front row for the second 35-lap race had Trent and Hodge leading the field to green.
Trent and Hodge raced side-by-side the first four laps before the 14-year-old Hodge, who attends Sullivan South High School, moved into the lead overTrent, VanDyke, Shell and McCarty. Unfortunately for VanDyke, the caution waved for him on lap 8 when his car suddenly slowed on the backstretch due to a broken track-bar mount.
Off the ensuing double-file restart, Trent grabbed the lead over Hodge and McCarty. Williams passed Shell to move into fourth in the running order. With young rookie Hodge fighting a tight (handling) condition with his car in the turns, McCarty got around him on lap 12 racing off the second corner to take the second spot. With the door opened, Williams also passed Hodge to move into third place.
Trent was looking good pacing the field, but was feeling pressure from behind by McCarty. Racing down the front straightaway into the first turn on lap 19, McCarty used the inside line to take the lead from Trent, and just four circuits later Williams passed Trent racing up off (turn) two for second place.
Williams quickly closed to leader McCarty's back bumper and began looking underneath him racing off the corners, but McCarty managed to hold his advances off for several laps. But finally on lap 29, racing off the second turn, Williams powered into a lead he would never relinquish.
Williams went on to record his second Late Model Stock Car win of the night over McCarty, Trent, Bayne and Shell. Completing the top 10 finishers were Ferguson, Hodge, Lane, Hale and Bryson Dennis. … With VanDyke's misfortune earlier in the race sidelining him, Shell is the new divisional points leader.
Chase Dixon of Abingdon, Virginia, has five fast-time qualifying awards to his credit during his rookie campaign competing in the Modified Street class, and he's also been in contention to visit victory lane in most every race but due to circumstances beyond his control just hasn't been able to seal the deal. But the 15-year-old Abingdon High School freshman made a bold statement with stellar performance in capturing his first-ever win, beating Kevin Wolfe, Joey Sykes, Rusty Clendenin and Hannah Seal.
Many people say the Pure 4 division is the most competitive of any class at Kingsport Speedway, and that's possibly true as there are easily at least ten drivers capable of winning on any night. … But Keith Helton of Kingsport has been as hot as the summer heat, putting his name in talks to be king of "The Concrete Jungle" as he captured his fifth feature win by holding off a hard-charging John Ketron for the victory. Finishing third through fifth, respectively, were Brandon Sutherland, Craig Phelps and Kenny Absher.
Kevin Canter of Abingdon is well on his way to a third straight Mod 4 track championship. Canter rolled to his division-leading ninth feature win over Chucky Williams, Hershell Robinette, Billy Duty and Jessie Amburgey.
Rob Austin of Castlewood, Virginia, outran Jay Swecker, Sammy Ferguson, Dave Strong and Kevin Darnell to capture the Pure Street victory.
Jeremy Mullins of Clintwood, Virginia, captured his third Vintage win on the season over William Jones, Tim Austin, Calvin Crabtree and Danny Casteel.
KINGSPORT SPEEDWAY – FRIDAY, JULY 27, 2018 – NASCAR WHELEN ALL AMERICAN SERIES
LATE MODEL STOCK CAR #1 (35 laps)
Nik Williams #32-Chuckey, TN
Trey Bayne #21-Knoxville,TN
Ronnie McCarty #5-Kingsport, TN
Robbie Ferguson #7-Jonesborough, TN
Kres VanDyke #15-Abingdon, VA
Zeke Shell #1-Johnson City,TN
Dillon Hodge #5-Kingsport, TN
Joey Trent #26-Gray, TN
Wayne Hale #19-Bluff City,TN
Derek Lane#28-Kingsport,TN
Trey Lane#4-Kingsport,TN
Bryson Dennis #15-Greeneville, TN
Darin Silver #12-Spruce Pine, NC
Jerry Broyles #72-Jonesborough, TN
Dale Cline #99-Wytheville, VA
Greg Bohanon Jr. #17-Leicester, NC
Rick Pannell #33-Kingsport, TN
Mardy Roberts #55-Kingsport, TN
LATE MODEL STOCK CAR #2 (35 laps)
Nik Williams #32-Chuckey, TN
Ronnie McCarty #5-Kingsport, TN
Joey Trent #26-Gray, TN
Trey Bayne #21-Knoxville,TN
Zeke Shell #1-Johnson City,TN
Robbie Ferguson #7-Jonesborough, TN
Dillon Hodge #5-Kingsport, TN
8, Derek Lane #28-Kingsport, TN
Wayne Hale #19-Bluff City,TN
Bryson Dennis #15-Greeneville, TN
Darin Silver #12-Spruce Pine, NC
Jerry Broyles #72-Jonesborough, TN
Trey Lane#4-Kingsport,TN
Greg Bohanon Jr. #17-Leicester, NC
Rick Pannell #33-Kingsport, TN
Kres VanDyke #15-Abingdon, VA
Dale Cline #99-Wytheville, VA
Mardy Roberts #55-Kingsport, TN
MODIFIED STREET (30 laps)
Chase Dixon #07
Kevin Wolfe #17
Joey Sykes #22
Rusty Clendenin #27
Hannah Seal #55
Tim Barnette #7
Royce Peters #42
Jason Yates #8
Dennis Deese #24
Alex Miller #37
Alan Rich #03
Paul Shull #48
PURE 4 (30 laps)
Keith Helton #9
John Ketron #27
Brandon Sutherland #48
Craig Phelps #00
Kenny Absher #11
Billy Byington #11
William Hale #47
Bruce Crumbley #33
David Trent #57
Jason Ketron #28
ChadJeffers #38
Jimmy Thomas #14
Dennis Cross #7
Dustin Kestner #19
#17
Josh Collins #77
Bucky Smith #99
Paul Stanley #40
Larry Stapleton #15
Dennis Stanley #21
Joey Amburgey #53
#71
Tim Jennings #1
Josh Detwiler #38
Josh Trinkle #0
Bret Hall #7
MOD 4 (30 laps)
Kevin Canter #3
Chucky Williams #55
Hershell Robinette #9
Billy Duty #1
Jessie Amburgey #7
#2
Dennis Arnold #71
Chris Amburgey #17
Jimmy Acito #57
Joshua Gobble #11
Dan Conn #73
PURE STREET (25 laps)
Rob Austin #18
Jay Swecker #77
Sammy Ferguson #5
Dave Strong #53
Kevin Darnell #4
Mike Mays #30
Jon Cook #17
Mike Blair #84
Jason Herron #73
Dustin Smith #5
Chris Neeley #2
Joey Sykes #23
Penny Hurd #11
VINTAGE (15 laps)
Jeremy Mullins #06
William Jones #8
Tim Austin #11
Calvin Crabtree #16
Danny Casteel #41