L.P. Dumoulin Takes Second Victory of Season in West Coast Swing Finale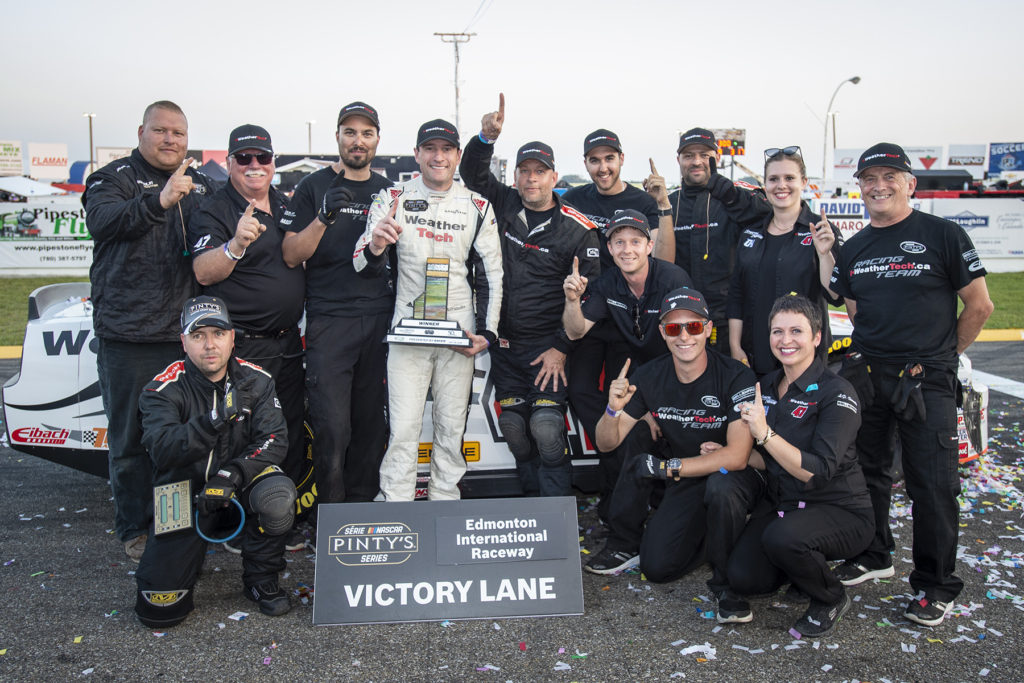 L.P. Dumoulin reclaimed the points lead and got the sixth checkered flag of his NASCAR Pinty's Series career when he crossed the line first at Edmonton International Raceway on Saturday night.
The Quebecois driver ran on the podium for much of the 300-lap event, chasing Kevin Lacroix for the win. A late-race caution for a spin by 2017 Pinty's Rookie of the Year Adam Martin set up a 21-lap dash to the finish.
On the final restart, Alex Tagliani took advantage of Lacroix and gained the lead, but just two laps after Tagliani took the lead, Dumoulin ultimately grabbed it and went on to lead the final 17 laps en route to his second win of the 2018 campaign.
"We won! I am especially happy for the team, after the problems we encountered in Saskatoon. The fight with Tagliani and Lacroix was clean, and the car was perfect thanks to the fantastic work of the team. Now we go on to Trois-Rivières in a strong position," Dumoulin said, post-race.
Lacroix finished second after leading 281 of 300 laps. Tagliani wound up third.
Rookie Cole Powell, who entered the race as the points leader after winning his first career race at Wyant Group Raceway in Saskatoon, finished fourth and relinquished the series lead to Dumoulin. Powell entered with a three-point lead, but leaves with a four-point deficit to Dumoulin, the 2014 series champion.
Rounding out the top-10 finishers were D.J. Kennington, Marc-Antoine Camirand, Noel Dowler, Larry Jackson, Brett Taylor and Mark Dilley.
Jamie Krzysik and Shantel Kalika, who joined the series for its annual three-race western swing, finished the race in Alberta in 11th and 14th, respectively.
Full Luxxur 300 at Edmonton International Raceway results
The Pinty's Series will be back in action once again on the Streets of Trois-Rivieres in Quebec on August 12. The race happens to be the home track of L.P. and brother J.F. Dumoulin.