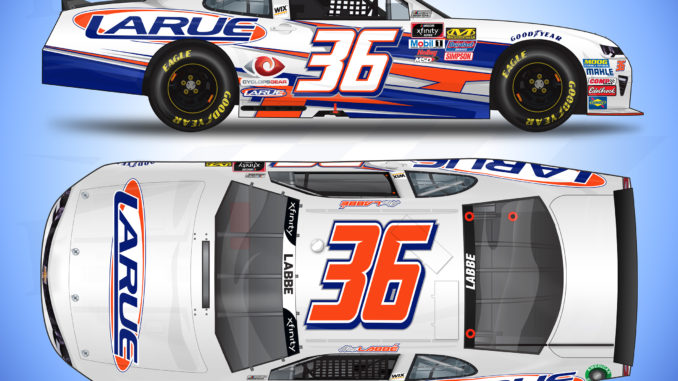 Quebec City-based Larue Snowblowers to be featured this weekend on the No. 36 Chevrolet on the road course.
DGM Racing and driver Alex Labbe are pleased to announce that Larue Snowblowers will be featured on the No. 36 Chevrolet this Saturday in the NASCAR Xfinity Series Zippo 200 at Watkins Glen International.
Labbe is currently 19th in the points standings during his rookie season in the NASCAR Xfinity Series and is happy to have a long-time partner step up to help him for this race.
"I'm so honored to have Larue Snowblowers on our Chevrolet this weekend," said Labbe. "They have been with me in my racing career since Day 1 in Quebec and I'm so happy that I can help bring awareness of their company to everyone in NASCAR in the United States."
Larue Snowblowers, makers of industrial strength snowblowing equipment used at airports and cities throughout the world in addition to Canada, have been with Labbe since 2013 when he first competed in late models in Quebec and continue their partnership for the sixth consecutive season.
Labbe has a season-best finish of 11th at Bristol Motor Speedway in the spring, but is excited to visit Watkins Glen for the first time and compete on a road course for the first time during his rookie season in the NASCAR Xfinity Series.
"I can't wait to compete this weekend on the road course," said Labbe. "We have three of our next four races on a road course and I hope I can use my previous experience on road courses to our advantage as we continue to race for our first top-10 finish in the series and it would be great to do it with Larue Snowblowers on our car."
The defending NASCAR Pinty's Series champion is looking forward to competing on the road course as the Canadian national series featured nearly half of its yearly schedule on the layout in addition to ovals throughout his home country.
DGM Racing is owned by racing veteran Mario Gosselin, who also served as crew chief for Labbe during his championship season a year ago in Canada, and he is also happy to bring a new partner on his car for Saturday's race.
"We're looking forward to having Larue Snowblowers on the car and with Alex's experience on road courses we feel we have an opportunity for a good weekend," said Gosselin.