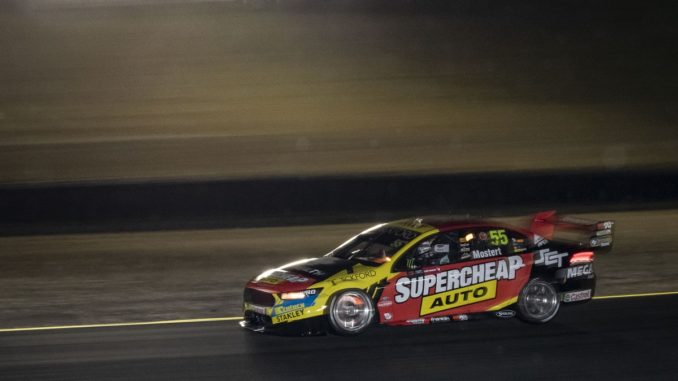 Chaz Mostert has claimed the honour of begin the fastest night-time Supercars driver in two decades on Australian soil when history was created in Sydney tonight.
The young Ford driver set the practice pace at the Red Rooster Sydney SuperNight 300 under lights, the first time the Virgin Australia Supercars Championship has raced at night in Australia since 1997.
With the fading moon in the background, Mostert set an early fastest time which was bettered by Mobile 1 Boost Racing's Scott Pye in the second half of the session. But Mostert's Supercheap Auto Falcon hit back in the closing minutes.
Mostert's team-mate Mark Winterbottom was third in the Bottle-O Falcon in a strong first hit-out for the Tickford Racing Team which has not had the strongest of seasons thus far. Nissan's in-form Rick Kelly was fourth on the night in the Altima.
"I popped up there in the end, it feels pretty comfortable," Mostert said.
"I was pretty lucky that I went to the Paul Ricard (a European GT race in France in June) and raced in the night. You learn that visually things can deceive you at night.
"It felt really quick out there, probably the fastest a Supercar has ever felt for me flashing through the different bits of light and darkness. It was a very cool aspect."
Earlier this year Pye scored his first Supercars win with a breakthrough victory in the dark, literally, at the Australian Grand Prix. While that finish was unplanned due to a late thunderstorm, Pye may now be gaining a reputation of being an under dark specialist.
"The grand Ppix was really the last dark race and it went well," Pye said.
"For us I think it's the balance is much nicer when the temperatures are down. I was excited and optimistic to see what we have this weekend. It's practice one so you can't read too much into it but it went well."
It is the first time in 22 years Supercars have competed at night in Sydney (1996), with an element of lighting. The concept was to accentuate the cars with sufficient lighting to race but at the same time retaining the night-time feel for fans.
Championship leader Scott McLaughlin, who was fifth in practice, was blown away by the experience. He finished just ahead of Nick Percat and Jamie Whincup.
"That is wild. It's the coolest things I have ever done," he said.
"The first couple of laps I missed all my markers and was caught off guard by it all. Down the front straight and into turn one was incredible. I feel like I am doing 400 clicks man, it's crazy."
With many drivers accustomed to racing at night in their careers from karting to other categories, the new element was supplemented by some in-car lighting but also dimming some of their existing internal setups from daytime driving.
There were many variations of in-car and undertray lighting as teams experimented with what best suited the driver. Some used headlights, others didn't.
It appeared older tyres in cooler temperatures were the surprising part of the first night-time practice run with many laps set on older, rather than new rubber.
The fastest 10 drivers in the combined order from this session and Practice 2 on Saturday morning will skip the first phase of the knockout ARMOR ALL Qualifying.
FOLLOWING TONIGHT'S PRACTICE:
RED ROOSTER SYDNEY SUPERNIGHT 300
  1st – Chaz Mostert
2nd – Scott Pye
3rd – Mark Winterbottom
  1st –Scott McLaughlin (2321 points)
2nd – Shane van Gisbergen (2190 points)
3rd – Jame Whincup (1870 points)
Click here for full results and current championship standings.