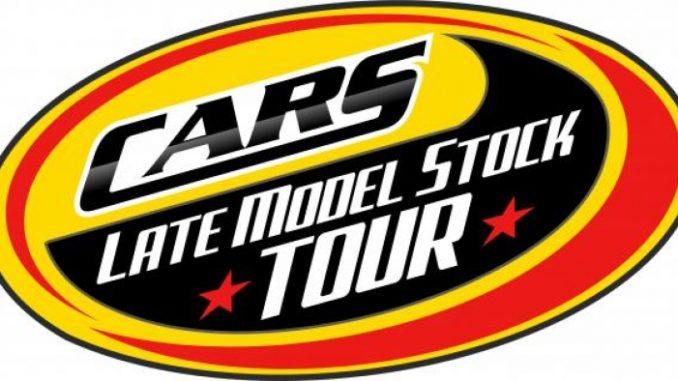 NEWTON, NC (Aug. 5, 2018) – In front of another near-capacity crowd and eight NASCAR legends, Brandon Setzer and Josh Berry won their respective halves of the 2nd Annual Throwback 276 at Hickory Motor Speedway on Saturday night. For each driver, the victory represented a triumph against struggles of their own in previous months surrounding CARS Response Energy Tour competition.
SUPER LATE MODEL RECAP
Preston Peltier returned to the CARS Response Energy Tour in style on Saturday, capturing the Mahle Pistons Pole Award for the super late model portion of the event. On the initial start, he jumped out to the lead and led the opening circuits over Bubba Pollard and Bobby Gill-themed racer Kodie Conner.
Bubba Pollard stole the lead on a lap 20 restart until Peltier once again made his way around the No. 26 Ford on an ensuing green flag just two cautions later. The middle stages of the race were plagued with multiple caution flags, though most incidents were single-car spins with those involved able to continue.
With 58 laps to go, Bubba Pollard took advantage of Peltier on one of the restarts, stealing the lead away before battery issues caused his car to slow and allowed Brandon Setzer the opportunity to bypass him for the race lead on lap 104. Four circuits later, Pollard's car rolled to a stop on the frontstretch when his battery died and brought out the final caution of the night.
Brandon Setzer fought off a hard-charging Chandler Smith in the final laps to claim his sixth career win in the CARS Response Energy Tour, tying him with rival Raphael Lessard for most all-time. Smith, Kodie Conner in the highest finishing throwback car, Preston Peltier and Jared Fryar who overcame an early flat tire rounded out the top five. Setzer's victory also shot him to the top of the all-time series monetary award rankings.
"This is the first ever race I've been here without [my dad], so we still kicked their ass," Setzer emphatically stated in Edelbrock Victory Lane as the crowd roared its approval. "That's the best in the country right there, and we went toe to toe with them. We saved our tires a little bit, and that's how we made it happen."
"There was zero left," he admitted as he continued. "I was spinning the tires down the straightaway the last  freaking twenty laps. I knew [Smith] was coming, and I'd hit three good laps, then I'd mess up and he'd catch me and it seemed like he'd mess up. But props to the kid, seemed like we raced side by side for 50 laps tonight, and I don't think we ever touched. He's a good kid to race with, but man that was fun! You don't get to do that in front of your hometown crowd very often."
Brandon's father Dennis was serving the final race of a three-race suspension from the CARS Tour pit area due to a fighting incident at Hickory in May, but was escorted to victory lane by series director Chris Ragle in order to allow him to participate in the festivities with his son and team.
"It's unreal man, to get another win at Hickory is surreal," the younger Setzer said as his father arrived in Edelbrock Victory Lane. "Anytime you win a CARS Tour race it's awesome. I'm not sure how much I'll be able to race going forward since we're going to a limited schedule, but this is just the topping on the cake."
LATE MODEL STOCK RECAP:
Josh Berry lit up the qualifying charts to claim the Hedgecock Pole Position for the first time since the season opener in March. One of nearly two dozen throwback paint schemes in the late model stock race, Berry did L.W. Miller proud by piloting No. 73 Chevrolet to the front of the field, a livery designed after Miller's modified.
The Tennesseee native proceeded to lead the field around the .363-mile layout at Hickory for the opening 40 laps until a competition caution waved as mandated by the rulebook for every consecutive 40 green flag laps.
On the restart, Berry fended off Layne Riggs until Craig Stallard and Chris Denny had issues in turn one, bringing out the second caution of the night. Riggs once again hounded Berry on the restart and after 13 laps in the runner-up spot, found a way around Berry with a bump-n-run maneuver in turn four. The move placed the No. 10 Nesquik Ford of Riggs in the lead for the first time in the evening.
The brightly colored No. 10 continued to set the pace until a lap 104 restart when Berry pulled ahead once again with only 34 laps remaining. Riggs attempted to mount a challenge but ultimately lost ground as his car went away in the closing laps. At the checkered flag, Lee Pulliam was only behind by a .680-second margin for his career best finish at Hickory while Timothy Peters, Bobby McCarty and Riggs rounded out the top five.
"This is a big win tonight, I told everyone who asked how big of a deal this meant to me," Berry said in Edelbrock Victory Lane. "And in the race, I don't do that. I don't lead like that normally, so I was worried about it. It looked like Lee (Pulliam) may have been a tick better at the end, but we led the whole damn thing so he should've been. We came here to win, worked our asses off on this thing, brought a great car here tonight and got the win. This is quickly becoming one of the biggest races at Hickory, and I've won a lot of races here and this one is definitely up with the top.
"This is awesome. When I ran this, he had expectations of us to win and I had that same expectation of myself," he continued when asked about any pressure from L.W. Miller, husband of his car's co-owner Kelley Earnhardt Miller, whose paint scheme and number he donned for this race. "For the past month, I've worked with that and have had such a great feeling about it coming into this weekend. Things don't always work out in your favor like that, but tonight they did. Our sponsor, All Things Automotive, flew down from Pennsylvania to be here tonight. Kelley couldn't be here, she's sick, and I saw Dale's tweet, I know he's watching on TV. This is just unbelievable, and thanks to all my guys for working so hard. This one really does mean a lot and we're going to celebrate this one, for sure."
The late model stock portion of the race will be featured on MAVTV in an episode of Suzuki presents SPEED SPORT thanks to a partnership between the CARS Tour, live broadcast producer Pit Row Media, and SPEED SPORT. Air date is September 6 at 7pm and 10pm ET.
NOTES OF INTEREST:
– Jody Measamer's No. 13 Chevelle was one of the hottest paint schemes in the pit area, drawing attention from many fans and drivers alike. His crew also played the part, breaking out their Smokey Yunick attire for the afternoon which earned them the Best Appearing Crew Award among all 67 teams who entered the event.
– The Hoosier Tire Best Appearing Car Award will be determined early in the week after the Speed51.com social voting portion of the contest has concluded. The online vote through Facebook will count as 1/3 of the total vote for Best Appearing Car Award.
– The addition of two raceday entrants into the late model stock field tied the 2nd Annual Throwback 276 with the series inaugural race as the highest-attended event in series history by teams. In March 2015, 67 teams filed an entry to compete in the 300-lap event at Southern National Motorsports Park. 65 teams had done the same prior to Saturday, when Zach Bruenger and Dylon Wilson decided to enter their limited cars from Friday night's event into Saturday's headlining show. Bruenger missed the field through time trials while Dylon Wilson climbed as high as seventh until a late-race spin. He climbed back to 12th at the finish in a paint scheme inspired by former Dash Series driver, and his grandfather, Dean Combs.
THE FINISHES:
CARS Super Late Model Tour
Throwback 276
Hickory Motor Speedway – August 4, 2018
POS NUM DRIVER LAPS REASON OUT
1.6SBrandon Setzer138
2.26SChandler Smith138
3.5Kodie Conner138
4.33Preston Peltier138
5.48Jared Fryar138
6.63Matt Craig138
7.34Nolan Pope138
8.28Corey Heim138
9.8Tate Fogleman138
10.7CTyler Church138
11.13Jody Measamer138
12.7Molly Helmuth137
13.2GDarrell Gilchrist137
14.17Mike Speeney137
15.51Raphael Lessard136
16.2TGracie Trotter133
17.6WMatt Wallace116
18. 57 Austin Theriault 115 Mechanical
19. 26P Bubba Pollarrd 105 Battery
20. 2B Jeff Batten 84 Accident
21. 3J Wayne Jefferson 80 Accident
22. 24 Mason Diaz 78 Accident
23. 87 Matt Thomas 78 Accident
24. 3 Anthony Cataldi 77 Mechanical
25. 58 Tyler Ankrum 34 Mechanical
26. 9 Chris Dilbeck 23 Mechanical
27. 12 Taylor Stricklin 23 Mechanical
28. 4B Amber Balcean 19 Accident
32Harold CroomsDNQ
59Joe Graf, Jr.DNQ
15Roy Hayes IIIDNQ
76Jerick JohnsonDNQ
21Ryan MathewsDNQ
37Dan SpeeneyWithdrew
14Greg BurgessWithdrew
CARS Late Model Stock Tour
Throwback 276
Hickory Motor Speedway – August 4, 2018
POS NUM DRIVER LAPS REASON OUT
1.73Josh Berry138
2.5Lee Pulliam138
3.12Timothy Peters138
4.77MBobby McCarty138
5.10Layne Riggs138
6.60Deac McCaskill138
7.28Sam Mayer138
8.6Charlie Watson138
9.2Cody Haskins138
10.22Bradley McCaskill138
11.36Cole Glasson138
12.77DDylon Wilson138
13.51Grayson Cullather138
14.24Mason Diaz138
15.2LKevin Leicht138
16.17MAustin McDaniel138
17.17Craig Moore138
18.2PBrandon Pierce138
19.27Ronald Hill138
20.4Craig Stallard137
21. 5H Riley Herbst 129 Mechanical
22. 29 Mitch Walker 104 Mechanical
23. 3 Chris Denny 93 Accident
24. 54 Tommy Lemons 87 Engine
25. 5B Thomas Beane 62 Mechanical
26. 7 Justin Carroll 50 Mechanical
27. 18 Ty Gibbs 40 Engine
28. 75 Landon Huffman 38 Power Steering
55Zach BruengerDNQ
77Trevor WardDNQ
37Joel CourageDNQ
21TChris TateWithdrew