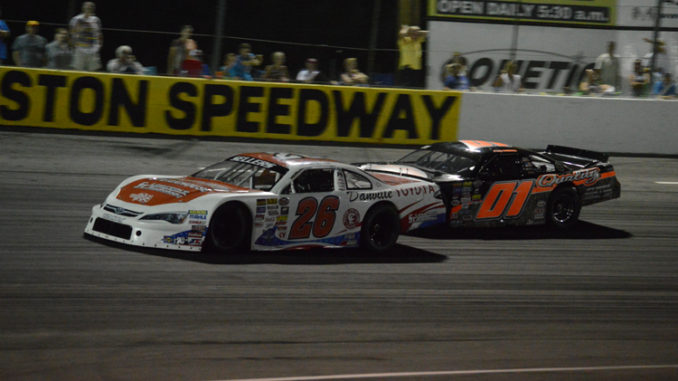 SOUTH BOSTON, Va. (August 6, 2018) – For the first time this season, someone not named Philip Morris is leading the Late Model Stock points standings at South Boston Speedway. Peyton Sellers hopes it remains that way, but he knows it won't be easy.
Sellers took the points lead July 28 with a fourth-place finish while Morris was sidelined and finished 13th after an incident between the two drivers. Austin Thaxton went on to win the 100-lapper, his first win of the season.
With three race dates remaining, including a pair of twin 75-lap races and a 100-lapper for the Late Models, Sellers holds a 13-point lead over Morris.
"The points battle is one I feel like will comedown to the best total team effort. Neither me or Philip has had a mechanical issue this year," said Sellers. "We both have just raced hard. We have given the fans a show this year and the final races will be no different. He's racing for a national championship and I'm here to win the track title."
Morris, a four-time national champion who is leading the points toward a fifth win, has eight South Boston wins this season to Sellers' two. Sellers, also a national champion, has seven second-place finishes and just one finish outside of the top five while Morris has two finishes out of the top 10.
The average finish between the two after 12 races is remarkably close. Sellers has an average finish of 3 while Morris' is 3.33.
Other than consistency, the key to Sellers' points lead has been his strategic use of passing points. Drivers at South Boston receive bonus points for each position gained during a race and have the option to start at the rear of field before the race begins to pick up more passing points.
Sellers has opted to drop back in the field several times this season and has outscored Morris in passing points 72-46. Without those bonus points, he would be trailing Morris.
The Sellers-Morris championship battle will resume on August 11 with the Davenport Energy PASS Super Late Model 150, which will feature a 150-lap PASS Super Late Model race, twin 75-lap Late Model races, a 15-lapper for the Budweiser Hornets and a 25-lap race for the Southern Ground Pounders vintage series.
With just three race dates remaining, there are tight points races remaining in most all other divisions at South Boston Speedway.
Trey Crews leads Ross Dalton by 25 points, 320-295 in the Limited Sportsman Division while Daniel Shelton has a close 14-point, 277-263 margin over Johnny Layne Jr. in the Budweiser Pure Stock Division with Jordan Pickrel just five points behind Layne in third.
Cameron Jarrell has a fairly comfortable 248-211 advantage over Kevin Currin in the Budweiser Hornets Division and Dennis Holdren leads the Mod 4 Division 130-99 over Cory Dunn.
Grandstand gates open at 4:30 p.m. on August 11 for the Davenport Energy PASS Super Late Model 150 with qualifying at 5 p.m. A fan appreciation event will be held trackside a 6 p.m. with the first race at 7 p.m.
Advance tickets are $10 each and are $15 on race day. Children 12 and under will be admitted free when accompanied by a paying adult.