NASCAR Five Burning Questions – August 17th 2018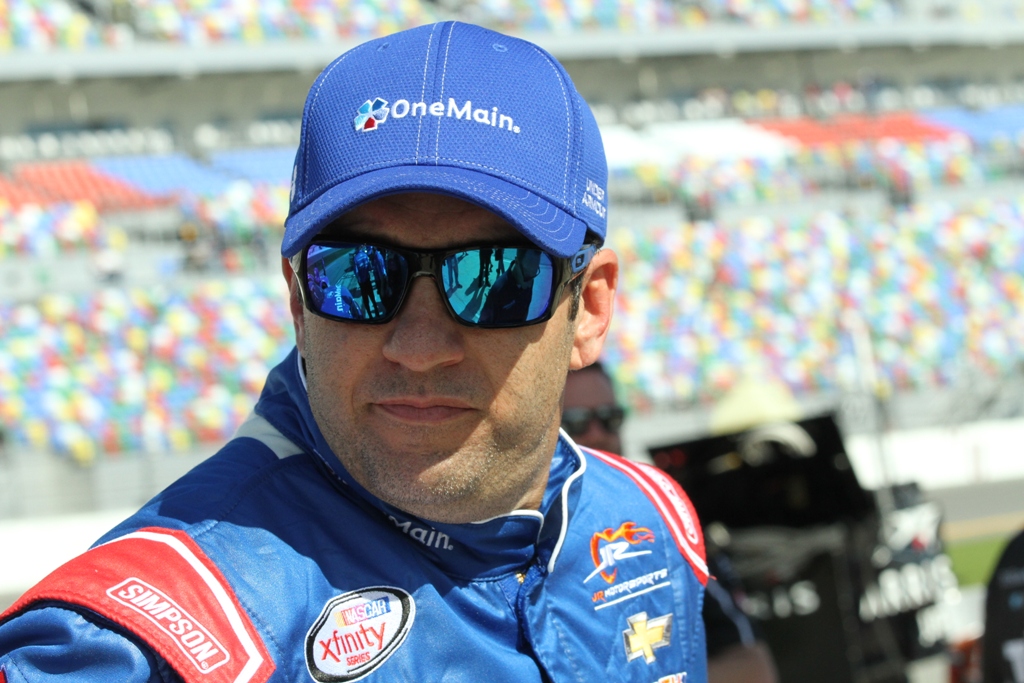 This has been a crazy week in the NASCAR garage as we approach the last stretch of the 2018 season. Here's this week's "Five Burning Questions:"
1. What will be the implications of Kasey Kahne's retirement? 
Kasey Kahne unexpectedly announced his retirement from full-time NASCAR competition at the conclusion of the season earlier this week. There are a couple of big takeaways as it pertains to this move.
First of all, Kahne will vacate the Leavine Family Racing seat and we have to wonder who will be the replacement. Logic says that with Leavine moving to Toyota in 2019 that Christopher Bell will likely be the betting favorite on taking over this car.
However, we do have to closely watch the contract negotiations between Martin Truex, Jr. and Furniture Row. I've maintained a position that there's a chance we see Truex move to Joe Gibbs Racing in 2019, replacing Daniel Suarez. If that were to happen, Suarez could also be a potential candidate for the No. 95 car.
Secondly, and this was very eye opening, there's a rumor that Kahne was offered the No. 41 Stewart-Haas Racing ride that will be vacated by Kurt Busch. Now, if that is true, it's crazy to think that Kahne would turn down the opportunity to drive for what is arguably the best team in the NASCAR garage. This goes to a greater, far reaching issue. That is that today's drivers simply do not have the same passion for the sport that the previous generation of driver's did.
There is nothing wrong with that but when you see guys who are still relatively young deciding to hang it up instead of racing for a team that could potentially win a championship it shows the overall culture shift in the garage. Carl Edwards hung it up much earlier than anyone ever would have imagined and Kyle Larson has repeatedly said that his goal is to eventually drive Sprint Cars full-time.
2. Who will replace Elliott Sadler at JR Motorsports in the Xfinity Series? 
Kasey Kahne wasn't the only driver announcing that they were stepping away from the sport at the conclusion of the season. Long-time Cup and Xfinity star Elliott Sadler also announced that he was hanging up the helmet at the end of the 2018 season.
Sadler's retirement isn't quite as unexpected as Kahne's as Sadler is 43-years-old and has been in the sport since 1995. The question here is who, if anyone, will replace Sadler at JR Motorsports? Without knowing the overall sponsorship situation I don't think it's a given that JR Motorsports will continue to run the No. 1 car in 2019.
If sponsorship is in place and the car does remain on the circuit I believe there are a handful of great candidates who could step in and take over this ride. My top two choices would be either John Hunter Nemechek or Jamie McMurray. I would also thrown Ryan Preece into that mix but I will talk about him later.
If the rumors are true that McMurray will not be back at CGR in the No. 1 Cup car then a move to Xfinity and JR Motorsports could be a good combination. If McMurray would like to stay in the sport I feel that a full-time Xfinity ride at a team like JR Motorsports would be great for him. I could see McMurray running two to three more seasons before deciding to retire and this would be a great landing spot.
John Hunter Nemechek is the other driver I'd take a hard look at due to his natural talent. Nemechek is always strong no matter what he is running and has shown that he could be one of the next breakout stars in the sport. Now, would Ganassi hotshot him to Cup to replace McMurray in the No. 1 car is another question that would have to be asked here. Only time will tell.
3. Is JTG Racing looking at driver swaps in 2019? 
There's been rumors floating around the past couple of weeks that the landscape at JTG Racing will be vastly different in 2019. Rumors have either both A.J. Allmendinger and Chris Buescher or at least Allmendinger being replaced in 2019.
Some of the names popping up are Richard Childress Racing Xfinity teammates Daniel Hemric and Matt Tifft and Ryan Preece, who has driven several times for Joe Gibbs Racing in the Xfinity Series in 2018.
Preece has shined in his six starts with one win, at Bristol this spring, and three other top five finishes, and a ninth at California. His lone race finishing outside of the top 10 was at Daytona in July where he retired due to overheating after starting on the pole position.
Would JTG try to bring Preece to the Cup Series if the opportunity presented itself? With the alliance between JTG/Childress it would make sense also to see one of the RCR Xfinity drivers to get a Cup ride at JTG. Or perhaps even Ty Dillon moving over from Germain to a bit of a more competitive JTG car in 2019.
4. What kind of Bristol will we see in the Cup race Saturday night? 
Bristol is billed as, "The Last Great Colosseum" and TV always plays up the chaos that Bristol can produce. The unfortunate fact is that the clips keep getting older and older because there has been less and less chaos since the track was reconfigured. Bristol has attempted many things to get the racing back to more of the way it used to be, most recently using the traction compound on the bottom groove.
Will we see some wild action and tempers flaring on Saturday night or will we have another pretty tame Bristol race? Perhaps the racing God's will smile on the Tennessee mountains and chaos and hot tempers will reign in the valley. The last time a night race had more than 10 cautions was 2013 where there were 11 cautions in the race. We've not seen much in the way of tempers at Bristol in the recent years either.
Whether people want to admit it or not, what made Bristol the hottest ticket in the sport was all of the chaos that the racing at BMS produced. We'll see if people are screaming, "It's Bristol Baby" after the race or, "Eh, it's Bristol."
5. Will the Truck Series keep up the positive momentum? 
I hope you've been watching the Truck Series in 2018. It's produced by-and-large the best racing among the top three NASCAR series this year. The competition in the CWTS also keeps improving with the cost reduction and measures NASCAR has taken to tighten up the fields. At Bristol, there were five trucks that missed the race. More and more trucks are showing up to races and fresh blood is never a bad thing in the sport.
That does lead to another question though. If this many trucks keep showing up week-to-week should NASCAR perhaps increase the number of starters once again in the CWTS? We all know the main reason it was dropped in the first place was lack of trucks in the garage area. I don't see how starting 34 or 36 trucks would be a bad thing. You never want to see teams having to load up and go home.
What do you feel like are the biggest questions of the week? What's your take on my questions? Drop us a reply and let us know what you think!
**The opinions expressed on this site are not necessarily those of the publisher, management or staff. All comments other than website related problems need to be directed to the author. (c)OnPitRoad.com. **