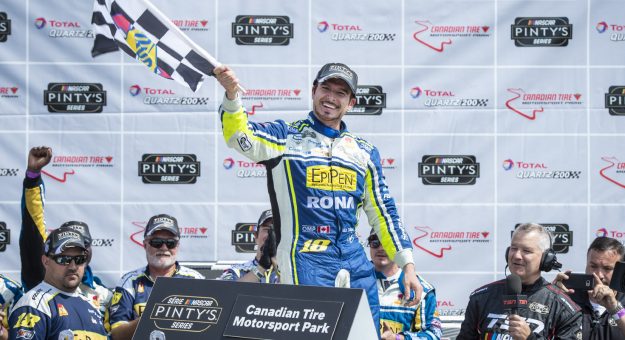 BOWMANVILLE, Ont — Alex Tagliani has won almost every major event in the NASCAR Pinty's Series.
However, one thing still alluded the 44-year-old driver from Lachanaie, Quebec, a win at Canadian tire Motorsport Park.
He took care of that in dominating fashion by winning the TOTAL Quartz 200 Sunday at CTMP.
In his previous seven starts at the historic 2.459 mile road course, Tagliani had the best finish of second coming one year ago.
Tagliani's No.18 Rona/ Epipen Chevrolet fought hard at the front of the field all race long, before being mired in the back after pit stops. Tagliani mounted a charge before taking the lead from Gary Klutt on Lap 30 and never looked back claiming his eighth career NASCAR Pinty's Series victory.
Kevin Lacroix was mired with engine problems during Saturday's lone practice session. After qualifying was rained out, Lacroix was forced to fight his way up through the field after starting 15th. The three-time CTMP winner held off hard charges from L.P. Dumoulin and Anthony Simone to come home in the second.
Dumoulin came into CTMP with a 19-point lead over Cole Powell. Dumoulin started from the pole and lead five laps en-route to a third place finish. This marks Dumoulin's seventh top-five finish in the 2018 season.
Dumoulin's brother J.F. Dumoulin came home fourth followed by Simone scoring his first top-five finish of the season.
DJ Kennington finished sixth while Gary Klutt, who led 11 Laps during the event, took on fresh tires and mounted a charge to catch the leaders late in the race to finish seventh.
Andrew Ranger rebounded after engine troubles on Lap 30 to finish eighth with Jostens Rookie of the Race Malcolm Strachan making his return to the NASCAR Pinty's Series coming home ninth. Donald Theetge completed the top ten finishers.
Despite his seventh podium finish of the season L.P. Dumoulin's points lead shrinks to 14 points over Alex Tagliani who passed Cole Powell to move into second place in the standings. Powell and D.J Kennington are 31 points back while Andrew Ranger rounds out the top five 47 points behind.
The TOTAL Quartz 200 will air on TSN2 September 1, at 1:30 p.m. and on RDS 2 September 10, at 10 p.m.
The NASCAR Pinty's Series will be back in action Saturday, September 8, for the Lucas Oil 250 at Autodrome St. Eustache in St. Eustache, Quebec.