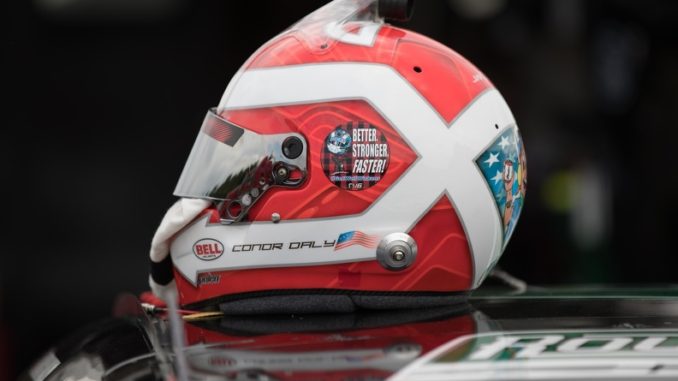 Derek Daly responded to allegations that he used a racial slur in the early 1980's which led his own termination and Lilly Diabetes pulling sponsorship for his son, Conor Daly, in his NASCAR Xfinity Series debut this weekend.
Lilly Diabetes ordered the decals pulled from the Roush-Fenway Racing No. 6 to be driven by Conor Daly at Road America on Saturday. The reason cited by the company was regarding Daly's father Derek, allegedly using a racial slur during an interview over 30 years ago and almost ten years before the birth of the C. Daly. Daly admitted to the use of the word, however, told WTHR, an NBC affiliate based in Indianapolis, that the use of this word was taken out of context. Catchfence.com journalist, Chris Knight, published this statement from Lilly: "Our sponsorship in Saturday's race is intended to raise awareness of treatment options and resources for people living with diabetes. Unfortunately, the comments that surfaced this week by Derek Daly distract from this focus, so we have made the decision that Lilly Diabetes will no longer run the No. 6 at Road America this weekend."
It should be noted that Lilly Diabetes did not pull the funding for the No. 6 team, it only ordered the removal of the decals from the car.
Daly recalls the conversation stating he was responding during a conversation about his new career in America. "I do not deny that I used the 'n-word,' but I think it's really important to understand the context of how it was used," Daly told WTHR. "I was new to America – this is the early '80s – 1983, I believe, maybe '84, but I think it was '83. I'm being interviewed by Larry Henry at WIBC, talking about the big changes in my career, in my life. I said I'm now racing in America. I'm with an American team, an American sponsor, an American crew. I said the only 'n' in the woodpile is me. That was a very commonly used phrase in Ireland – saying 'I will be the scapegoat. I will be the one responsible if this doesn't go well.' And it's such a commonly used word – I used it and moved on."
Once learning of the negative connotation of the word from his friend and fellow broadcaster, Robin Miller, Daly then fully understood the gravity of the term and has never used it since.
Unfortunately, for both Derek and Conor Daly, stories such as these gain attention very quickly in today's environment and decisions were reactively before all the relevant information was reviewed.
Daly expressed remorse for the occurrence to WTHR but cautioned that it is important to look at all the details before making assumptions. "Now make no mistake about it. I am sorry for what happened three-and-a-half decades ago. I know when I use the 'n-word,' it was wrong. I am truly sorry for anybody that I would have offended three-and-a-half decades ago and now that it's drawn back up again," Daly said. "But I really think in the environment that we now live in, it's super important not to pull that out of context. Understand the context and the difference in culture mixes that I very quickly learned about in 1983 – the American culture versus the Irish culture."