Predicting the 2018 Monster Energy NASCAR Cup Series Playoffs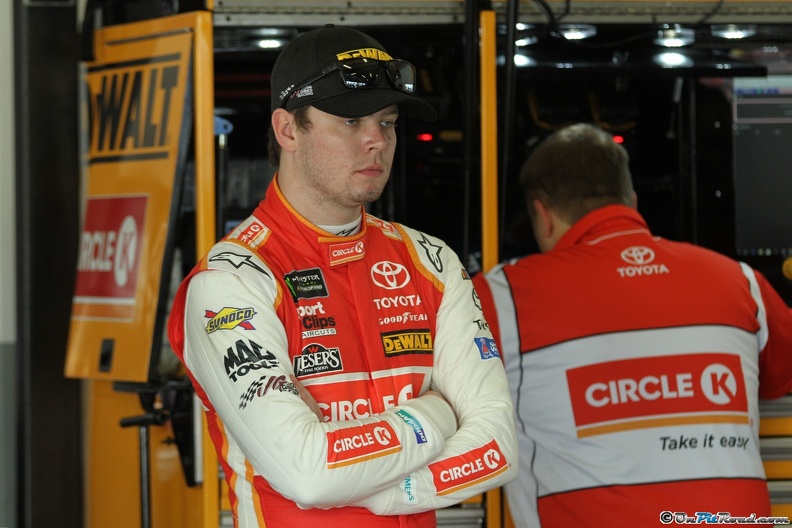 The 2018 Monster Energy NASCAR Cup Series playoff field is set. Sixteen drivers are racing for one prize — the championship. With the first playoff race right around the corner, it's a good time to take a deep dive and make some predictions for the final 10 races.
First off, here are the playoff contenders as they sit in the points:
Kyle Busch, 2050
Kevin Harvick, 2050
Martin Truex, Jr., 2035
Brad Keselowski, 2019
Clint Bowyer, 2015
Joey Logano, 2014
Kurt Busch, 2014
Chase Elliott, 2008
Ryan Blaney, 2007
Erik Jones, 2005
Austin Dillon, 2005
Kyle Larson, 2005
Denny Hamlin, 2003
Aric Almirola, 2003
Jimmie Johnson, 2000
Alex Bowman, 2000
The NASCAR playoffs are broken down into four rounds. The first round consists of races at Las Vegas, Richmond and the Charlotte Roval.
Round 2 will be run at Dover, Talladega and Kansas.
Round 3 will consist of Martinsville, Texas and Phoenix.
The finale takes place at Homestead where four competitors will vie for the 2018 Monster Energy NASCAR Cup Series championship.
This year we have a bit of a change in the makeup of the rounds which should provide for more excitement over the first few rounds of the playoffs. How will we whittle it down to the final four? Who will be left out each round?
Round 1 (Las Vegas, Richmond, Roval at Charlotte)
We've already had one race at Vegas this year that saw Kevin Harvick decimate the field by leading 214 of the 267 laps ran. He should be among the favorites this weekend at Vegas.
Unless something catastrophic happens I just don't see anyone outside of the top eight in the points currently missing round two so I have all of them advancing. Let's look at the rest of the field to see who we will eliminate first.
Of those guys in points positions 9-16, Denny Hamlin finished the lowest in the first Las Vegas race in 19th. Alex Bowman finished 18th and Austin Dillon finished 13th. Hamlin has three top-10s in his past four races though and came within a whisker of winning the Brickyard 400. He's definitely trending upwards.
Over the past five races Alex Bowman has finishes of 14th, 19th, 8th, 23rd and 33rd. That's not great momentum heading into the playoffs and sitting near the bottom of the ladder.
At Richmond in the spring, Ryan Blaney finished the lowest of the guys I consider in the danger zone, coming home 22nd. Bowman was 18th, Aric Almirola was 17th and Austin Dillon was 15th.
Almirola has limped through the past five races for the most part with finishes of 22nd, 7th, 31st, 14th and 23rd. Dillon hasn't fared much better with runs of 27th, 4th, 13th, 16th and 22nd. Blaney, on the other hand, has been a little more solid in recent weeks with finishes of 12th, 5th, 7th, 15th and 11th. Blaney also ran second at the last 1.5-mile track which was Kentucky earlier in the summer.
The Roval is a wildcard as it's never been ran in active competition. You would think it would favor those who run well on road courses.
I think three of the first four eliminated won't be much of a shock as I have Alex Bowman, Aric Almirola and Austin Dillon all bowing out after round one. The fourth driver is a little trickier. Conventional wisdom says that Jimmie Johnson has largely been out to lunch this season and just doesn't have any momentum. Looking at the others in my danger zone, I just can't find a way to put Jimmie Johnson into the second round either.
Round 2 (Dover, Talladega, Kansas)
We kick off the second round at the Monster Mile. Dover is one of those tracks that truly can be a wildcard as well. Everyone thinks of Talladega as being a wildcard and they are right but we've seen many big accidents over the years at Dover that wipes out 10+ cars at a time.
There is likely to be some wild and crazy racing in Round 2of the playoffs that could really jumble up the playoff picture. I do think that there are a few guys who are safely into round three and they are Kevin Harvick, Kyle Busch, Brad Keselowski and Clint Bowyer.
That leaves eight drivers for the remaining four spots. Of those, I'm going to eliminate Ryan Blaney because things just haven't clicked so far in year one at Team Penske like I'm sure everyone would hope. Blaney is a future superstar but I don't see him getting out of the second round this year.
Also, I'm going to go ahead and throw out Kurt Busch. Busch is a lame duck driver at SHR and will be leaving at the end of the 2018 season. He will be giving it his all but the competition is going to be tight and people with a lame duck status tend to not do as well.
The third and forth drivers out in the round of 12 will come down to Joey Logano, Denny Hamlin, and Kyle Larson. Hamlin has been running a bit better as of late but I don't think it's his year as I have Hamlin bowing out. I would also lean towards putting Logano out but he's so good at the restrictor plate tracks it wouldn't surprise me at all for him to win at Talladega. Saying that, I just don't think the Ganassi cars have the consistent speed in them this season so I will have to put Larson on the sideline after round number two.
Round 3 (Martinsville, Texas, Phoenix)
We really start getting down to the brass tacks here. It's almost like splitting hairs. I automatically advance Harvick and Busch because I think they will definitely be two of the four at Homestead.
I feel like the Penske cars have been just a bit off this season but have now won the past two events leading into the playoffs. I still feel with them being a half step behind SHR that both Keselowski and Logano will be eliminated after this round of the playoffs.
Clint Bowyer has had a great 2018 season but there has been some inconsistency at times in his No. 14 SHR Ford. When we get this deep in the water inconsistency will cost you dearly. Bowyer will not make the final four at Homestead.
My fourth driver eliminated here will likely be fairly shocking. One of the "Big 3" is going to bow out in Round 3 of the playoffs. Martin Truex, Jr. will not make it to the final round, in my opinion.
Truex has finishes of 2nd, 14th, 30th, 11th and 40th over the past five races. With all the turmoil about Furniture Row closing its doors at the end of the season it will be hard to continue to run at the highest level. While I think the team will continue giving a strong effort it just won't be enough to make it to Homestead and compete for the title.
Final Round (Homestead)
I have the final four at Homestead coming down to Kevin Harvick, Kyle Busch, Chase Elliott and Erik Jones.
With a one-race shootout for all the marbles it's so hard to "predict" what will happen but I do think that the Hendrick cars are just a small bit off so while I think Elliott will get there I just don't see him beating the competition.
Harvick and Busch have both had phenomenal years and it should be one of theirs to lose. But, there's something telling me that Erik Jones is just now hitting a real peak in his season and running well wherever he goes.
Jones has been very consistent much of the back half of the season. Starting at Sonoma, Jones has reeled off a win, four top-five's, and nine top-10 finishes. Erik Jones is flying under everyone's radar right now and that's a good place to be heading into the playoffs. I see Jones continuing his consistent runs and then capping it off with a win in the finale at Homestead to shock the NASCAR world by winning his first ever Cup title in his first year in the JGR No. 20 Toyota.
Who do you think will emerge as the 2018 NASCAR champ? Leave us a comment below and tell us what you think!
**The opinions expressed on this site are not necessarily those of the publisher, management or staff. All comments other than website related problems need to be directed to the author. (c)OnPitRoad.com. **