Whincup leads Triple Eight to historic 1-2-3 at RABBLE.club Sandown 500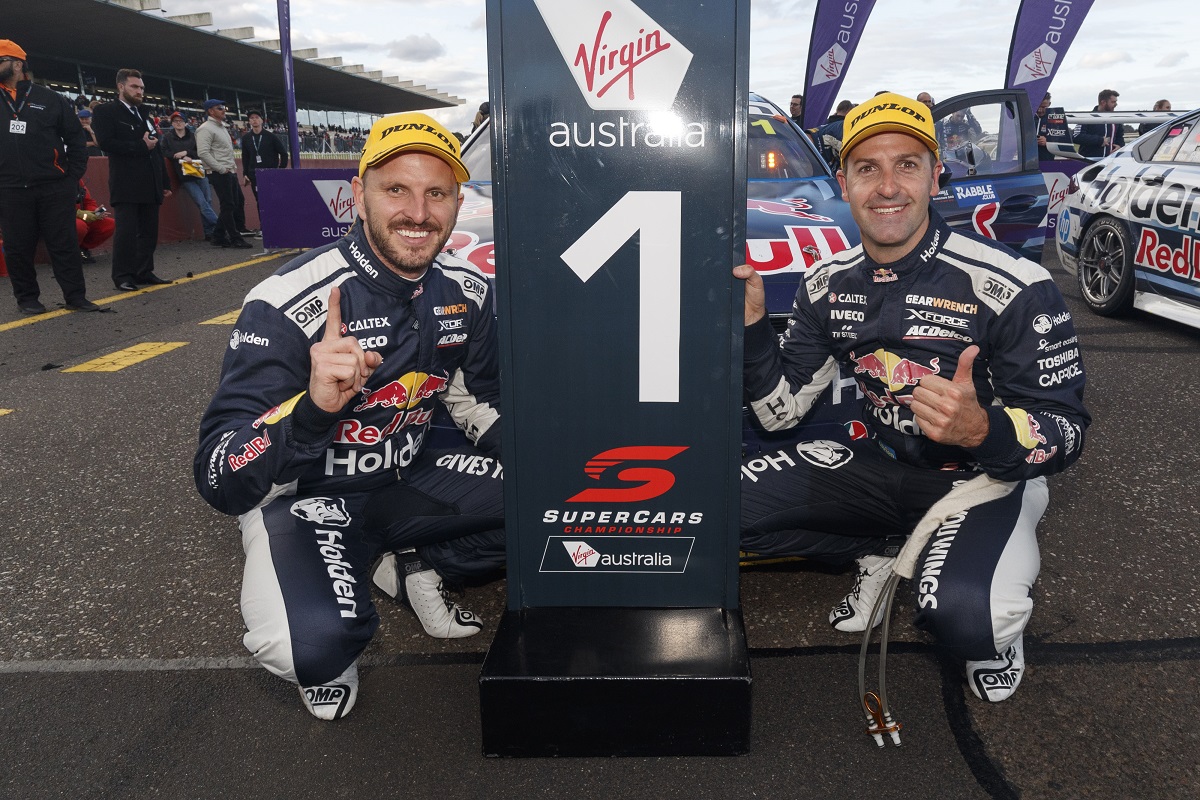 Seven-time Supercars Champion Jamie Whincup has scored his fourth Sandown 500 win in one of the most dominant displays in recent history, as his team became the first to score a trifecta in the Melbourne race steeped in tradition.
Whincup now equals the great Peter Brock in all-time wins at Sandown with seven, as he and co-driver Paul Dumbrell dominated the RABBLE.club Sandown 500 from start to finish. It was their third Sandown 500 win together.
His Red Bull Holden Racing team Shane van Gisbergen, driving with fellow Kiwi Earl Bamber was second and sister 888 Race Engineering car of Craig Lowndes and Steven Richards third.
It edges Whincup closer to the Championship leaders of Van Gisbergen and Scott McLaughlin. Van Gisbergen extended his lead marginally, to 55 points over his fellow Kiwi. McLaughlin fought bravely for fourth today behind some very fast cars.
"We couldn't be happier, the car has been awesome all weekend," Whincup said.
"PD did a great job. It's never over until it's over. This race has got away from us a few times but thankfully there were no safety cars and it was a nice clean race."
Whincup and Dumbrell would now be one of the favourites to repeat their 2012 win at the Supercheap Auto Bathurst 1000 in just 17 days' time.
"There is no doubt we had one-lap pace, but we proved today we had good durability," Dumbrell said. "It's always good to get a win here. We have had good pace here before but haven't been able to clinch it. We can celebrate tonight."
Van Gisbergen would also be confident of having a chance at his first Bathurst title.
"What a privilege it is to drive these cars," Van Gisbergen said. "The Red Bull Holden Racing Team gave us some rockets, it was awesome."
As the race settled Red Bull Holden Racing Team and Shell V-Power Racing took ascendency. Their co-drivers set the scene, handing back to their fulltime counterparts with all cars in the top five.
The only exception in that pack was the RBHRT sister car of Lowndes and Richards which was wedged in second after a strong opening co-driver stint by Richards.
Dumbrell dominated from the outset. Had it not been for two safety cars in his stint the lead could have been anything. He handed over to Whincup with his stint done ahead of Lowndes, Fabian Coulthard, Van Gisbergen and McLaughlin.
Coulthard dropped back in the last third of the race to finish seventh with ARMOR ALL Pole sitter David Reynolds pushing up into fifth and Boost Mobile Racing's Scott Pye scoring a strong sixth.
Nissan Motorsport's Ricky Kelly (eighth) had a solid day with a top ten finish as did Garth Tander and Chris Pither in the Wilson Security GRM Commodore. Completing the ten was Chaz Mostert and James Moffat in the Supercheap Auto Racing Falcon.
Teams will now begin preparations for the Great Race, the 2018 Supercheap Auto Bathurst 1000 which will run from 4-7 October at Mount Panorama.
FOLLOWING TODAY'S RACE 24: RABBLE.CLUB SANDOWN 500
  1st – Jamie Whincup
2nd – Shane van Gisbergen
3rd – Craig Lowndes
  1st – Shane van Gisbergen (3054 points)
2nd – Scott McLaughlin (2999 points)
3rd – Jamie Whincup (2716 points)
Click here for full results and current championship standings.