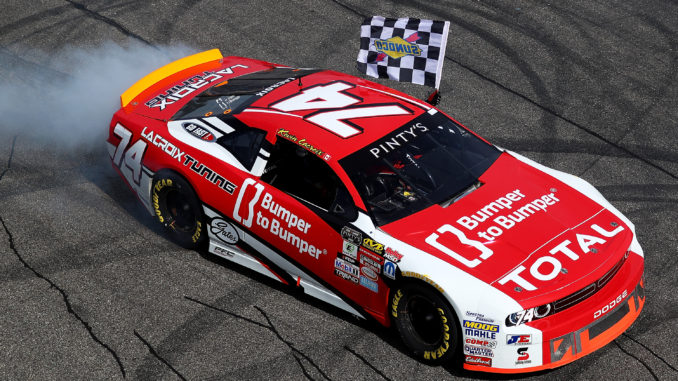 LOUDON, N.H. — All season long, Kevin Lacroix has suffered repeated heartbreak.
He put that all behind him Saturday afternoon in the NASCAR Pinty's Series' first visit to the United States. Lacroix dominated the Visit New Hampshire 100 en route to his 10th career win.
"It was one of those races when the car was so good you don't have to push hard to get to the front" Lacroix said. "I'm super happy to get back to victory lane because it's been a long time I feel. I got two wins on the ovals and nothing on the road courses it feels a little weird but I'm really happy to get here."
Alex Tagliani finished seventh and LP Dumoulin eighth, leaving Dumoulin's lead over Tagliani at four points heading into the NASCAR Pinty's Series finale, the Pinty's Fall Brawl, on Saturday, Sept. 29, at Ontario's Jukasa Motor Speedway.
Despite scoring a decisive win at Jukasa in June, the bad luck bug struck the Saint-Eustache, Quebec driver in full force. He suffered mechanical issues at three different races (Autodrome Chaudiere, as well as the road courses of Toronto and Trois-Rivieres), Lacroix also led 281 laps in Edmonton falling short to LP Dumoulin.
It only took the 29-year-old driver eleven laps Saturday to power his No. 74 Bumper To Bumper/Total/Gates Dodge past polesitter Cole Powell. It appeared to be smooth sailing until a mid race debris caution bunched the field up and gave Andrew Ranger a chance to attack.
Ranger stalked Lacroix from the restart all the way until a Lap 72 mechanical problem ended Ranger's race. The race went caution free to the end and Lacroix won by 5.3 seconds over Peter Shepherd III.
"It was a nice to get a good car after what we went through yesterday in practice." Lacroix said. "I was really confident for the race and it really showed right away."
For Shepherd it was his best finish and first podium since the 2013 finale.
"We are really excited with this," said Shepherd. "Our car didn't seem to like grip so the longer it went on and the more these tires wore out, the more we felt this race was in our favour" Shepherd added. "At the end of the day we are happy where we finished and will take a runner up finish all day long."
Donald Theetge, who ran the NASCAR Xfinity Series race at NHMS earlier this season, finished third. He was one of the four drivers who pitted for fuel under the second and final yellow of the race. Theetge mounted a charge to catch leaders but would ultimately settled for his third podium and fifth top five of 2018.
Powell finished fourth, followed by DJ Kennington.
Anthony Simone finished in the sixth spot, followed by Tagliani, Dumoulin, Armani Williams and Marc-Antoine Camirand.
The Visit New Hampshire 100 aired live on FansChoice.TV, TSN GO and TSN.ca. The race will also air on TSN2 Sunday, Sept. 30 at 12:30 p.m. and on RDS2 Tuesday, Oct. 16 at 10:30 p.m.