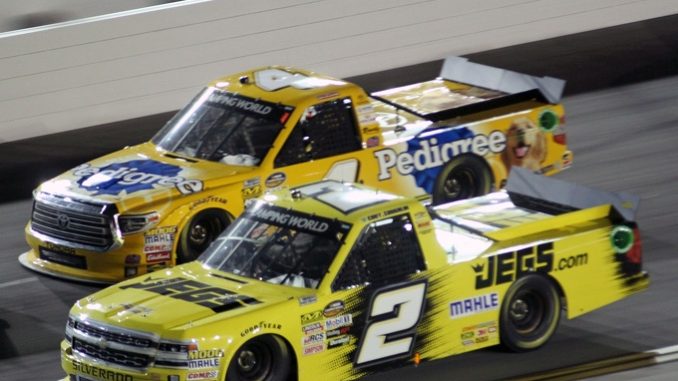 Cody Coughlin, who has driven for GMS Racing throughout the 2018 NASCAR Camping World Truck Series season, is out of the No. 2 Chevrolet for the remainder of the year, effective immediately. Team president Mike Beam cited "unforeseen issues with additional sponsorship issues."
"Due to unforeseen issues with additional sponsorship needed, Cody Coughlin will no longer drive the No. 2 Chevrolet for GMS Racing," Beam said in a statement.
"We are grateful for the relationship we made with Cody and the Coughlin family. We wish them the best in their future endeavors. Spencer (Gallagher) will fulfill the No. 2 GMS entry at Talladega, and we will announce who will be driving the remainder of the year at a later date."
Coughlin released his own statement saying he will be taking some time off from competing in NASCAR.
"I have thoroughly enjoyed my time in NASCAR. I want to thank Maury Gallagher and Mike Beam for the opportunity to race with GMS Racing. I wish them well for the rest of the season. I also want to thank my fans and extend the biggest thank you to my dad, mom, and sister for all of their love and support. While I am sad to leave NASCAR for the time being, I am excited about the new opportunities I will be pursuing."
In 53 Truck Series starts, Coughlin has nine top-10 finishes including a best finish of third at ISM Raceway in 2017.
Before his departure, Coughlin was 11th in the 2018 points standings after finishing in the top-10 on six occasions.