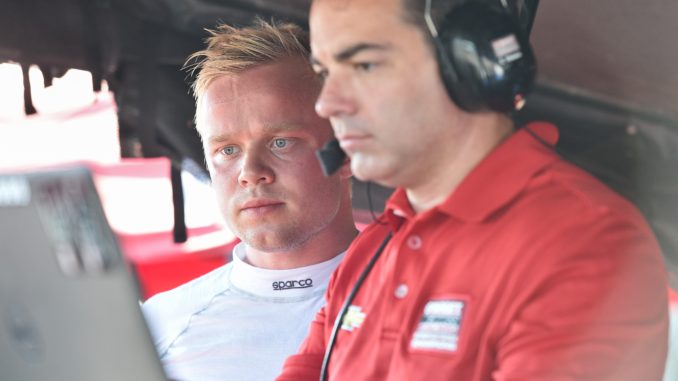 One of the rising talents in open-wheel racing, Felix Rosenqvist, is the newest face added to the Verizon IndyCar Series in 2019 after Chip Ganassi Racing announced the Swede will join the team to pilot the No. 10 NTT Data Honda next year, replacing Ed Jones after one year with the team.
Rosenqvist, who has competed full-time in Formula E over the past two seasons and amassed three wins, will join Ganassi as a teammate to series champion Scott Dixon.
"To say I'm thrilled or excited to be making this step in my career would be an understatement," Rosenqvist said in a team release. "Coming to INDYCAR and driving for Chip is just a dream come true. I've followed the team for as long as I can remember, and it's the kind of team and owner any driver would want to race for. Scott has had another tremendous season with three wins and a fifth title, so you absolutely couldn't ask for anything more in a teammate. I can't wait to start contributing to the team and getting to spend more time with everyone at NTT DATA."
Rosenqvist is a former Indy Lights competitor. He ran in 10 of 18 races during the 2016 season, winning in three of his starts with Belardi Auto Racing. He also tested for Ganassi on two occasions in 2016 and 2017.
"Felix has become familiar with our team and has worked in our system a little bit after coming over to test with us on a few occasions. Our management and engineering groups, along with the entire team, were impressed by his ability," Chip Ganassi said.
"The time was right to get him in the No. 10 car and I think I speak for a lot of people when I say that we are confident about what he can do behind the wheel next season. In addition, we are extremely proud to announce that NTT DATA has renewed with us as part of a multi-year deal. They have been a fantastic partner of the team and big advocates for the sport for a number of years and we are pleased to see it move into the future."