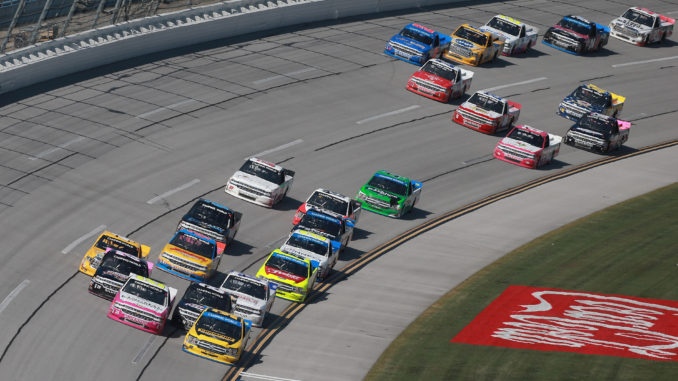 Ben Rhodes and Stewart Friesen both came into the NASCAR Camping World Truck Series race at Talladega Superspeedway in a precarious position. Both needed to gain points on their competitors to advance further in the playoffs and both missed out in that objective, being officially eliminated after the race.
Friesen, in particular, had a rough outing at Talladega.
Despite qualifying for the race in 11th on Friday, Friesen was forced to the rear of the field at the beginning of the race for unapproved adjustments. He quickly made his way through the field and saw himself in position to score much needed stage points on the final lap of the first stage, but was shuffled out of the lead pack by de facto teammate Justin Haley. A similar shuffling at the end of the second stage would again cost Friesen a shot at stage points, putting him in a must-win situation.
A tough day would only get tougher for Friesen after his Halmar Racing team discovered a miss in the No. 52's Ilmor engine. The engine issue was later revealed to be the results of a broken valve spring. Friesen would finish the race on the lead lap in sixth, but it wasn't enough to keep the Canadian in the playoffs.
Rhodes, who was also in need of a strong day after entering the race seventh in points, would leave the race in the same position after being involved in the dreaded "big one."
With under 35 laps to go in the race, Chris Fontaine spun after contact from Haley at the helm of the lead pack. Fontaine's spin collected, among others, Rhodes, who was able to continue after sustaining heavy damage.
"It's unfortunate that we were caught up in the one of the first cautions of the day. Once that happened, we went a lap down, but my ThorSport team did an amazing job getting our Ford F-150 back on track and running – good and fast, it was a really good truck," Rhodes said in a team release. "But, unfortunately, we just couldn't get that lap back. Being one lap down is what kept us out of the Playoffs."
Friesen and Rhodes weren't the only championship contenders to find issues, though.
Matt Crafton was also caught up in the crash that ended his teammate Rhodes' chances. Severe body and engine damage forced Crafton to watch his playoff hopes hang in the balance from the hauler. Strong results in the first two races of the playoffs were enough to keep his dream of a third series championship alive.
Brett Moffitt also had his share of difficulties. He was caught up in an incident of his own with Tanner Thorson which impacted the team's chances in the second stage. Moffitt was able to survive the carnage of Stage 3 to advance to the Round of Six. Joining him are Haley, Grant Enfinger, Johnny Sauter, Noah Gragson and Crafton.