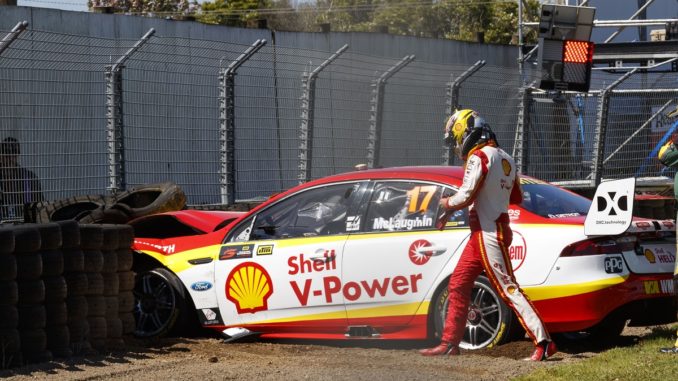 Scott McLaughlin's tilt at a maiden Supercars Championship has taken a hit, literally, when he crashed in just the second practice session of his home race, the ITM Auckland SuperSprint.
In a day of high drama, seven-time Supercars Championship winner Jamie Whincup was fastest from Erebus Penrite Racing's David Reynolds, an ARMOR ALL Pole sitter on the Gold Coast two weeks ago, and The Bottle-O Racing's departing star Mark Winterbottom.
The third of Winterbottom came a day after the 13-year Ford veteran announced he would leave his long-term outfit for an undisclosed new home from next year.
Whincup was driving in a spare car after his then co-driver Paul Dumbrell crashed in a wild storm at the Gold Coast with his regular car unable to be repaired in time to make the trip to NZ.

"I haven't driven this car before, so it took a little bit of time to get used to it out of the gate," Whincup said. "Now it feels like home."
Reynolds again proved his speed, with his well-documented Bathurst woes well behind him.
"That was a really good session for us because every time we went out we improved, which is really hard to do, especially on a track with so many bumps and different corners," he said.
"I didn't do the best lap, I stuffed up at turn eight, but it was good enough."
Winterbottom, who will leave Tickford Racing at season's end, had his last race victory in New Zealand two years ago before his extended recent drought.
"It's an emotional thing when you leave somewhere you have worked for the last 13 years," he said. "This track has been kind to us in the past so let's hope we can get one tomorrow."
McLaughlin's drama was the talking point of the day in Championship terms.
Locked head to head in a direct fight with Kiwi compatriot Shane van Gisbergen, the youngster from Hamilton smacked into a barrier in the fast turn two and three section of the Pukekohe circuit after just one lap of the final practice session of the day.
McLaughlin was leading at the time from Jamie Whincup and Van Gisbergen. Van Gisbergen had an eventless afternoon, coming in eighth.
"I was trying to find more of a driving thing I was working on coming into there. I just over-stepped the mark, completely my fault," McLaughlin said.
"I just gave them (the team) a whole lot of work that they didn't need. I will give myself a good kick up the arse and come back tomorrow."
While the damage appeared superficial it is a significant setback for McLaughlin's weekend to miss 36 minutes of practice, although there is a third session tomorrow morning before qualifying and the first of two races this weekend.
"It was a pretty big hit. I can't do much about it now, I made a mistake, I have to own it and get on with it now. I am pretty disappointed in myself," he said.
"We have been locking into there all day, so I had been running a little more brake bias and just lost the rear. I knew I was gone from the exit of the turn two kerb. Unfortunately, it is what it is."
Until then McLaughlin had been strong all day, leading the way in opening practice from three Triple Eight Commodores and team-mate Fabian Coulthard.
They sandwiched Craig Lowndes, Van Gisbergen and Whincup, in the 40-minute practice.
FOLLOWING P2: ITM AUCKLAND SUPERSPRINT
  1st – Jamie Whincup
2nd – David Reynolds
3rd – Mark Winterbottom
  1st – 

Scott McLaughlin (3368 points)


2nd – Shane van Gisbergen (3354 points)
3rd – Jamie Whincup (2935 points)
Click here for full results and current championship standings.