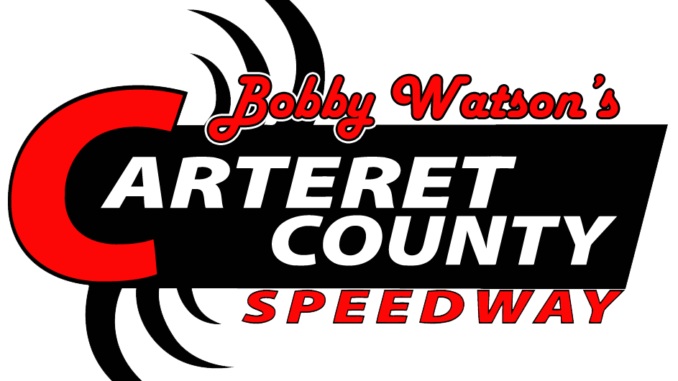 PELETIER, NC – A new logo and name have been unveiled at Bobby Watson's Carteret County Speedway in Peletier, North Carolina.
Bobby Watson's name will be incorporated in the name of the track and in the new speedway logo.  Watson was the owner and grand architect of the speedway, which opened in 2015.  He passed away in October at the age of 66.
"This track was Bobby Watson's dream and it will always be his racetrack," Bob Lowery, owner of Bobby Watson's Carteret County Speedway, said.  "We are looking forward to continuing Bobby's dream here in making Carteret County Speedway the best track in the nation."
The 2018 season finale will take place on Saturday night, November 17th with the Inaugural 4-Cylinder Nationals.  The race is headlined by a $2,000-to-win, 100 lap Carolina Mini-Stock Challenge feature race and also features Mod-4 racing, Mini Cups, Champ Karts, and Legends.  The green flag will fly at 6pm.
The 2018 Awards Banquet has been set for Saturday, January 12, 2019.  Track champions Brandon Clements, James Horner, Stephen Sanders, Adam Resnick, Shane Irving, Sean Wales, Justin Hall, and Carmen Odum will all be awarded their champion's trophy and honored at the ceremony.  The celebration will take place in the Moonshiner'z Cafe in the infield of Bobby Watson's Carteret County Speedway.