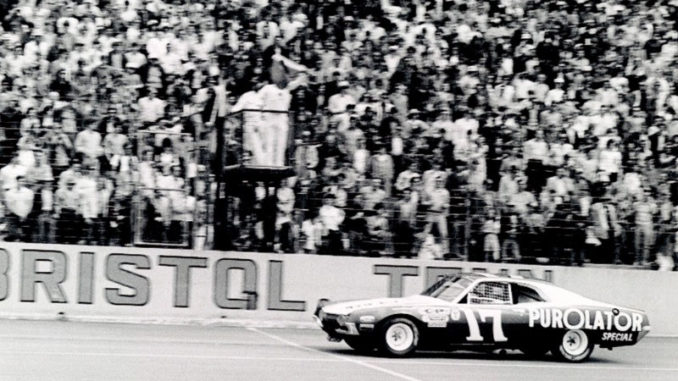 BRISTOL, Tenn. (Nov. 13, 2018) – Although NASCAR Hall of Famer David Pearson, who died Monday at the age of 83, didn't total a ton of starts at Bristol Motor Speedway, he left big footprints at the track.
In 20 races at BMS, Pearson, who cut his racing teeth on the tight bullrings of his home state of South Carolina, scored five victories. A winning percentage of 25 percent is one virtually any driver would accept at any track.
It was not unusual for Pearson to master practically any speedway he visited. Throughout a 27-year career, he was known to adapt quickly to new conditions and, within the course of a race, to changing conditions.
He grew up on short tracks, but when he raced on the relatively unknown (to him) layouts of road courses, he excelled. Observers standing near the turns on road courses during races remember Pearson hitting exactly the same mark as he roared through demanding parts of the course. Time after time, lap after lap, he would move through the turn at precisely the best spot, putting his tires in the same line every time.
It was that precision and focus – and a bundle of patience — that made Pearson a star at Bristol and a contender every time he rolled onto one of racing's toughest short tracks.
He once described Bristol as a track dramatically different from every half-miler he had traveled across the early years of his racing career.
"It was crazy fast for a half-mile track," he said. "You had to be on your toes every lap, every turn. When they made the banking higher, it got faster and tougher. There wasn't much room to maneuver, so you had to watch yourself all the time. As soon as you left one turn, you were in the next one. A crazy place to race."
Bristol might be tough and fast and crazy, but Pearson had the answers.
"It was good to do so well at Bristol because so many drivers found it to be so hard," Pearson said. "At some of the hardest tracks, some drivers were beaten before the race even started because they dreaded it so much. That was true of Bristol because the conditions were so rough, especially when it was hot. Five hundred laps there made for a long day in the heat."
Pearson was in a hurry to try the track when it hosted its first Cup race in 1961. He was the second driver on the surface for the first practice. Underlining his remarkable skill at qualifying, a talent he had throughout his career, Pearson was third in time trials. He finished 30th after experiencing engine problems.
Pearson won for the first time at Bristol in 1967, driving for the legendary Cotton Owens team. In 1968, in his second Cup championship season, he won twice at BMS while driving for the strong Holman-Moody team.
He also won at Bristol for Holman-Moody in 1969 and 1971.
His career worksheet at BMS shows 10 top-10 finishes in 20 races.
Although Pearson clearly was ultra-successful at Bristol, one of his darkest days in racing came at the track. In what Pearson later called the worst wreck of his career, he was involved in a multi-car accident on the eighth lap of the July 1965 race.
Oddly, Pearson, at the controls of his Cotton Owens machine, crashed with Marvin Panch, who was driving the No. 21 Wood Brothers entry, a car Pearson would drive to great success a decade later.
"I hit the wall the hardest I've ever hit anything," Pearson said later. "I hit it so hard my shoes came off. I'd always heard if that happened you were dead, so that's what I thought at first."
He wasn't hurt badly. In fact, Pearson was never seriously hurt in a race car. Although he had his share of accidents over the years, he was remarkably good at avoiding catastrophe. He often talked about never spending a night in a hospital during his career.
Pearson's Bristol success is saluted in three ways at the track. The David Pearson Grandstand and Pearson Terrace are named in his honor, and he has a bronze plaque in the Bristol Legends display near the track's administration building.
As long as there is racing at Bristol, the Pearson name will be remembered. And honored.
About Bristol Motor Speedway
Forged amid the scenic mountains of Northeast Tennessee near the Virginia state line, Bristol Motor Speedway is The Last Great Colosseum, a versatile multi-use venue that hosts major auto races, football games, concerts and many other captivating events. The facility features a 0.533-mile concrete oval race track with 28-degree corner banking and 650-feet straightaways that offers racing in several NASCAR touring series, highlighted by two major Monster Energy NASCAR Cup Series weekends. While at the track, fans are offered a unique viewing experience courtesy of Colossus, the world's largest outdoor center-hung four-sided video screen with a 540,000-watt audio system. The adjacent quarter-mile dragstrip, Bristol Dragway, offers more than 70 events annually, including the marquee Fitzgerald USA NHRA Thunder Valley Nationals. Three football games have kicked-off inside the oval, most notably the 2016 Pilot Flying J Battle at Bristol, where border rivals the University of Tennessee and Virginia Tech met before an NCAA-record crowd of 156,990. In existence since 1961, Bristol Motor Speedway was purchased in 1996 by Speedway Motorsports, Inc., a publicly traded company that is a leading marketer and promoter of motorsports entertainment in the United States. For more information, please visit www.bristolmotorspeedway.com.