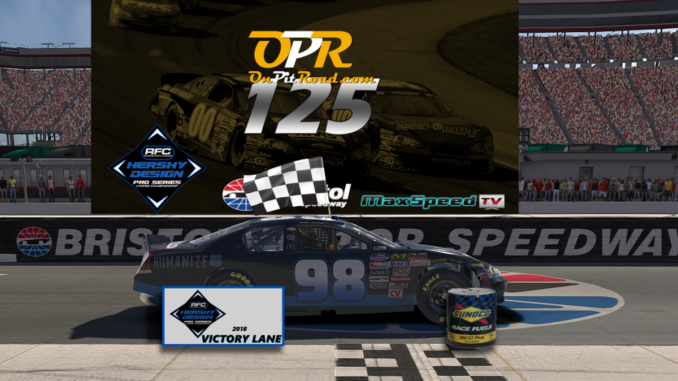 The Hershy Design Company Pro Series traveled to The Last Colosseum for the OnPitRoad.com 125, round 2 of the Winter Championship.  Justin Riggsbee took the top qualifying spot with a blistering lap .081 seconds faster than front row starter Will Drevicky.
It was Drevicky who grabbed the early lead over Riggsbee as the event was slowed periodically by yellows.  Spots in the top 10 shifted each restart and before long last week's winner Ryan Nolin charged to the runner-up position.  Nolin and Kris Stump applied early pressure to Drevicky but were unable to get by as the race reached the halfway break.  Several contenders went for solo spins off the slick turns and were no longer contenders as the remaining cars hit pit road.
Nolin used quick pit work to grab the lead with Drevicky and Stump in tow.  Drevicky was in the less desirable low lane as the race resumed and was a victim of the slippery corner exit as he battled to maintain a spot in the top, ending his chances.  The remainder of the race was to be decided by Nolin, who was joined by a pair of drivers recovering from big losses in track position, Stump and Justin MacDuff.  Both drivers battled back tailed Nolin in the late going.  As the laps wound down Nolin pressed a little too hard and lost control.  Stump capitalized and assumed the lead with 6 laps to go.  AJ Hamel, who had been hanging around top 5 all night, suddenly found himself in a battle for 2nd with MacDuff.
Stump cruised to the win, while MacDuff prevailed over Hamel for 2nd.  Nolin made an amazing save and was charging back to 3rd when a yellow ended the race with 2 laps to go.  Rex Hoyle had a typical Rex Hoyle night, minding his business and bringing home a top 5.
With the victory Stump takes an early 3 point lead over Nolin.  Rex Hoyle sits 3rd, followed by AJ Hamel and Justin MacDuff who are tied for 4th.  The Hershy Design Company Pro Series gets a week off and then resume in two weeks at Langley!