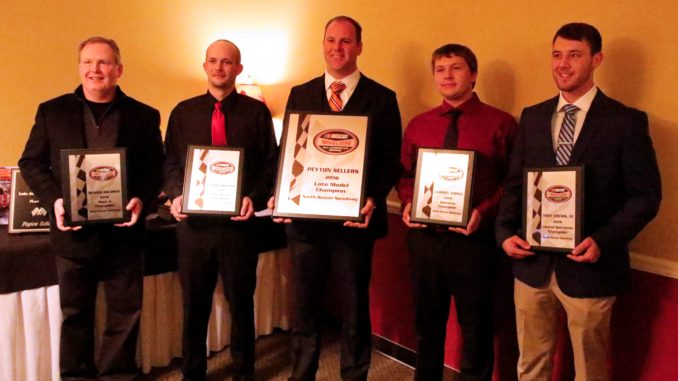 SOUTH BOSTON, Va. (January 14, 2019) – South Boston Speedway crowned five champions Saturday night and, in the process handed out almost $50,000 in prize money and awards at the track's annual Champions Night.
Champions honored for their 2018 titles included: Peyton Sellers, Late Model Stock; Trey Crews, Limited Sportsman; Daniel Shelton, Pure Stock; Cameron Jarrell, Hornets; and Dennis Holdren, Mod 4.
Philip Morris, the 2018 NASCAR Whelen All-American Series national champion, was also honored for winning the overall most popular driver at South Boston in an online vote of fans.
"Congratulations to all the other champions tonight," Sellers said after being honored for his fourth South Boston Speedway championship. "It's truly an honor to stand here and wear these rings and be a champion at South Boston Speedway.
"We did have an amazing year. I finished fourth in the nation and thought that was an unbelievable feat considering I was racing against the national champion every week."
Sellers had three wins in 17 starts at South Boston and backed that up with nine second-place finishes and 15 top-five finishes. A pair of 13th-place finishes, one early in the season and the other late, were the only times he was out of the top five.
Crews had an extraordinary season on the way to his second Limited title. He won eight times in 12 starts. A sixth was his worst finish of the year. He wound up winning the championship by almost 50 points.
"My team and I are very blessed to have the amount of success we've had this year," said Crews. "It would not be possible without the good Lord above. This all started for me over a decade ago with my dad. He's always believed in me."
Shelton was one of two rookie champions crowned. He had just two victories on his way to the Pure Stock title but was consistent all season.
"It's not often you have a 31-year-old rookie in a class," Shelton joked. "I've been coming to South Boston since 1990 when I was three years old. I've seen some of the greatest (drivers) race there and it really means a lot for me to be a champion at South Boston Speedway."
At 19, Jarrell was the youngest champion. He also was the least experienced when the season began. He had never driven a lap at South Boston until the first night of the season. He was a quick study, though with seven wins on the season.
Holdren, an 18-year veteran of many different weekly racing divisions, captured the Mod 4 championship by 25 points.
The 2019 South Boston season will kick off on Saturday March 16 with an afternoon of racing featuring twin 100-lap Late Model races, a 50-lap Limited Sportsman race, a 30-lap Pure Stock race and a 15-lap Hornets race.