Harrison Burton Kick's Off Speedweeks with Daytona Debut in ARCA Season Opener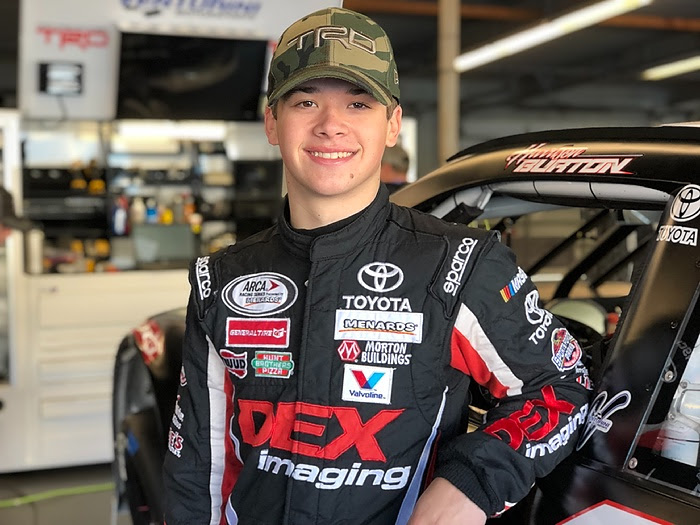 Harrison Burton's time is now. The budding 18-year old driver is set to launch a busy week and season of racing with the upcoming ARCA Racing Series presented by Menards opening event at Daytona Int'l Speedway on Saturday, February 9.
Joining Venturini Motorsports (VMS) during the off-season, the two-time ARCA Series winner and former NASCAR K&N Pro Series East champion will make his Superspeedway debut piloting the No.20 DEX Imaging Toyota.
Aiming his sights on Daytona's coveted Gatorade Victory Lane, Burton is confident entering the spotlight during stock car racing's version (Speedweeks) of the Super Bowl.
"I'm excited we're finally here," says Burton. "Being able to race at such a historic track like Daytona is a huge honor. As a driver you hope one day to have this opportunity. My whole career has led up to being able make this first start at Daytona.
"Everyone has put a lot of work in during the off-season to get to this point. I've worked hard to get myself ready and now it's time to focus on the race. I'm excited to get out there. This weekend it's all about gaining experience. I need to keep my nose clean and make it to the end – and once we get there who knows what can happen.
"This Venturini Motorsports team has put together a great Toyota Camry for Saturday's opener. I can't thank everyone enough for their support. Especially my parents as well as my sponsors DEX Imaging, Hunt Brothers Pizza, Morton Buildings, RUUD and FIELDS for being great corporate partners."
Burton, son of former NASCAR Star Jeff Burton and a member of the Toyota Racing Development (TRD) family, will compete in select races with VMS in 2019 while running full-time for Kyle Busch Motorsports (KBM) in the NASCAR Gander Outdoors Truck Series (NGOTS). His ARCA premier will be the first of back-to-back weekends of racing on the beach.
The first official track activity of the season will come on Thursday, February 7 when the teams receive two hours of practice starting at 4 pm ET. There will be another hour of practice on Friday, February 8 starting at 9:30 am ET followed by General Tire Pole Qualifying at 3:30 pm ET.