Theriault, RBR Teaming Up For Daytona NGOTS Run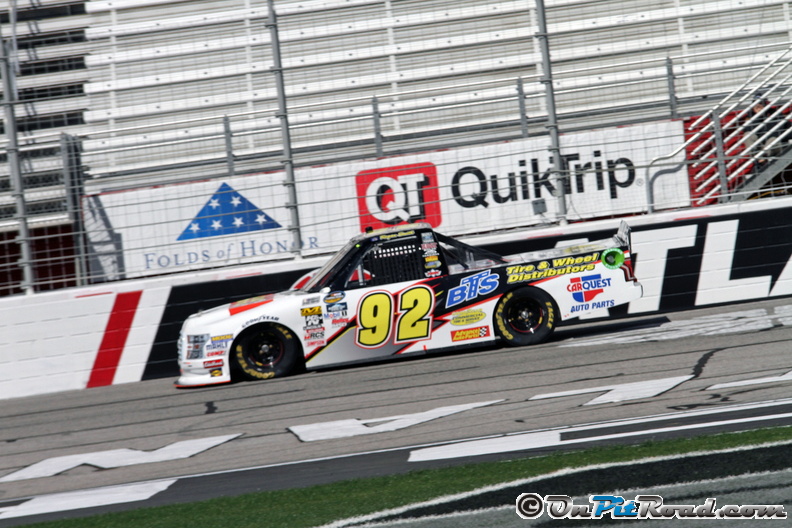 Cerro Gordo, N.C. (Feb. 4, 2019) – When Ricky Benton Racing (RBR) Enterprises kicks off its 10th year of NASCAR Gandor Outdoors Truck Series (NGOTS) competition in the NextEra Energy 250 later this month, 2017 ARCA champion Austin Theriault will be behind the wheel of the Black's Tire and Auto Service/Highland Construction Ford F-150.
"(Team owner) Ricky (Benton) and I started talking about teaming up late last year," said Theriault. "I was looking for a place an organization where I could find a home and come in and help the organization. RBR really fit where I wanted to be in my career. I love succeeding in situations where you might be considered the underdog. Ricky has done some great things and helped a lot of drivers in the truck se ries; I think we can build on that this year."
In addition to Daytona, the team currently plans to run NGOTS races at Martinsville, Charlotte and Bristol. Long-time RBR crew chief Mike Hester returns to the pit box in 2019 to lead the team's efforts.
"Austin has had a lot of success in his career and came highly recommended (from former team owner Ken Schrader)," said Benton. "He has spent a lot of time at the shop working with (crew chief) Mike (Hester) and the team to get the Daytona truck ready to race and has fit in with what we are doing well. I am looking forward to getting to the track."
"The draft is the great equalizer as we go up against some of the bigger multi-truck teams," said Theriault. "With the way the trucks race now, I think a lot of the things I learned in ARCA are going to be invaluable; pair that with this team's track record at Daytona and I think we have a great shot at a good finish.".
Celebrating 90 years
The No. 92 Black's Tire and Auto Service/Highland Construction Ford F-150 will be noticeably different from previous years when it hits the track at Daytona. To celebrate the 90th anniversary of sponsor Black's Tire, this year's F-150 will be sporting a predominately black paint scheme, a large departure from the white scheme RBR has used in the NGOTS over the past nine seasons.
About Black's Tire and Auto Service
Black's Tire and Auto Service, was formed as Black's Service Station by W. Crowell Black in Whiteville, N.C. in 1929. Now, with 46 locations in both North and South Carolina, Black's remains a local, family owned/operated tire sales and service and vehicle repair business. In addition to the retail and commercial locations, Black's operates four warehouse/distribution centers, a commercial sales division, and a tire-retreading business. The Black's Tire family includes more than 700 highly skilled, service-minded team members and ASE certified technicians.