Daniel Suarez Relaxed Heading into 2019 Season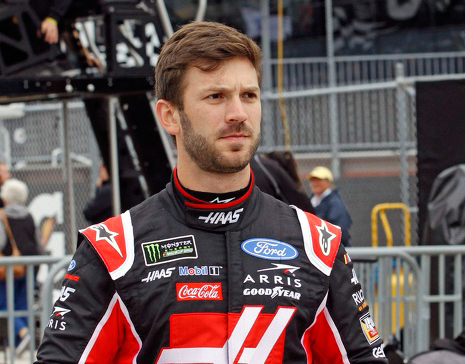 After two full seasons driving for Joe Gibbs Racing (JGR), one of the most competitive teams in the Monster Energy NASCAR Cup Series, Daniel Suarez was informed he would not return for a third season.
In most cases, being told you have been released from one of the top teams in the sport would be devastating. The future may have looked bleak for a while for Suarez.
However, when the next opportunity becomes available and it's arguably the only team in the garage better than the team you just left, it relieves most of the stress.
That is exactly what happened to Suarez as he signed to drive the No. 41 Ford Mustang for Stewart-Haas Racing (SHR).
The SHR organization scored 12 wins and led over 3,300 laps in 2018. All four SHR drivers visited victory lane. These stats were unmatched by any other team last year.
While JGR performed well last year as an organization, Suarez did meet expectations scoring only three top-fives, nine top-10's, and one pole. Many suspected the chemistry simply wasn't right at JGR and changing teams could be exactly what Suarez, the 2016 Xfinity Series champion, needed to live up to expectations.
Suarez, who said his second year at JGR was "extremely unstable", already feels at home at SHR. "Honestly, they have made me feel like home in just a few months.  I have nothing but good things to say about them. I'm really looking forward.  I will take it one day at a time, but I feel like we have a good future ahead of us and hopefully we can enjoy that and take advantage of it."
Feeling at home is important to a driver. Though it is hard to quantify, chemistry, being relaxed and comfortable, and feeling "at home" could be one of the most important ingredients to success.
"It is.  You're not the first person that has told me", said Suarez. "I'm just very happy, very relaxed and just very relaxed.  I feel that way. I'm extremely excited to be at the race track. I'm excited to go out there and be competitive, but at the same time be relaxed because I know what I have, so we're gonna be fine.  We just have to enjoy the week and the weekend."
Suarez is trying to keep his expectations in check and have patience, though he admits having patience it not in his nature.  "The expectations for this year and the team has been very strong and I know what I'm capable of doing and everything looks extremely good.  The reality is we have to be patient. We have to walk before we run and that's something extremely important for myself. We know that the results are gonna get there, but we have to be patient and be smart in all of the decisions.  Billy Scott, my crew chief, and the rest of the guys have been nothing but great working with me and bringing in the new fresh air and new fresh energy, and I can tell you that I'm extremely excited to what the future is holding for us."