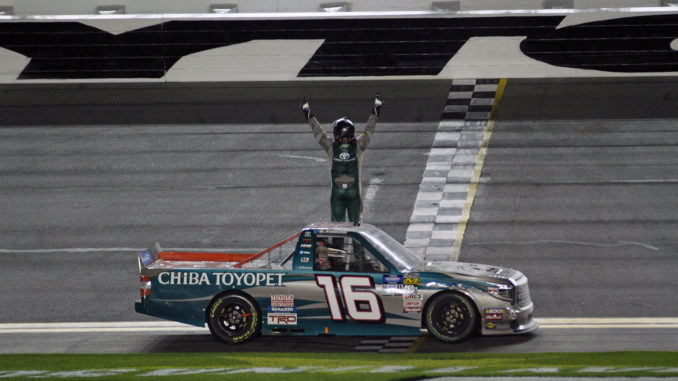 It was a historic night for the NASCAR Gander Outdoors Truck Series at Daytona International Speedway. The race marked the first with Gander Outdoors as the series sponsor, but more notably the crash-filled race marked the first time in series history fewer than 12 trucks finished a race, with only nine crossing the start-finish line.
It may be a black eye for the series, but none of that matters for Austin Hill who took the checkered flag after dominating the last half of the race.
Hill, who faced criticism in January for taking the ride of defending series champion Brett Moffitt at Hattori Racing, shut the mouths of his critics by winning the first race of his career in his 52nd start and holding off restrictor-plate racing ace Grant Enfinger.
"Man, this truck was fast, it really was. I knew we had a truck that could compete," Hill said in Victory Lane. "I got a little scared there at the end. I thought [Enfinger] was going to get me, he had a big run.
"I can't believe my first win came at Daytona. It's so surreal. I can't wait to race with these guys."
Enfinger, who was involved in a crash early in the race, finished second, despite being two laps down with less than 20 to go.
Rounding out the top-10 finishers in the race were Ross Chastain, Spencer Boyd, Matt Crafton, Josh Reaume, Timothy Peters, Angela Ruch, Austin Wayne Self and Stewart Friesen. Only the front nine actually finished the race.
Race winner Hill along with Boyd, Reaume and Ruch all scored their series best finish. Ruch became only the second ever woman to score a top-10 in the Truck Series, the first of which being Jennifer Jo Cobb at Daytona in 2011.
Calamity started early on in the race when DGR-Crosley teammates Natalie Decker and David Gilliland both encountered tire issues. Decker's truck caught on fire, but she was able to get out of the truck on pit road.
Bryan Dauzat's No. 28 truck lost his brakes on the third lap following a brush of Robby Lyons' truck. The No. 28 ran over his jackman, Billy Rock, on entrance to pit road. Rock was transported to a local hospital awake and alert.
Other early incidents claimed the races of contenders Johnny Sauter, Sheldon Creed and last year's champion Brett Moffitt among others.
NextEra Energy Resources 250 race results