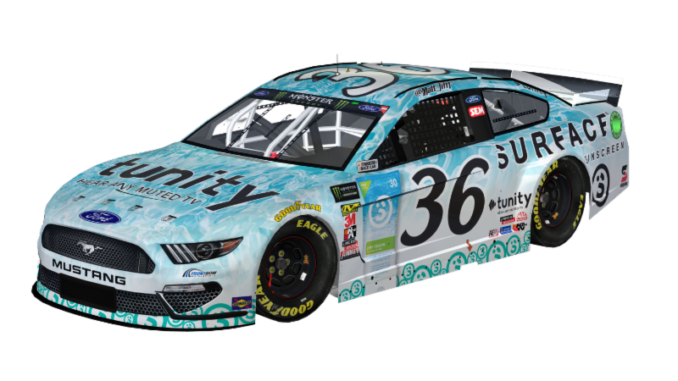 MOORESVILLE, N.C. (February 15, 2019) – Front Row Motorsports (FRM) today announced a new season-long partnership with Tunity, a revolutionary mobile app, which allows race fans to hear live audio from muted televisions directly on their mobile device; and Surface Sunscreen, which provides high quality suncare products to the athletes and fans of action sports.
Both companies will serve as co-primary sponsors for Matt Tifft and the No. 36 Ford Mustang team during select races throughout the 2019 season.
New York City-based Tunity is the first application of its kind, identifying a live video stream on a muted TV, and syncing the audio with exact timing on the user's mobile device. They have made it easier than ever for fans to listen in and keep up with the race while in bars, restaurants or gyms.
"We are thrilled to support Front Row Motorsports and Matt Tifft as he competes at the highest level of racing," said Yaniv Davidson, founder and CEO of Tunity. "Matt has proven his success on and off the track time and again and we couldn't be more excited to see his perseverance pay off in 2019. We are excited to play our part and help fans keep up with the race whether they're traveling, out to dinner or working out."
Located in Southern California, Surface Sunscreen helps fans of the outdoors to enjoy their favorite activities without worrying about the sun's damaging effects. From sunscreen to lip balm, they offer a variety of purpose-built products designed with athletes and action sports in mind.
"We can't think of a better partnership," said Guy Trotter of Surface Sunscreen. "We are committed to providing high-quality suncare products for fans and participants who spend their days outside at the track. Aligning with Matt helps us carry our message to a broader NASCAR-focused audience."
Tifft makes his Monster Energy NASCAR Cup Series debut in 2019 with Front Row Motorsports this Sunday in the Daytona 500. Previously, he competed in the NASCAR Xfinity Series where he earned nine top-five finishes, 38 top-10 finishes and two poles.
About Tunity
Tunity developed the first application of its kind which allows users to hear live audio from muted televisions directly on their mobile devices. Through a patented deep learning and computer vision technology, Tunity identifies a live video stream and its exact timing, syncing the audio with the user's mobile device. Based in New York City, Tunity is on a mission to revolutionize the out-of-home TV experience and transform the way brands engage with consumers. Tunity currently supports more than 150 channels in the United States, including FOX, CBS and ESPN. To download the app and learn more please visit www.tunity.com.
About Surface Sunscreen
Sun protection is a very important part of your everyday life. So, Surface Products has developed a line of The World's Most Comfortable Sunscreens that work with the lifestyle you live. Surface knows not everyone is looking for the same thing. So, we developed a Purpose Built line of products from our Original formulas to our Mineral, Non-Nano Zinc Oxide based sunscreens. All designed to leave you feeling comfortable and protected from the sun no matter what your adventure is.
It's Your Life, protect it!
About Front Row Motorsports
Front Row Motorsports (FRM) is a winning organization in the Monster Energy NASCAR Cup Series. The team was founded in 2004 and is owned by successful entrepreneur, Bob Jenkins. FRM fields three full-time entries – the No. 34 of Michael McDowell, the No. 36 of Matt Tifft and the No. 38 of David Ragan – from its Mooresville, N.C., headquarters just outside of Charlotte. The team's partnership base includes CITGO Petroleum Corporation, Ford Performance, Love's Travel Stops, Select Blinds, Shriners Hospitals for Children, Speedco, Surface and Tunity. Visit teamfrm.com and follow FRM on social media: Twitter at @Team_FRM, Instagram at @team_frm and Facebook at facebook.com/FrontRowMotorsports.