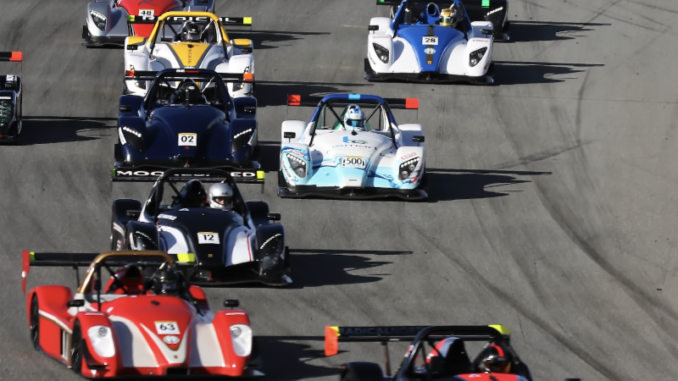 ELKHART LAKE, Wis., February 19, 2019 
– 
Blue Marble Cocktails Radical Cup will share the spotlight alongside the NTT IndyCar Series during the REV Group Grand Prix at Road America, June 20-23. The event marks the first time North America's premier Radical series will visit Wisconsin's 4.048-mile, 14-turn 'National Park of Speed', and the first time it has supported America's top open-wheel championship.
"It can't get any bigger than this – Road America with IndyCar," commented Tom Drewer, Radical Sportscars North American manager. "This is another milestone for Radical Sportscars, the Blue Marble Cocktails Radical Cup series, and a tremendous opportunity for our drivers to showcase their skills alongside the best in the business, and in front of a seriously large crowd."
"We're delighted to have the Blue Marble Cocktails Radical Cup adding even more action to a big weekend of racing at the REV Group Grand Prix," stated Mike Kertscher, President and General Manager of Road America. "We know how good Radical prototype sportscar racing can be and having local Midwest drivers take on the nation's best gives our fans, and Road America's preeminent event, another whole dynamic."
Sharing the bill is the Road to Indy Presented by Cooper Tires with doubleheader rounds for Indy Lights, Indy Pro 2000, USF2000  and the Global MX-5 Cup. Yet even against the high speed open-wheel cars, the Radicals are expected to set some of the faster lap times during the weekend.
Making up the multi-class field will be a variety of machinery, from the highly popular 1340cc and 1500cc SR3 model to the 400hp plus V8 powered SR8 and the 650hp turbocharged RXC and SPYDER cars.
The June 20-23 Road America event is expected to draw a large contingent of regional Radical drivers, including those from Autobahn Country Club in Illinois, as well as racers from across the USA, Canada and Europe.
This news follows the recent announcements that the 2019 Blue Marble Cocktails Radical Cup season will commence at Virginia International Raceway with Blancpain GT World Challenge, April 26-28, and will draw to a close supporting Creventic's Hankook 24H race at Circuit of the Americas, Nov 14-17.
Tickets are available and additional event details, ticket pricing, a tentative event schedule and camping information can be found at 
www.roadamerica.com
 or by calling 800-365-7223. Anyone 16-years-old and under are FREE with a paying adult at the gate. All races will run rain or shine.
About Road America:
 Established in 1955, Road America is located midway between Milwaukee and Green Bay in Elkhart Lake, Wisconsin. The world's best racers have competed at this legendary four-mile, 14-turn road circuit for over 60 years. The 640-acre, park-like grounds offer amazing viewing opportunities, fantastic concessions and high-speed excitement to hundreds of thousands of spectators each year. In addition to public race weekends, Road America offers a variety of group event programs, the CTECH Manufacturing Motorplex for karting and supermoto, and the Road America Motorcycle and Advanced Driving Schools. For more information, visit 
www.roadamerica.com
Follow Road America on 
www.facebook.com/RoadAmerica
 and on Twitter: @roadamerica or call 800-365-7223.
About Blue Marble Cocktails Radical Cup:
The Blue Marble Cocktails Radical Cup North America series is the continent's premier Radical championship and offers multi-class Le Mans style racing for a fraction of the price. Eligible cars include the world's most prolific sports racer, the Radical SR3, and the V8 powered SR8 with over 400 horsepower. The 2019 season will take place during prestigious events at iconic circuits across the USA, including current and former Formula 1™ and IndyCar venues. Ample practice, qualifying and three 40-minute races as well as trackside hospitality and social events ensures each three-day Radical Cup event will be action packed, both on and off the track. For more information visit 
www.radicalsportscars.com