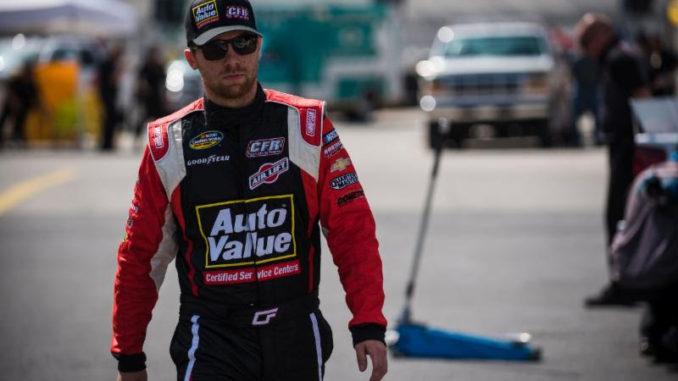 HAMPTON, Ga. – Cheering on his Chad Finley Racing (CFR) teammate Robby Lyons last weekend at Daytona (Fla.) International Speedway, Chad Finley is ready to take the wheel of his No. 42 
Air Lift Company
 | 
Auto Value Certified Service Centers
 Chevrolet Silverado in the NASCAR Gander Outdoors Truck Series (NGOTS) for Saturday afternoon's Atlanta 200.
Finley's first start of 2019 will give the chance for Dewitt, Mich. native to not only make his Atlanta (Ga.) Motor Speedway debut – but an opportunity to earn his second career top-10 in just his sixth series' start.
Finley pointed to the speed of No. 42 Chevrolet during last Friday night's NextEra Energy Resources 250 at the "World Center of Racing."
Having to qualify their truck on-time, the team not only stepped up to the challenge but did it solidly. And while the race didn't go as the team hoped – being swallowed in an early race accident, Finley is ready to take the reins and help earn the team a solid finish before handing the steering wheel back to Lyons next weekend at Las Vegas (Nev.) Motor Speedway.
"Teamwork has never been as important as it is right now," explained Finley. "Everyone is digging deep, putting in the hours all for the love and the opportunity to win a NASCAR race. Atlanta is a difficult track, but a place that I think we can run very well at. We just have to take what we can get and roll from there.
"I think we proved in Daytona that we have improved our program. We suffered a lot of heartbreak at the end of last season. We impressed in our debut at Gateway – but we had bad luck after that. Since our last race at Martinsville, we went back to the drawing board, made the investments and have found some really good people to work with Bruce. So far, the hard work is paying off."
Knowing the abrasiveness of Atlanta's 1.54-mile track, Finley is hoping his prior experience at tracks where tire management was critical will fit into his driving style – all while adapting to Atlanta's fast speeds and breathtaking action.
"The first place I think of when it comes to Atlanta is Rockingham," added Finley. "I know the tracks are completely different – but the mindset is still the same. Within a few laps, the lap times slow down significantly and you can find yourself not only having to race the track – but your competitors too.
"My crew chief Bruce (Cook) also has plenty of experience at Atlanta and with his guidance and our commitment, I think we can earn our first top-10 finish of the year on Saturday and take some momentum to Las Vegas."
In addition to his five prior Truck starts, Finley, 26, has 20 ARCA Menards Series starts to his credit.
In his years of ARCA competition between 2009 and 2018 Finley has mounted one-win (Nashville 2017), eight top-five and 11 top-10 finishes, including a pole (track record) at Rockingham (N.C.) Speedway in 2009.
Finley is the son of former ARCA winner and NASCAR driver Jeff Finley.
The Ultimate Tailgating 200 (130 laps| 200.2 miles) is the second of 23 NASCAR Gander Outdoors Truck Series races on the 2019 schedule. Practice begins on Fri., Feb. 22 from 2:00 p.m. – 2:55 p.m. A final practice session is set for 4:00 p.m. – 4:50 p.m. Qualifying is set for race day, Sat., Feb. 23 beginning at 10:40 a.m. The 32-truck field will take the green flag shortly after 4:30 p.m. with live coverage on FOX Sports 1, the Motor Racing Network (Radio) and SiriusXM NASCAR Radio (Satellite Radio, Channel 90).
Follow Chad Finley on Twitter @Chad_Finley.