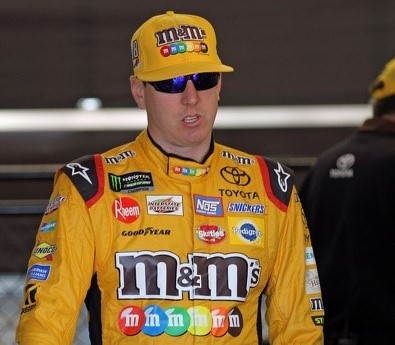 Every generation has it's polarizing figures. NASCAR is no different. From Richard Petty to Cale Yarborough to Dale Earnhardt to Jeff Gordon. These are drivers we either loved or hated but either way, we respected them for what they brought to the sport and their talent on the track. NASCAR fans call them "Black Hat" drivers, or driver's that don't mind the controversy or boos from the fans. On the contrary, they thrive on them and use it as motivation to race harder.
Kyle Busch is one such driver. He entered the sport three years after older brother, Kurt Busch. However, he watched as Kurt got boo'd and saw it get under his skin. Racing fans are brutal in that once they know something gets under your skin, they'll ride you until you break. When Kyle came in, the fans hated him because he was Kurt's brother. But instead of letting the fans get to him like Kurt did, he took a different approach of, "Okay, if that's the role you're going to give me (being the bad guy), that's the role I'm going to play" and gave it right back to the fans in the form of his now-infamous victory bow while the jeers rain down after each victory.
Why the comparison between the two drivers? Kyle has won everything else, at every other track except for the Daytona 500. He is currently second behind Tony Stewart with leading the most Daytona 500 laps without winning the race. He's 17 years into his career. It took Dale 20 years into his career before he was able to capture a Daytona 500 victory. Trust me when I say that Kyle does not want to wait until his 20th year to win it.
Both drivers are similar in that they have just as many fans that love(d) them as that hate(d) them. They both were "no-BS" type of guys that didn't care if you cheered them or boo'd them. They speak/spoke their minds and made no apologies for what they said. When it comes to driving, neither driver gave quarter or asked for any. Neither was afraid to move someone else out of the way to take a spot. In fact, Earnhardt has been quoted as saying, "You get one courtesy lap to get out of my way. After that, either move or I'll move you." Both Kyle and Dale are/were very outspoken and they both carry/carried a lot of clout with their words and actions with the sport, other drivers, and with the fans.
Now, I am NOT trying to compare their careers and say which is a better driver. The truck series was not around during most of Dale's career and didn't become part of NASCAR until 1995. If you take the truck series out of it, Kyle has 143 wins, one Xfinity Championship & one Monster Energy Cup Championship. Dale has 97 victories with two Xfinity Titles and seven Cup titles.
But if one looks at the type of people they are, how they were treated by the fans, how they approached racing, etc., there are a lot of similarities. I feel confident that in terms of an overall image, Kyle Bush is this NASCAR generation's Dale Earnhardt. Who will replace him? Many say Austin Dillon, but only time will tell.
**The opinions expressed on this site are not necessarily those of the publisher, management or staff. All comments other than website related problems need to be directed to the author. (c)OnPitRoad.com. **