Matt DiBenedetto – No. 95 LFR eNASCAR Heat Pro League Toyota Camry – Bristol 1 Preview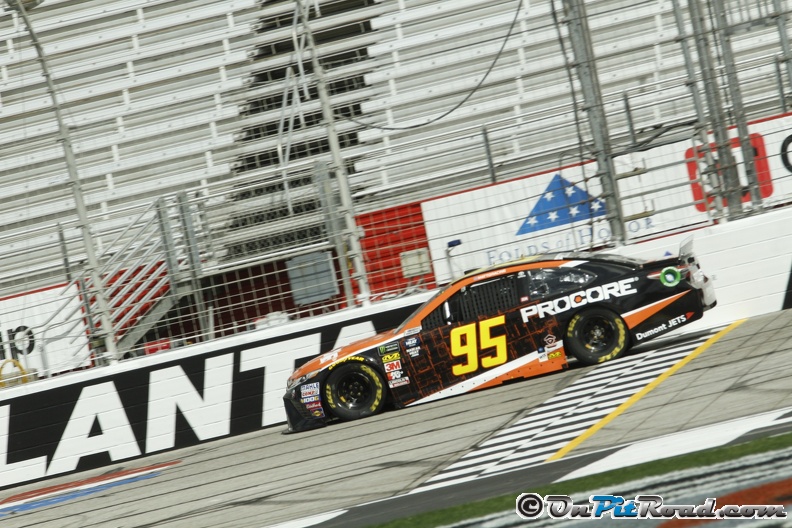 Matt DiBenedetto – No. 95 LFR eNASCAR Heat Pro League Toyota Camry Preview
Food City 500 at Bristol Motor Speedway
No. 95 LFR eNASCAR Heat Pro League Toyota Camry Notes:
·       DIBENEDETTO BY THE NUMBERS: In eight Monster Energy NASCAR Cup Series career starts at Bristol, Matt DiBenedetto has an average start of 28.9, an average finish of 20.6, and he's completed 3,988 of 4,011 (99.4 percent) career laps at the half-mile high-banked track, making it one of his best tracks on the circuit.
·       eNASCAR HEAT PRO LEAGUE: The eNASCAR Heat Pro League enters its inaugural season in 2019 following collaborative efforts from NASCAR, 704Games and the Race Team Alliance. The newly-formed esports league will feature up to 16 race teams and 32 drivers, each owned and operated by prominent NASCAR teams.  Leavine Family Racing is one of the organizations participating in the league and will field two drivers, Nicholas Vroman who will be competing on Xbox One and Josh Harbin who will be competing on Playstation 4 and both drivers' gamer tags will be featured on the No. 95 Toyota this weekend at Bristol.  For more information on the eNASCAR Heat Pro League visit eNASCARHeatProLeague.com.
·       RACE INFO: The Food City 500 at Bristol Motor Speedway (0.533-mile) begins at 2:00 p.m. ET on Sunday, April 7th. The race will be broadcast live on FS1, Sirius XM Channel 90 and PRN Radio.
DiBenedetto's Career Monster Energy NASCAR Cup Series Stats at Bristol:
Date                Event:                                                             S          F         Laps              Status
04/19/15          Food City 500                                                 22        21        508/511          Running
08/22/15          Irwin Tools Night Race                                   42         33        493/500         Running
04/17/16          Food City 500                                                 30         6         500/500         Running
08/21/16          Bass Pro Shops NRA Night Race                  18        17        500/500         Running
04/24/17          Food City 500                                                 32       19         498/500         Running
08/19/17          Bass Pro Shops NRA Night Race                  34        26        496/500         Running
04/16/18          Food City 500                                                 24        21        497/500         Running
08/18/18          Bass Pro Shops NRA Night Race                  29        22        496/500         Running
Races     Wins     Top 5s    Top 10s       Poles
Cumulative         8            0              0              1                0
DiBenedetto's 2019 Monster Energy NASCAR Cup Series Season Stats:
Starts         Wins        Top-5's     Top-10's         Poles        Laps Led            Avg. Start       Avg. Finish
7                0                0                 0                    0                  49                      21.6                 23.9
DiBenedetto's Career Monster Energy NASCAR Cup Series Stats:
Starts         Wins        Top-5's     Top-10's         Poles        Laps Led          Avg. Start       Avg. Finish
147                0                 0                4                    0                  72                  30.87                  28.7
From the Driver's Seat:
Matt DiBenedetto: "I think that Bristol is one of my best tracks on the circuit because it's a fast, short track and the high banks seems to even the playing field a bit in my opinion compared to other tracks we visit.  Bristol has always been a place that I seem to always know what I need as far as a feel in the race car so that it will be good in the race.  I think every driver has their place, and Bristol has become one of those places for me.  Looking ahead to this weekend at Bristol with this new package, I anticipate my body to hurt after the race because we're going to be going so fast.  With having the larger spoiler on the back of our Camry, we'll have a tremendous amount of downforce this weekend, even though Bristol is a short track, it's really fast.  Racing at Bristol is like racing in a big cereal bowl is about the best that I can describe it.  I think that our laps times will be so fast and we'll be pulling so many G's this weekend.  So many drivers were talking about having to work on their seats to make sure that they're really braced up on the right side because we're going to get so physically worn out from going much faster than normal and be out of the gas a lot less than we normally are.  Our Camry is going to need to turn really well this weekend and I'll have to be able to just grab the throttle before the center and not out of the gas much.  If our Camry can turn really well, and carry a bunch of speed and momentum, that will make for a good race for us on Sunday."
From the Pit Box:
Mike Wheeler: "With the new downforce package, Bristol will most definitely will see cars running faster this weekend, which will be interesting in and of itself since the place has always been very fast to begin with.  Goodyear is bringing a different tire this year to try and slow cars down a little bit, which will be a little harder left-side tire compound, so how the track will take rubber will be a question.  We're not sure yet whether we'll be racing along the top of the bottom yet.  The track is also going to put down some PJ1 on the bottom groove but it will be a different mixture than we've had in the past, so that's another change looking ahead to this weekend.  There's also so weather forecasted for the area on Friday so that will also be a concern.  Usually we don't get a whole lot of reading on the track until Saturday in 'happy hour' and the last part of that session when the track gets warmed up with everyone on it, so there will be a lot to learn in a short bit of time.  I suspect quicker lap times this weekend than we have seen at Bristol in the past with more time on throttle and probably harder cornering.  The question is going to be whether cars end up preferring the top lane or the bottom lane when it comes time for the race."
No. 95 LFR eNASCAR Heat Pro League Toyota Camry Team:
Driver: Matt DiBenedetto                   Crew Chief: Mike Wheeler
Car Chief: Greg Emmer                     Spotter: Doug Campbell
Engineer: J.R. Houston                     Engineer: Etienne Cliche
Mechanic: Bill Mares                         Mechanic: Matt Kimball
Shock Specialist: Tim Lambert        Mechanic: Ryan Dextraze
Tire Specialist: Tony Ramirez          Jackman: Bailey Walker
Fueler: Ryan Dextraze                      Rear Changer: Deven Youker
Front Changer: Adam Hartman        Tire Carrier: Chris Hall
Hauler Driver: Damon Lopez