In Defense of Darrell Waltrip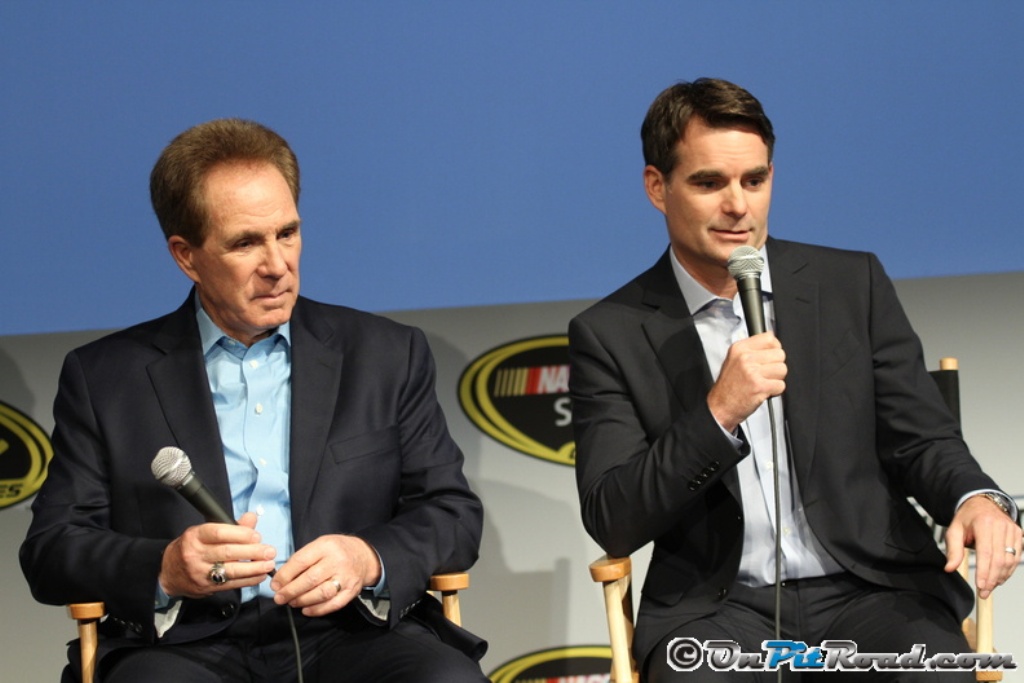 It seems that one of the hot button topics right now has nothing to do with the racing on the track. After an opinion article came out earlier this week there seems to be a big debate on whether Darrell Waltrip should retire from the broadcasting booth and ride off into the sunset or stick around a little longer. DW, in my opinion, doesn't need me, you, other journalists, or anyone to tell him what he should or should not do.
Waltrip retired after the 2000 NASCAR season and signed on to be one of the three men in the booth for the newly formed Fox Sports NASCAR team for the 2001 season. It was a highly regarded hire at the time because Waltrip has always been a great spokesman for the sport of NASCAR. I always knew that Waltrip would be great in the booth from some of the times he would fill in on Busch Grand National broadcasts. Some people are natural talkers so it's no coincidence that a guy with the nickname of "Jaws" would have a natural ability to provide driver insights to a racing broadcast.
Waltrip may not be a spring chicken anymore but he is a true bridge from the older fans to the newer NASCAR fans. Waltrip started turning heads in the early 70's and competed with a whose who of NASCAR legends like Dale Earnhardt, Jeff Gordon, Richard Petty, David Pearson, Cale Yarborough, Rusty Wallace, Bobby Allison, Davey Allison, Mark Martin, and many more. What he brings to the broadcast booth is unique and cannot be replaced.
Some of the hate that DW gets comes from the fact that he likes to have a bit of fun and his trademark, "Boogity Boogity Boggity, Let's Go Racin" at the beginning of each race.
First of all, that saying is something all NASCAR fans know and at this point it's expected that he do it. Would a boxing promoter have Michael Buffer as the ring announcer and tell him not to do his trademark saying of, "Let's Get Ready to Rumble?" Of course not!
Also, let's be honest here, isn't a little humor injected into a 3-4 hour race broadcast not fine? I would rather them have a little bit of fun than just stick to a script and be monotonous. We can all use a few more smiles in our daily lives I dare say. There's a time and a place for the humor and I have never felt that DW has taken it over the top. In fact, I'm pretty sure that the producers have coaxed him into being a little more on the lighter side of things through the years. You almost have to think of it as Darrell Waltrip playing a slightly jazzed up caricature of himself – which he translates into "DW."
Now, are some of the detractors justified in some of the things they are saying? More than likely.
Yes, it has been a couple of generations of cars since Waltrip has driven competitively so he doesn't have the same knowledge of how the cars act and react as he once did. Jeff Gordon brings that knowledge to the broadcasting booth and you can tell that sometimes he and Waltrip disagree on things and more often than not I'd defer to Gordon on the judgement calls since he was in these cars until just a couple of years ago.
I've also saw some people that say that Waltrip slips up and loses his train of thought from time-to-time. As you get older things like that tend to happen. I'm 38 years old and my recall ability isn't as sharp as it was when I was 28. This happens to everyone.
Until you've sat in a broadcast booth and actually called a sporting event, I don't think you have a lot of room to talk about someone else. I always thought to myself that I could do better than so-and-so calling whatever sport I was watching. Well, I've been a race track announcer and have called hundreds of sporting events on regional radio since the early 2000's and I can promise you that it's much more difficult than imagined. Everyone thinks they can be better at something than someone else until they actually get that opportunity. As they say, the grass is always greener….
Once Waltrip does retire as an active broadcast personality I will make a bold prediction. It won't be long before nearly everyone who is "tired" of the DW act now to come around and start talking fondly about the time when good ol' DW was in the booth. It's just the cyclical nature of life. We remember fondly the things that have come and gone and yearn for them to be back. That same thing will happen once Waltrip actually does retire.
When the dust settles and it's all said and done I feel that Darrell Waltrip is still a valuable asset to the NASCAR world and Fox Sports. If he chooses to retire after this season and kick back and enjoy life I wish him the very best. Or, if he chooses to broadcast for a few more years, I'll enjoy the time he has remaining.
The world could use a few more people like Darrell Waltrip and NASCAR is fortunate to have him as a great ambassador.
**The opinions expressed on this site are not necessarily those of the publisher, management or staff. All comments other than website related problems need to be directed to the author. (c)OnPitRoad.com. **