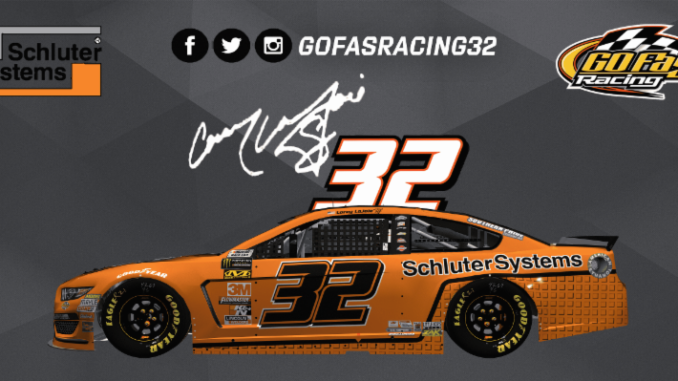 Race 10 of 36:
After a week off from Cup Series action, the competition resumes this weekend at the famed Talladega Superspeedway. Corey LaJoie and the No. 32 team enter the weekend after a solid run at Richmond just prior to the week off. After a step in the right direction, the team looks to continue to build momentum and excel at the 2.66-mile track, where strategy will be especially important. The Alabama track, known for the 'Big One' and the high-speed, close-knit racing comparable to Daytona, typically produces a thrilling race.
To catch the Geico 500, tune in to FOX on Sunday, April 28 at 2:00 PM ET.
Schluter Systems Returns:
Making their second appearance this season, Schluter-Systems will serve as the primary for the Go Fas Racing Ford Mustang at Talladega this weekend. The company first appeared as a primary sponsor during the West Coast Swing at ISM Raceway. This will be the third year that Schluter has partnered with LaJoie, and the first year with Go Fas.
Schluter-Systems offers an assortment of over 10,000 proven system solutions for the installation of tiles and natural stone. Their products include metal and PVC profiles to protect and improve the appearance of tile edges and transitions, uncoupling membranes to prevent cracks from appearing in tiled floors, waterproofing systems for showers and other wet areas, and a modular screed system to improve heat transfer in hydronic heating systems.
Last race at Richmond for the No. 32 Keen Parts/CorvetteParts.net team:
The Keen Parts team qualified 28th for the Toyota Owners 400 but were shifted to 21st on the starting lineup after multiple teams failed post-qualifying inspection. LaJoie and the No.32 team were able to stay on the lead lap through the competition caution and finished stage one in 29th. Through two stages at Richmond, LaJoie and the No.32 CorvetteParts.net team ran 27th with great long-run speed. At the end of 400 laps, the No.32 team finished 26th, completing a solid overall run for the team.
LaJoie on the upcoming weekend at Talladega Superspeedway: 
"Talladega is a great shot for us to have a good run as a small team. We're able to run up with the big-budgeted teams and utilize strategy to try and get a top-20 or top-15. If we can avoid the big accidents, we know we will be there to contend at the end of the day. I'm really excited that Schluter Systems is back on board this weekend at one of the biggest races of our season. Hopefully we can give them a solid run and keep going in the right direction!"
Corey LaJoie Career Monster Energy NASCAR Cup Series Stats at Talladega Superspeedway:
Starts: 2
Average Start: 38th
Average Finish: 29.5
Best Finish: 27th (2017)