Advanced Frontal Protection to be implemented starting at INDYCAR Grand Prix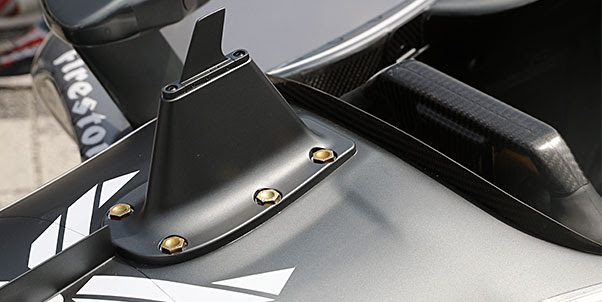 INDIANAPOLIS (Friday, April 26, 2019) – INDYCAR announced today that the Advanced Frontal Protection debris deflector recently introduced as the sport's latest safety initiative will be used in competition sooner than expected – beginning at next month's INDYCAR Grand Prix at Indianapolis Motor Speedway.
The titanium AFP, which provides frontal protection for drivers, was tested earlier this week at IMS by INDYCAR teams in an open test on the 2.5-mile oval. INDYCAR President Jay Frye said the sanctioning body is satisfied the AFP is ready for use in all NTT IndyCar Series races this season, starting with the INDYCAR Grand Prix on the IMS road course on May 11 and including its original target date for implementation, the 103rd Indianapolis 500 presented by Gainbridge on May 26.
"Thanks to a phenomenal effort by Dallara and all of the INDYCAR teams, we are ahead of schedule in making this happen," Frye said.
The AFP is bolted on the Dallara IR-18 chassis centerline ahead of the cockpit and is designed to push flying debris away from the driver. With brackets and monocoque reinforcement, the AFP weighs just under five pounds and has passed the same load testing as the Indy car roll hoop sitting behind and above the driver.
Arrow Schmidt Peterson Motorsports driver James Hinchcliffe, among the 29 drivers who participated in Wednesday's open test, praised the sanctioning body for continuing to prioritize driver safety.
"It's great to see that INDYCAR is always pushing safety," Hinchcliffe said. "Obviously, this is just Step 1 in an evolution of head protection. But having been hit by a piece of debris that would've been prevented with this device, I'm all for it. It's also comforting to know that behind the scenes we are still working hard on a more comprehensive solution."
Frye called the AFP "Phase 1 of our solution" to improve cockpit safety. The next phase is expected to be revealed in May.
The sixth annual INDYCAR Grand Prix airs live at 3 p.m. ET Saturday, May 11 on NBC and the Advance Auto Parts INDYCAR Radio Network. The 103rd Indianapolis 500 takes place Sunday, May 26 and airs live at 11 a.m. ET on NBC and the Advance Auto Parts INDYCAR Radio Network.