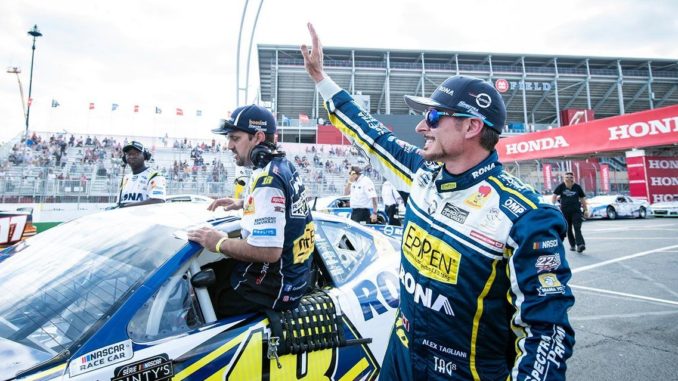 Had last year's NASCAR Pinty's Series race on the Streets of Toronto gone the scheduled distance of 35 laps, Alex Tagliani would have been the race winner. A late caution changed that destiny, though. Kevin Lacroix had issues, and Tagliani's rival, Andrew Ranger, capitalized, winning the race.
This year, Tagliani is on a charge to regain control and return to victory lane in one of the series most coveted races, and he's off to a good start after being the fastest in qualifying on Friday.
"It's fantastic to be on pole here," Tagliani said after qualifying. "It's a great race track. [It's amazing] how rewarding it is when you put a good lap together. It's hard work, but a lot of fun. Hopefully with a bit of tire management tomorrow we have a car that can contend for the win."
When thinking about the previous year, the polesitter says it doesn't weigh much into this weekend.
"This series changes quite a bit. It's very competitive. There's a lot of good teams, a lot of good drivers. The lap times are super tight," he said. "The way that the race turned out, the end was my own decision. I didn't want to block the inside. I was maybe too afraid of the bumper, but maybe it would've been the right thing to do. I left the door open, and Andrew [Ranger] did a good pass.
"Things are so tight in NASCAR right now that you have to go with the flow. You're pushing to get a good gap, but someone who doesn't push gets a yellow, saves his tires and he's super competitive. You never know how the race will go. Hindsight's 20/20."
Tagliani held off his teammate Marc-Antoine Camirand, who seemed poised to take the top spot, and Gary Klutt who qualified third. The top-three qualifiers all broke the previous track record.
Much like his teammate, Camirand is also looking for redemption for a 2017 race that went awry after it appeared the Quebecois driver would challenge for the win.
"I think tomorrow will be an impressive race. It will be a long race," said Camirand. "Tire management will be interesting to see tomorrow what will happen with that."
Last year's series champion L.P. Dumoulin, Anthony Simone, Andrew Ranger, Alex Labbe, Kevin Lacroix, Peter Klutt and J.F. Dumoulin rounded out the top-10 qualifiers.
Two incidents livened up the qualifying session. In the first group of qualifiers, part-timers J.F. Laberge and David Thorndyke made heavy contact. Laberge drove into the right-rear of Thorndyke's No. 67 car, turning him around. Laberge ended up qualifying 16th while Thorndyke wound up 18th of 19 cars.
Jason White also spun early in his qualifying run, but he still managed an 11th-place effort.