Will Erik Jones be Driving for Joe Gibbs in 2020?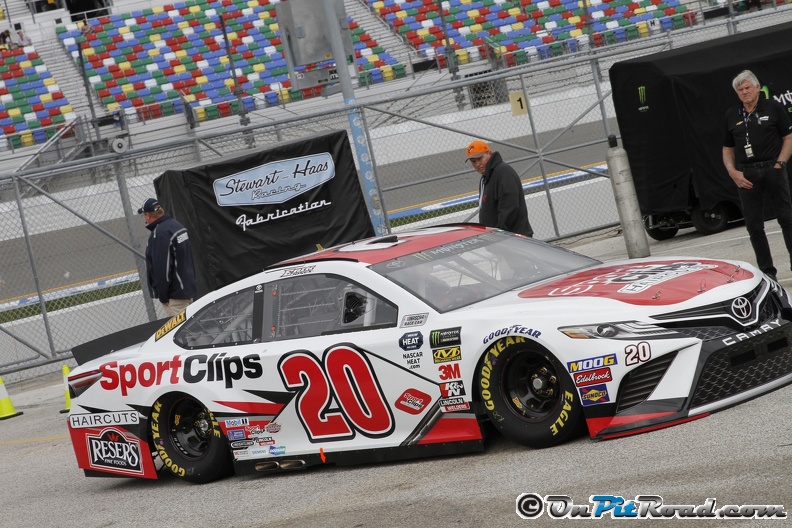 That is the $64,000 question!
Erik Jones future is arguably one of the hottest "silly season" topics in the sport today. Several factors have increased the pressure on the situation.
First, NASCAR has limits on how many teams an organization may have. The current limit is four. Several teams have utilized strategic alliances to circumvent this rule in order to maintain relationships with drivers and/or sponsors or fulfill contracts. For example, Hendrick Motorsports supported a ride for Kasey Kahne for one year at Leavine Family Racing to make room for William Byron.
Joe Gibbs now faces a similar situation. Christopher Bell is ready to step up from the Xfinity Series to the Cup Series. However, currently there is no seat available at JGR as they currently have four full-time drivers – Kyle Busch, Denny Hamlin, Martin Truex Jr, and Jones.
Last year when Hamlin was struggling and not performing up to his usual standards, rumors ran wild that he would be replaced by Bell at the end of the 2019 season. Hamlin, however, has turned his performance issues around. After failing to visit victory lane last year for the first time since 2005, Hamlin has scored three wins so far this season including the Daytona 500 and this past weekend at Pocono. He also narrowly missed a won the previous week at New Hampshire. This uptick in performance has seemingly taken the spotlight off Hamlin and placed it squarely on Jones.
Jones' performance has not been terrible but receives much more criticism given the fact his JGR teammates have performed extremely well across the board. Jones is the only JGR driver without a win this season. Busch, Hamlin, and Truex have scored 11 wins cumulatively.
Jones' results have been inconsistent often scoring two or three good finishes in a row followed by two or three bad finishes. Recently, Jones seems to be running stronger. He is currently in the midst of a three consecutive top-three finishes, and has arguably been a threat to win in each of those races.
Jones inconsistent performance in relation to his teammates is further highlighted by the fact that Bell has been running very strong in the Xfinity Series. Over the past three seasons, Bell has racked up an impressive 13 wins, 33 top-fives, and 38 top-tens in 60 starts. He also won ten pole awards. He currently sits second in the series standings and is a definite threat to win the championship. If JGR doesn't give him an opportunity in MENCS next year, it could create the opportunity for another team and perhaps another manufacturer to steal him away.
Jones' strong performance, however, has not stopped the weekly questions regarding his status next year. During a press conference at Pocono, team owner, Joe Gibbs, was directly asked about Jones and 2020. "Yeah, no, I want to say to everybody, it's so hard putting everything together.  I know people get frustrated because you haven't made a decision yet on some things", said Gibb. "But I just say this:  there's sponsors involved, so many relationships involved, you're trying to get through all that and work it all out. Yeah, I think honestly that's part of Erik's world.  It doesn't go easy sometimes.  He knows.  I keep him updated, we do.  He knows we're working as hard as we can.  Hopefully it will be one of those things will get put in place here pretty quick." Some may note the careful wording of Gibbs' response. "It's hard" "Sponsors are involved" and "Hopefully, something in place quick", he did not say "We hope to have something in place for him in the No. 20". Could this be an indicator of what is to come?
One must remember in addition to the team and Jones, there are other major stakeholders with significant influence including Toyota and various sponsors and marketing partners. Ultimately, they will have tremendous input on who is in the driver's seat of the No. 20 next year and what happens to Jones and Bell.
Could JGR potentially put Jones in the No. 95 fielded by Leavine Family Racing with which JGR has a strategic alliance? Perhaps, Jones could stay in the No. 20 and Bell would move up to Cup in the No. 95? The real question is – would either driver accept this option or seek other opportunities?
**The opinions expressed on this site are not necessarily those of the publisher, management or staff. All comments other than website related problems need to be directed to the author. (c)OnPitRoad.com. **