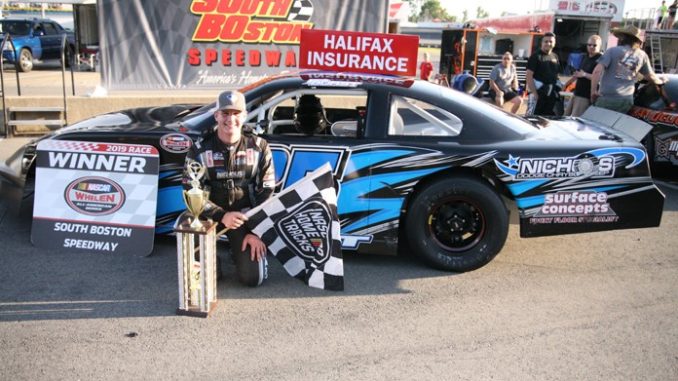 SOUTH BOSTON, Va. (August 1, 2019) – Don't get the wrong idea about Jacob Borst. Sure, he's just 15 and he's winning races at one of the toughest weekly tracks in the country. Sure, he's got a beautiful race car that's wicked fast week-in and week-out.
But the youngster is quick to point out, all of that is not the result of a father with deep pockets. It's the result of a family that does it the old-fashioned way: hard work and long hours.
 "When they hear my age, a lot of people think we're rich; we're not. My dad has been working on my cars ever since I started. There's lots of blood, sweat and tears in it," said Borst, son of Justin and Angie Borst. "We work on our car in our backyard. The shop is about 50 feet from our back door. We work on our own car. We don't pay anybody else to work on it."
The hard work has been evident in this, his first full season in the Limited Sportsman Division at South Boston Speedway. He's had a pair of victories, finished second in the big 75-lap midseason race and has notched seven top-five finishes.
"We've really had good success. We knew we were going to have some stiff competition, especially with Danny Willis coming back this year," said Borst, who credits his dad, who has been working on race cars for years, with his success. "We've accomplished more goals than we thought, especially with two wins at one of the most competitive tracks on the East Coast. We knew we would be good, but it's been a lot better than we thought it would be."
Borst has taken a fairly quick and direct route to full-size stock cars. He started racing when he was four-and-a-half in go carts and moved on to quarter midgets, where he finished second in the nation for his age group in 2015. Then it was a step up to the Allison Legacy Series … "It was a good transition for me. I learned to shift gears, use the radio things like that."
Next it was the Southeast Limited Late Model Junior Elite Series and then, at 13, he began racing Late Model Stock cars at Ace Speedway.
"There were a lot of competitive cars; there was a real learning curve," Borst said of the Late Model racing.
He did that for part of the 2018 season. When he turned 14 on May 11 last year and became eligible to race at South Boston Speedway, they started hauling across the state line to race in the Limited division at the historic Virginia track. Borst competed in just five Limited events at South Boston in 2018 so he would remain eligible for 2019 rookie-of-the-year honors.
One of Borst's top priorities this season has been to race everyone clean and earn the respect of his older foes. He believes he has done that.
"In quarter midgets, if you wrecked three people you were finished … three strikes and you're out. I learned there to race respectfully. It didn't seem like a big deal then, but it does now," said Borst. "It takes a long time to earn respect, especially when you are as young as I am.
"I think I have earned the respect. Everyone I talk to says I have. I'd rather finish third than wreck somebody to finish first."
The lessons have been many for Borst so far this season at South Boston.
"We've learned it's a lot more competitive than we thought. I've learned you have to drive it in really deep and you have to save your stuff," said Borst, who receives sponsorship help from Surface Concepts, We Buy Houses Realty Group, Kemco of Burlington, T&G Glassworks and Nichols Dodge Chrysler Jeep. Borst runs a Rayvon Clark-built engine and a chassis from Reynolds Racing Chassis.
"Being young, that's been tough, trying to figure out where that point is (driving in the corner) and learning to take care of the car."
Borst will be back on track Saturday, August 10 when action heats back up at South Boston Speedway with the Davenport Energy NASCAR Late Model Twin 75s. There will be twin 75-lap races for the Late Model Stock Car Division, a 50-lapper for the Limited Sportsman Division, a 30-lap race for the Budweiser Pure Stock Division and a 15-lap event for the Budweiser Hornets Division.
Grandstands open at 5:30 p.m., qualifying starts at 6 and the first race begins at 7 p.m. Admission is $10 with children 12-and-under admitted free with a paying adult. Also, all Halifax County School System personnel will be admitted for $5 with proper ID.