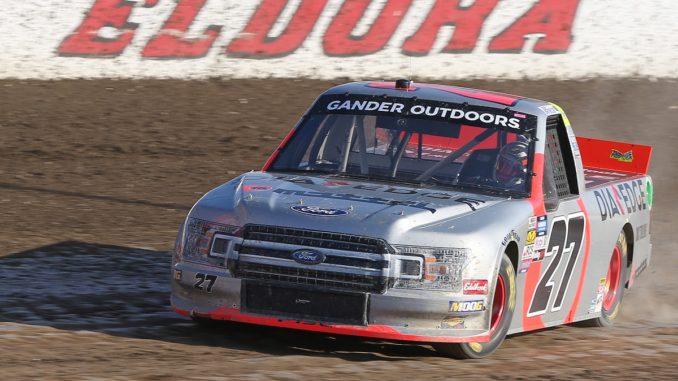 Chase Briscoe dominated the early portion of the NASCAR Gander Outdoor Truck Series event at Eldora Speedway, the only dirt track on the series schedule.
Briscoe started on the pole in the No. 27 ThorSport Ford and led the first 93 laps until his team made the call to pit with at the end of stage 2. "Last night was probably the most frustrated I've ever been in a race car. That was probably the first NASCAR race for sure where I felt I was dominant, said Briscoe. "Even when I was in the lead I was just cruising and riding. It was just unfortunate. I didn't want to pit, but I listened to team orders and obviously it didn't work out."
Briscoe did admit, however, looking back, there may not have been a better option. "In hindsight, 20/20, it could not have worked out the other way, so hopefully I'll get to do it again next year and have a better result."
Brisoce also echoed the frustrations of many fans and other competitors about the race itself. The 150 lap feature event was slowed by 12 cautions causing over 45% of the race to be ran under yellow. Briscoe, called for NASCAR to either extend the event in the future or no longer count caution laps in an effort to provide more green flag racing. "I wish in that race we could not count caution laps in the last 30 laps or whatever, maybe extend the race to 200 laps. I think we need to make the stages longer, said Custer. "That way there is more strategy in the race. It's so hard in 60 laps, that final stage, to make any ground up from the back, especially when we only race 20 laps under green."
Briscoe was not alone in this request. Bubba Wallace, a former winner of the event, took to Twitter to plea to the sanctioning body with a short and simple demand.
While attempting to get back to the front after the pit stop, the numerous cautions and traffic also led to frustrations for Briscoe whose truck was so strong, he was not even showing all the truck had when he was out front. "It was terrible. I was already frustrated that we pitted. I knew that we were still gonna be OK just because we were so fast. When I was in the lead I was running 60-70 percent, so I knew we were good", said Briscoe.
Briscoe's dominating performance at Eldora comes on the heels of a win at Iowa in the NASCAR Xfinity Series.
In addition to increased frustrations for the drivers and fans, almost half the race being ran under yellow also contributed to limited movement up front. In the end, there was only one lead change (when Briscoe pitted) among two drivers. Stewart Friesen after stage 2 took over the top spot and never looked back to score his first career win.
[socialpoll id="2561643″]