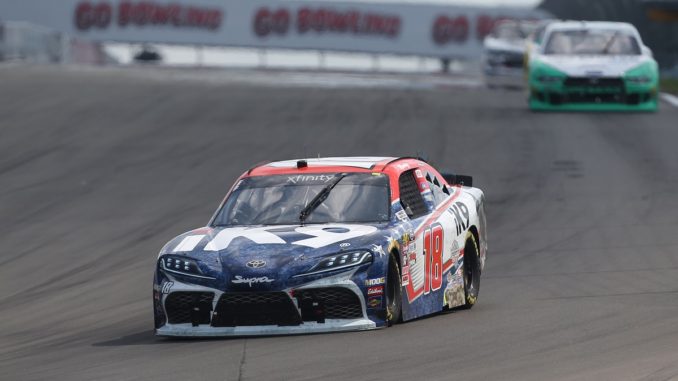 Kyle Busch appeared to be be well on his way to scoring his 96th victory in the NASCAR Xfinity Series. However, a broken left front suspension ended his day after only 35 laps of the 82 lap event.
Busch led the first 21 laps from the pole in dominating fashion appearing to be on cruise control. After a pit stop, Busch found himself back in the pack. He wasted no time working through the field headed back toward the front.
As he retook the lead through the "bus stop", Busch's No. 18 Toyota hit the curb, a normal occurrence in road course racing. However, on this occasion, the left front suspension gave way sending Busch off the course.
Busch managed to prevent the car from making contact with the wall and limped it back to pit road. After a quick diagnosis from his crew, his day was done.
Busch ended the day in 31st position. The race was Busch's fifth Xfinity Series start of the season. Busch scored three wins and one second place finish in his previous four starts.
Austin Cindric was the eventual winner after a thrilling battle with AJ Allmendinger.