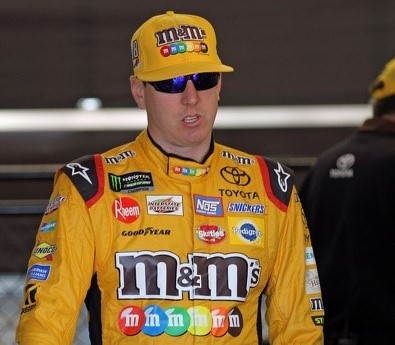 Sunday's Monster Energy NASCAR Cup Series race at Watkins Glen was filled with drama and Kyle Busch was at the center of most of it.
Busch's problems started early. As he dived under William Byron in turn one battling for second position, Busch's No. 18 Joe Gibbs Racing (JGR) Toyota appeared to wheel hop. This caused the former MENCS champion to spin. This seemingly set the tone for Busch's day. This following a frustrating Saturday at the track when Busch appeared to once again be untouchable in the Xfinity Series race only to have a part failure end his day early.
After the spin, Busch was mired back in the field but wasted no time working his way back to the front. For the most part, Busch had no problem making passes until he found himself right behind Byron.
As the two drivers approached the portion of the track known as the "inner loop", Busch made contact Byron sending the young Hendrick Motorsports driver off the track. The move was so egregious, Byron's seven-time champion crew chief, Chad Knauss, angrily told Byron "If I see the 18 come back here without you knocking the **** out of him, we're going to have a problem". A comment that was later supported by team owner, Rick Hendrick, who reiterated one cannot let others push them around.
There were more problems for Byron, however. As he approached the rear bumper of Busch, Busch "brake-checked" Byron causing severe front-end damage to the No. 24 Chevrolet.
The situation with Byron was not the end of Busch's confrontations, however. Later in the race, Richard Petty Motorsports driver, Bubba Wallace, wrecked Busch as the two entered turn one.
Wallace made no secret his contact with Busch was intentional and was apparently retaliation for Busch making contact with Wallace one lap earlier. "I won't put up with no ****," said Wallace. "So, I flat out wrecked his a** back. That's what happens when you get run over. You just pay him back. So, I won't be like, 'Oh, it's Kyle Busch, he didn't mean to.'
Despite all the turmoil, Busch ended his embattled day in 11th position, better than his rivals Byron and Wallace who finished 21st and 28th respectively.
As the end of the regular season draws near and drivers look toward the start of the playoffs, Busch's angered competitors could potentially provide challenges in his bid for a second MENCS championship. There are many ways a driver can cause another driver a problem beyond simply intentionally wrecking someone such as making it more difficult to pass with extreme measures or perhaps blocking one on pit road which could lead to losing several positions on the track.