NASCAR Cup Series Driver Predictions for 2020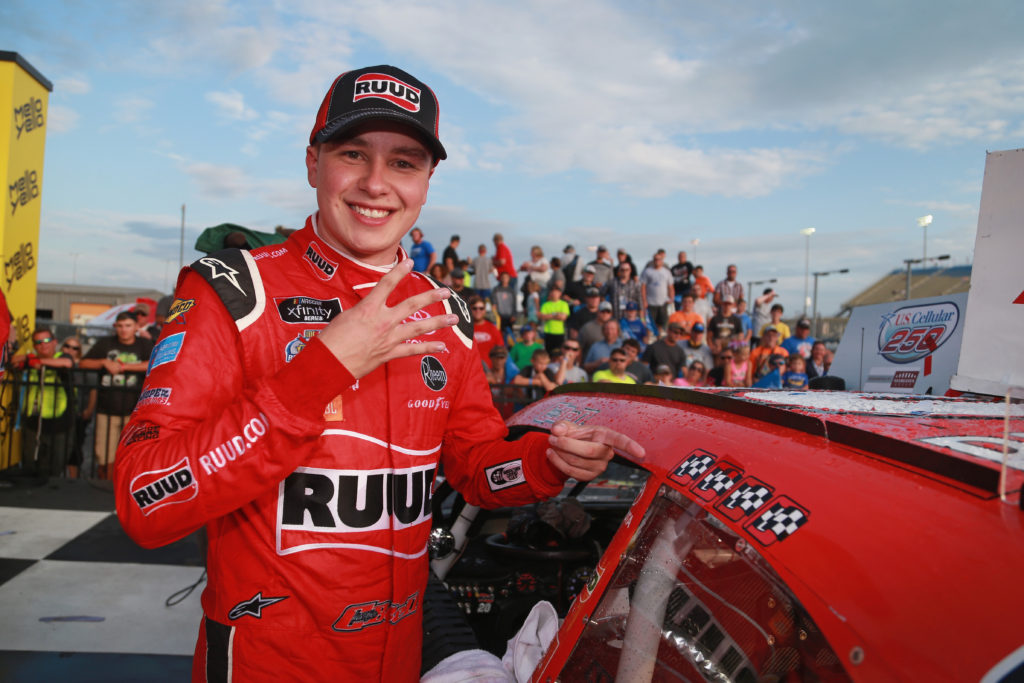 It's time for one of my favorite times of the year, Silly-Season. Every year the NASCAR world start buzzing about who is going where and when as it pertains to drivers. I love trying to connect the dots, look at the clues, and follow the money to try and predict who is going to land where.
So far, this year has been a good bit more tame than previous years. But make no mistake, there are still moves being made. Keep in mind that these are merely my personal opinions of what some of the possibilities could look like. It could very well be that every one of these come to fruition, or it may be that none of them do. That's what makes this so exciting.
So, without further ado, lets jump right in:
CHRISTOPHER BELL: Bell has made it known that he wasn't very pleased that he is not in a Cup car for the 2019 season. This means he is growing restless and may be eying other opportunities outside of Joe Gibbs Racing (JGR). JGR would be smart to do what it can to facilitate his transition to Cup seeing that Bell is young, talented and marketable. Bell is at a level of talent that I don't foresee him "settling" for a lesser team just because it gets him into a Cup ride. It's all or nothing. For this to happen, JGR would have to shift some things around, as they are already at the maximum of four Cup teams, and that is exactly what they are going to do. MY PREDICTION: Christopher Bell in the #20 car for 2020.
ERIK JONES: It looks like Jones is going to come out on the wrong end of the Christopher Bell deal. It looks like this is going to happen, if nothing else but to facilitate Bell and make sure he doesn't take his services to another team. With 22 top-five's in 97 starts and one win, Jones hasn't exactly been underperforming, but he has not been on the same level with his three teammates, which makes him the most expendable (hey, it's business). MY PREDICTION: Erik Jones to the #95 car for 2020.
MATT DIBENEDETTO: If the JGR deal seems bad for Jones, it's going to be even worse for DiBenedetto (maybe). The 28-year-old from Grass Valley, CA has quickly gained notoriety as a likeable guy with talent. In the last seven races he has garnered two top-five's and four top-ten's, in an underfunded, family owned team (albeit with JGR support). DiBenedetto has acknowledged that he is "auditioning" for rides, as he can see the writing on the wall with concern to the JGR shuffle. He is the caliber driver that would fit well with a big-budget team, but, given the state of the sport, I just really don't see that happening. In the wake of the bombshell dropped by Jeffrey Earnhardt earlier this week (see OPR for that news if you haven't heard yet), it looks like the #81 car owned by new team XCI Racing may have an alliance with JGR as well, this could be a potential seat for DiBenedetto, but that may be jumping the gun. MY PREDICTION: It's hard to say on this one. Most of the bigger teams have drivers in the Xfinity pool to draw from to fill potential Cup vacancies, which could leave DiBenedetto out in the cold altogether. If the #81 deal does come together, I'd say that is the winning bet.
KEVIN HARVICK: It's no secret that Harvick will go to the Fox Broadcast booth once his driving career is over. I, among just about everyone else, just assumed it would be after the 2020 season. But, Harvick is having a bit of an "off year" coupled with Darrell Waltrip's unexpected retirement earlier this year, and Harvick's retirement could be hastened by one year. MY PREDICTION: Kevin Harvick in the #4 car, but for ONE MORE year only, then it's off to the broadcast booth…maybe. This one is likely the trickiest of all predictions.
DANIEL SUAREZ: With only a one-year deal, and Suarez seriously underperforming (at least By Stewart-Haas standards), Suarez will likely be looking for another ride for next year. This is Daniel's second shot in a big-time ride, with very little to show for either one. MY PREDICTION: We may see him take a lesser ride, like a Front Row Motorsports, or GoFas, but I'd just about bet he is likely headed back to the Xfinity Series where he will be a top-notch driver again.
COLE CUSTER & CHASE BRISCOE: I am lumping these two hot shoes together, because it could very well come to be that they are a package deal, dependent on Harvick. This one depends on a lot of "if's" but one way or another this will play out, eventually. Custer is primed and ready for the Cup Series. He has the performance to justify it, and SHR would do well to make it happen. Briscoe has rapidly become a top-notch driver and has the attention of everyone in the sport. He has been tightly associated with Ford since coming to stock cars, so he is likely to stay with SHR. Even by his own words he could use one more year in Xfinity. But he may not get that opportunity when big time Cup racing comes calling. Ultimately Custer will end up in the #4 car, vacated when Harvick retires. MY PREDICTION: If Harvick does retire at the end of this year, Custer will go directly to the #4 car, and very possibly Briscoe to the #41. But, if Harvick stays through the 2020 season, Custer will take over the #41 until Harvick calls it quits, then move to the #4, which will then put Briscoe in the #41. Harvick is the key here. Once he announces what he is doing for 2020, Custer and Briscoe announcements will be close behind.