Kyle Busch Setting the Stage for a Championship Run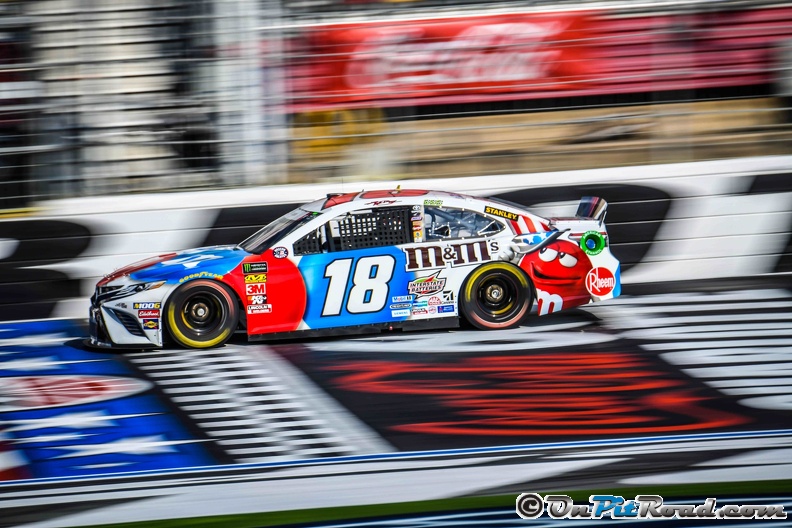 Kyle Busch is setting the stage for a run at his second Monster Energy NASCAR Cup Series championship. Busch started the season strong and has managed to score good finishes in the face of adversity in recent weeks.
Busch currently has four wins this season, tied for the most with teammate, Martin Truex Jr. He is also leading the series with nine stage wins. This strong performance has garnered him a series high 29 valuable playoff points, six more than Truex. There are still three races remaining in the regular season in which Busch could earn additional playoff points. Performing strong is important, but minimizing loss when issues arise is equally, if not more important.
Busch recovers well to minimize impacts of challenging races. Two weeks ago, Busch had on-track incidents with William Byron and Bubba Wallace which at one resulted in Busch being wrecked by Wallace. Busch, however, managed an 11th place finish in the face of the adversity, while Byron ended the day in 21st, and Wallace ultimately finishing 28th.
Busch is also currently leading the regular season points championship. If he holds on to win, it will earn him an additional 15 playoff points which will be added to his current total.
These playoff points will become extremely important once the playoffs begin. The playoff points a driver accumulates in the regular season are added to the driver's total points when overall points are reset at the beginning of each stage. Therefore, Busch, as of today, would receive 2044 points to begin the playoffs. This includes his 29 current playoff points and 15 points for winning the regular season championship.
Busch would have a 15-point advantage over Truex and a 44-point advantage over Ryan Newman who is currently ranked 16th, the final playoff spot. This advantage provides Busch a somewhat easier path to the final round in Homestead, Florida. Drivers advance to the next round by winning a playoff race. For the drivers who did not win in a round, the four drivers with the lowest point total are eliminated. Therefore, due to his strong performance during the season, Busch essentially gets a head start in points over his competitors at the start of each round of playoffs.
Truex performed extremely well and maximized his playoff points to help him score his first championship in 2017. This caused many critics to opine this system gives the drivers with significant playoff points an unfair advantage. But, make no mistake, a driver must earn this advantage by winning races and stages, and also finishing well in the regular season points. This system was devised to reward performance, which is for what the fans overwhelmingly asked.
Thanks to Busch's strong performance throughout the year, he is making his path to a second series championship, just a little easier.