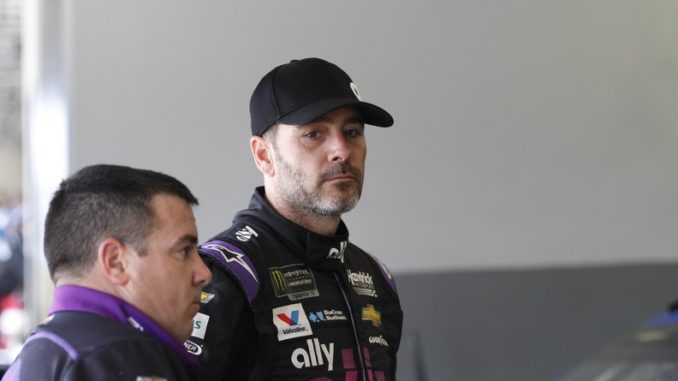 Seven-time Monster Energy NASCAR Cup Series champion, Jimmie Johnson, suffered another setback in his bid for an eighth championship on Sunday at Michigan. Johnson made contact with the outside wall on lap 15 ultimately resulting in him being multiple laps down.
Johnson attributed the incident to being too aggressive and the PJ1 traction compound not yet being activated. "The right-side tires went into the PJ1 and as soon as I got my tires in it, I went straight into the wall. When you're aggressive, it doesn't work and then sometimes you're cautious and it doesn't work. It was a great car," said Johnson. "That hurt, for sure. We're just going to have to rally on and these guys are doing an amazing job. We'll keep digging."
Johnson came into Michigan sitting in the final playoff spot narrowly ahead of Ryan Newman. As a result of his 34th place finish, however, Johnson is now in 18th position, 22 points outside the cutoff position.
Newman moved up to 15th position in points after finishing 12th on Sunday. Clint Bowyer, who appeared to be on his way to a solid points day given Johnson's issues, fell victim to a crash and finished 37th. Bowyer now holds the final playoff spot just six points over 17th place Daniel Suarez.
Johnson's No. 48 team swapped crew chiefs prior to last week's race at Watkins Glen in an effort to boost performance. Johnson is currently on an 82-race winless streak and has scored only three top-fives this season.
Three races remain in the MENCS regular season. If Johnson fails to make this season's playoffs, it will be the first time since its inception in 2004.