Friesen, Creed in Back-Up Trucks at CTMP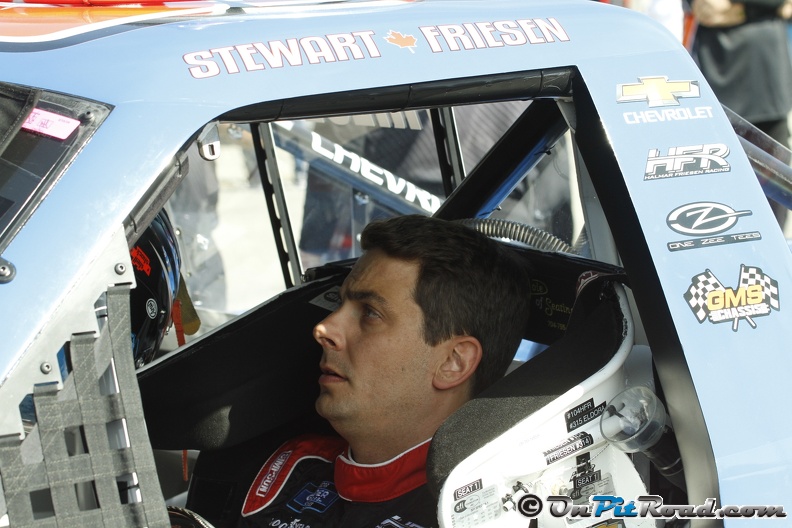 Playoff driver Stewart Friesen and GMS Racing teammate Sheldon Creed have gotten off to rough starts at Canadian Tire Motorsport Park on the Saturday practice day. Both drivers suffered damage in separate practice crashes, sending both to back-up trucks.
Friesen, one of the hometown favourites, was the first to find the wall. Shortly after 15 minutes into the first session of the day, Friesen damaged his truck.
"I'm learning that I'm a freaking terrible road racer," Friesen told OnPitRoad.com after the incident. "I just got my right sides in the grass getting into [turn] 2. Was probably still a little dewwy yet and away it went. I did that probably half a dozen times there last year.
"Luckily that happened in first practice and not in the second one. The guys did a good job getting the back-up ready which is really similar to the first," Friesen said.
Friesen's team was able to get the back-up prepared and through tech inspection to participate in the second practice session. Friesen turned the 13th fastest lap in the session.
Creed, on the other hand, had his issue midway through the second practice.
"I hate that I did that," Creed said. "I just overdrove [turn] three. My left-front tire dropped off into the grass then I took off and got into the wall going slow."
Going into the weekend, Creed knew the race would be difficult. He says his road course skills still need perfecting.
"Road courses are tough. I'm good in a stadium truck, but that's about it for road courses. I was fifth when we crashed it today. I was happy with that. Just trying to learn it and see what we need to do with our truck to make it better."
The NASCAR Gander Outdoors Truck Series race at Canadian Tire Motorsport Park kicks off Sunday afternoon at 2:30 p.m. ET.