Raphael Lessard Hoping for Strong Outing in Truck Series Road Course Debut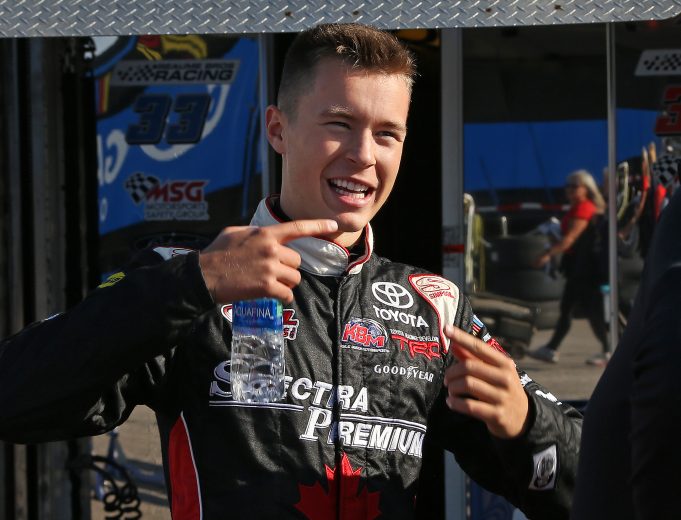 If you ask anyone covering short track racing across North America to name an up-and-coming star, chances are one of the first names you'll hear is Raphael Lessard, an 18-year-old kid from small town Quebec, Canada.
Lessard isn't your typical Quebecois racer. Most of the drivers coming out of Quebec are stars in the NASCAR Pinty's Series, dominating on the road and street courses, but short tracks are where he's honed his skills.
This weekend, however, the young phenom is trying to boost his road racing chops. Lessard is piloting the No. 54 FRL Express Toyota for DGR-Crosley Racing.
Lessard says that aside from a sportsman race when he was 12 — which he, by the way, says doesn't count — road course racing is new to him.
"This is my first time ever on a real road course. Every other time has been on a street course," Lessard told OnPitRoad.com on Saturday. "Here it's actually really cool. I'm excited. I think the track might change a bit overnight. Hopefully we can get our truck better. We practiced on old tires for both practices. We're just trying to get it better for the race and make it more comfortable."
In preparation for the Truck event at Canadian Tire Motorsport Park, Lessard competed in the Pinty's Series for Dumoulin Competition at the Grand Prix of Trois-Rivieres where he ended up finishing an impressive seventh in the 21-car field.
"I didn't have any experience before Three Rivers," he said. "I pretty much had a late model race at Three Rivers the year before. [Road course racing] is way different. You're turning right and left, you're downshifting. You're using a lot more brake. Here is better. Three Rivers is like 90-degree corners. It's super tight. You have to use a lot of brake, but here is mostly about momentum."
Quite possibly the highlight of Lessard's year so far, though, hasn't come in the Truck Series where he's made his first four career starts with a best finish of ninth. Earlier this year, Lessard made his Pinty's Series debut at his hometrack of Autodrome Chaudiere. The race track is only about 15 minutes away from his hometown. The debut was made even more special by Lessard taking his No. 07 car to victory lane.
"I was not expecting to win. I knew I was in great equipment with L.P. [Dumoulin] as my teammate. L.P. is always really good at Chaudiere," he said. "I was hoping to just finish the race and bring the car back in one piece. To be in the top-three I would've been really happy, so a win was just a dream come true.
"To win against the people I grew up watching was amazing."
For Lessard's road course debut in a truck, he knows a win isn't likely. The goal is to just stay out of trouble.
"Finish the race. We have to finish in one piece," Lessard said. "We have speed. The speed is there on old tires. We just have to maintain and make no mistakes. If we can be there at the end and have good strategy, we'll be good. I'm just trying to get better every lap."