After One Year and a Plane Crash, Dale Earnhardt Jr Back in the Driver's Seat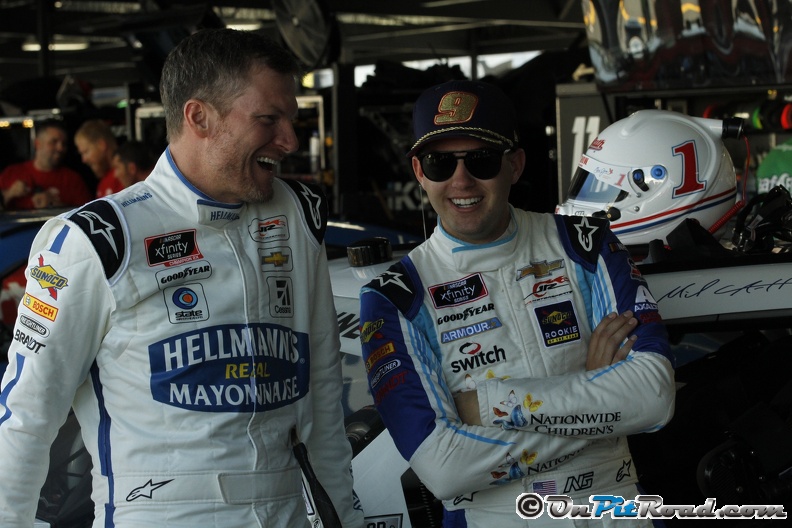 Dale Earnhardt Jr retired from full-time driving duties at the end of the 2017 season. The third generation driver then became a broadcast analyst for NBC Sports while continuing to own a successful NASCAR Xfinity Series team and make the occasional start in the series. He will be competing in the NASCAR Xfinity Series race on Saturday at Darlington Raceway.
Earnhardt's last NASCAR start came at Richmond in 2018. Being out of the seat for an entire year can cause a driver to be a little rusty. To knock off the rust, the 15-time most popular driver visited Darlington recently to test with Jr. Motorsports driver, Noah Gragson. The test did little to ease Earnhardt's anxiety about getting back behind the wheel.
"I did come over here a couple month ago and ran about 15 laps when Noah (Gragson) was testing," said Earnhardt. "That didn't do anything to help my anxiety. Noah was faster than me, and it just reminded me how hard it is to drive these cars, how good these guys that drive them are and how hot and miserable it is inside there – some of the things you kind of forget about while in the booth and being a broadcaster."
To make matters worse, Earnhardt and his family were involved in a plane crash in Elizabethton, TN while traveling to Bristol Motor Speedway. The cause of the crash has been determined to have been a landing gear failure. Since the crash, Earnhardt has had to recover from some bruising and back pain.
Fortunately, Earnhardt has indicated he believes his back pain is under control and he will be fine for Saturday's race. Of course, that does little to rectify the fact that the race is being held at Darlington, the track which has earned the moniker – Too Tough to Tame.
"I picked a real hard track to go to," Earnhardt said. "I don't know what the hell I was thinking picking this place. It's the throwback weekend. It's hard not to want to be a part of it."
Earnhardt will be carrying a throwback scheme his father ran in 1975 which includes the popular No. 8. Earnhardt has four career Xfinity starts at Darlington scoring one top-five and two top-tens.